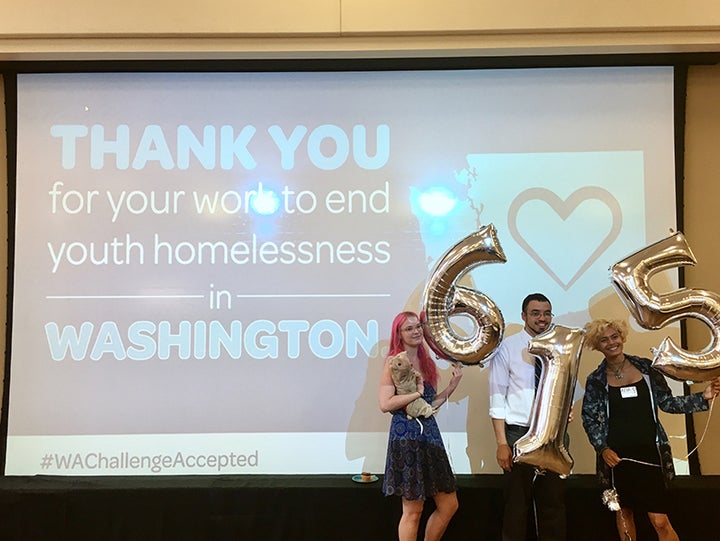 By Tricia Raikes and Azia Ruff
This spring, organizations dedicated to ending youth homelessness in Washington State were issued a challenge – stop what you're doing and, in 100 days, secure housing for as many young people as possible. Aptly named, and incredibly ambitious, the 100-Day Challenge, was designed to disrupt conventional ways of thinking and encourage innovation in approaches to make homelessness a rare, brief, and one-time occurrence.
We are proud to report that 615 young people across the state were successfully housed during the 100-Day Challenge – 330 from King County, 176 from Pierce County, 109 from Spokane County.
Setting ambitious, quantifiable, and time-bound goals works. There is no question the 100-Day Challenge has disrupted business as usual. We've seen staff at agencies and organizations break out of their silos to come together to tackle youth homelessness as a community.
In King County, providers and public funders are working more closely together to ensure no beds in the community go unfilled and the most vulnerable young people are prioritized for services. In Pierce County, providers are experimenting with giving young people cell phones and public transit passes, so when housing becomes available they can be contacted and moved in as quickly as possible. In Spokane, the team determined their community desperately needs a young adult shelter, and began laying the groundwork to create one. In the meantime, Spokane's community has come together to provide more housing supports, complete with move-in kits full of household essentials, so that young people can get back on track faster.
Including young people in the process, especially those with lived experience, is essential. Many well-intentioned efforts apply the "we know best" approach, where experts decide what young people need without hearing directly from them. In the 100-Day Challenge, young people drove our strategies – nothing about us, without us. We need solutions informed by expertise, and no one brings more knowledge to this conversation than young people who have experienced homelessness firsthand.
Focusing on the most vulnerable homeless young people is critical. Challenge teams focused on housing young people currently living on the street, as opposed to those who might be couch surfing or living in a shelter. The teams also centered their work on making the youth homelessness system more just and equitable by prioritizing housing for young people who are disproportionately represented in the homeless population, including LGBTQ youth and youth of color. Even one night on the street can be a dangerous and traumatizing experience, and prioritizing the most vulnerable is critical to supporting young people.
Ending homelessness is a community responsibility. No one person or entity can end youth homelessness. In each of our communities, a group of diverse providers, government funders, and youth came together to offer solutions to quickly house young people. Sometimes it was offering flexible cash assistance through diversion, a preventive program that helps keep young people at risk of homelessness in their homes, or by supporting young people in Host Homes, a program that allows community members with a spare room to house a homeless young person for a short period of time as they transition to a permanent housing solution. The teams were especially excited about Host Homes as a low-cost option that fosters genuine relationships between the community and homeless young people.
These solutions require the support of community members, including landlords or families who are willing to open their homes. If we are going to end youth homelessness, we need more affordable and supportive housing options, as well as support for diversion, Host Homes and housing and employment navigation services. We also need the broader community to be at the table supporting these innovative solutions. After all, it takes a village.
Getting to work on the road map. Over the next few weeks our partners will synthesize the lessons learned from the 100-Day Challenge and produce a report detailing what worked and what didn't. Next month, each of these communities will hold a "what's next" workshop with leaders to identify ways to sustain the positive changes we saw.
A new generation of leaders will keep pushing for an end to youth homelessness. One of the most remarkable outcomes of the 100-Day Challenge is how it has empowered new young leaders. These young people didn't think of themselves as leaders, but have emerged as key decision-makers, team motivators, and powerful change agents.
A renewed community response and open lines of communication. The 100-Day Challenge teams actively worked to break down barriers between the organizations and government funders, and we hope to see that spirit of collaboration grow.
The Challenge has energized us all, and as we continue our work to end youth homelessness, the lessons we've learned from this project are invaluable. Throughout the process, the communities found creative solutions to move past paperwork and bureaucracy, resulting in more young people coming inside faster.
Young people who have experienced homelessness are hopeful and optimistic we can end youth homelessness in our state and across the country. If they believe we can end youth homelessness, then we all can, and should, believe.
Tricia Raikes is the co-founder of the Raikes Foundation. Azia Ruff is network representative at The Mockingbird Society. Azia is a young adult with lived experience with homelessness and co-led the King County 100-Day Challenge team.
Popular in the Community