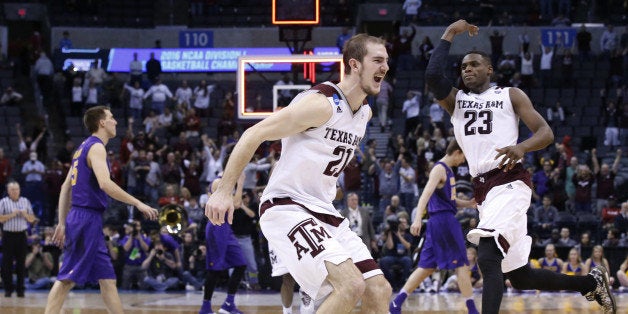 The best sports weekend of the year is officially in the books and just like every previous first weekend of the NCAA Tournament, this one was perfect. As per usual we had drama that couldn't be scripted and one wild finish after another. We had Connor McGregor and Ted Cruz lookalikes, we had defensive subs making game winners, we had feel good stories and we had heartbreaking losses. Yes, this weekend had it all but now it's time for us to catch our breath, maybe change out of our disgustingly sweaty shirt and to take a look back on the lessons we've learned.
The most important thing to remember when you watch these games, especially when it gets to crunch time, is that these are really young kids and the overwhelming majority of them have never faced a situation with as much pressure as the tournament. As a direct result of these nerves you see a lot of bad turnovers under pressure and you see a lot of missed free throws in clutch situations. If my team is trying to complete a comeback then bad turnovers and missed free throws are exactly what I want. As we all just saw in the Texas A&M-Northern Iowa game, in which Northern Iowa blew a 12-point lead in less than 40 seconds, no lead is truly safe in March.
What I will never understand is how hesitant coaches are to start fouling early as they seem to be content letting the other team drain the clock until it might be too late. Most coaches and teams won't start fouling until the final minute or less which I believe to be a huge mistake. Extending the game is the best way to give your team a chance to chip away and climb back in.
The NCAA free throw average is around 65 percent nationally and I couldn't find stats to back me up but the eye test tells me it cannot be much higher than that during the tournament. Additionally, because the 7th, 8th and 9th foul are 1-and-1, there is an excellent chance the other team will come away with less than 2 points. If I'm down by more than two possessions, my team should be looking for easy lay-ups on offense instead of contested threes, we should full court press like crazy but foul early when the pressure is broken, and our overall goal should be to make the game as long as possible.
Always Bet on the Ivy League For Their First Game
Unless the Ivy League team comes in as a 15 or 16-seed, I always like to pick them to win their first game. Giving a bunch of highly motivated, academically oriented Ivy League kids one full week to prepare and execute a masterful game plan is a major advantage. No matter what school they are matched up against, because the Ivy League only sends one team every tournament, it is an absolute guarantee that they will be playing a team where the "student" part of "student-athlete" doesn't mean quite as much as it does at Yale or Harvard.
Don't pick them to win their second game as the quick turnaround time is too short to negate their obvious athletic shortcomings but I always recommend picking the Ivy League representative to win their first game. Lastly, please don't ever call someone from Yale an underdog. Remember those commercials about how 95-plus percent of NCAA athletes will go pro in something other than sports? You know what those Yale kids will end up doing professionally? Being the President of the United States. No one from Yale is an underdog no matter what Greg Gumbel tells you.
Narratives Don't Matter, Match-ups Do
Villanova always chokes right? So do Indiana and Kansas. Everyone agrees that Kentucky is a lock for the Sweet Sixteen and Michigan State has the easiest road to the Final Four. Syracuse shouldn't even be in the tournament and won't win a game. All of these nice tidy narratives were all over the sports media landscape coming into the tournament but in this one and done format, past history is usually not worth focusing on and the current match-ups matter more than anything.
Remember when Bo Ryan couldn't win in March? Or how Roy Williams could never get over the hump? Those stories were true until they weren't true. All of these narratives are great for conversation fodder but the truth is that in a tournament where every game is win or go home, these seemingly accepted truths have a funny way of not impacting the actual outcome.
Economists Are Wrong About Homo Economicus
Although this theory of man as a totally rational economic actor always looking out for maximum profit has been proven wrong many times, I don't think anything destroys that theory more than the NCAA Tournament. I am in a great deal of different types of pools, from standard brackets to snake-drafting teams, to survivor pools and more and yet every single day of the first weekend I found myself cheering directly against my economic self-interest.
All of America laments the destruction of their bracket early on and yet virtually everyone when they are actually watching the games can not help but root for an underdog. A person that roots for Duke to beat UNC Wilmington because that's what they have on their bracket is a person you should never, ever hang out with. Winning your office pool is nice but getting swept up in the chaos created by bracket busting underdogs makes March Madness what is it -- the greatest sporting event of the year.
Seriously It's The Greatest Sporting Event of the Year
Don't believe me? Please watch this. And then watch it again and again and then go watch old "One Shining Moment" videos for a while. So although there are many takeaways from this weekend I think the one lesson we can all unequivocally agree on is that the $4 billion in lost productivity for the American economy is completely and totally worth it.
Calling all HuffPost superfans!
Sign up for membership to become a founding member and help shape HuffPost's next chapter