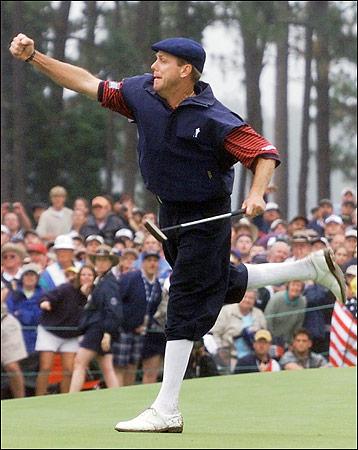 Today, October 25, 2009, marks the 10-year anniversary of the tragic plane crash that killed golfing great Payne Stewart, along with five others. It was merely four months after he won the US Open at Pinehurst. The image of his reaction -- his fist pumped in the air and one foot kicked up behind him -- when he sank the winning putt on the 72nd hole is one that will always resonate with us. Pure joy.
At the time, I was 16, and when I heard the sad news, I remember feeling shocked to the point where I was speechless and then shedding some tears. I was also at the age where I couldn't really grasp the death of someone famous in a freak accident.
I didn't know him. I didn't really live through his era. But, I do remember some things that separated him from your average major champion golfer; he was a fantastic role model. In all the hoopla about it being 10 years, it's interesting to think about why we all miss him so much. Not just about the way he died, it's about the way he lived.
Golf isn't everything in my life. I mean, I have a beautiful family. I have a wonderful wife and two lovely children. If on the way home, something would happen and I couldn't play golf again. Hey, I've had a wonderful career and I want to spend the rest of my life with my family.
Moments after he beat the then perpetual bridesmaid, Phil Mickelson, at the US Open, he grabbed his face and said, "You're going to love being a father."

If you can't laugh at yourself, then how can you laugh at anybody else? I think people see the human side of you when you do that. I don't think it's healthy to take yourself too seriously.
And of course, there were his clothes -- the knickers, Tam O'Shanter cap, knee-high argyle socks, and the occasional tie and matching sweater vest -- all a throwback to the classic Bobby Jones era. He wanted to, you know, stand out from the standard polo-shirt-and-khaki-trouser pro (so, he wore an old-school golf uniform). David Toms gave his take:
I think he was the one guy that did something different with his attire and everything and presented himself in that way. More and more guys are doing that, trying to make a statement by what they're wearing. He was one of the guys that started that.

Everyone knows he was a true character. He oozed charm. He was sometimes a bit cocky. He was a fierce competitor. He was a prankster. After his good friend Paul Azinger beat him at the '93 Memorial Tournament, Payne still got the last laugh:
He put bananas in my brand new pair of Zegna loafers," Azinger said. "He peeled them and shoved big chunks in there. I left the tournament grounds that victory evening wearing only my socks!
Given his good ol' Missouri roots, he was very frank and open. He once said, "If somebody asks for my opinion, I tell them my opinion, whether it's what they want to hear or not." Translation: He was full of amazing zingers (press-friendly!), like this one (!):

[The Ryder Cup] is for the game of golf, yeah, but trust me, the Europeans don't have that mentality. They come over and want to whip us. And they don't care about the betterment of the game of golf.
Of course, we can't forget his fluid, divine swing that screamed finesse -- the one that carried him to 11 PGA Tour victories, including three majors. We must wonder how many more he would have won. He had a storied career, no doubt, but with that swing, he had several more glory moments left to be seen in the champion's circle. He could have been one of the greatest golfers of all time. But, really, no point to harp on the shoulda, woulda, couldas, and it's un-Payne like.
In an interview, Payne was asked what he learned from Azinger's battle with cancer. He imparted these strangely comforting words: "I'm going to a special place when I die, but I want to make sure my life is special while I'm here."
Now, brace yourselves before you watch this clip. Grab a tissue or two. It's sad, but inspiring
more than anything, not to mention a fitting tribute to the life, character and mystique of a man we lost 10 years ago.
Popular in the Community