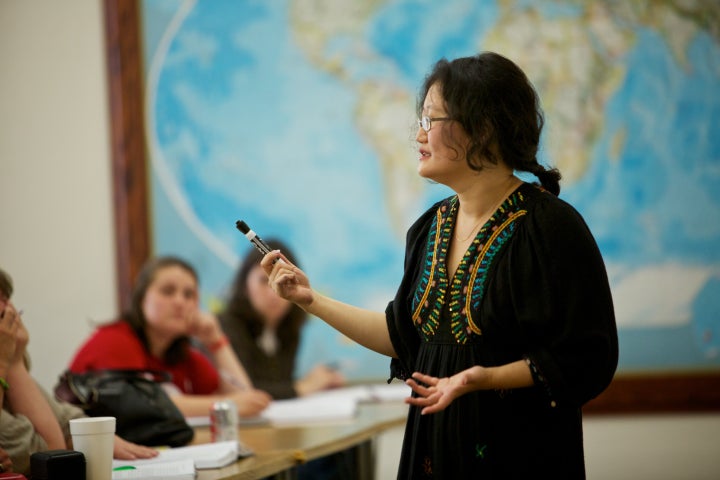 School has just started, but for those who will be graduating from College, the question of "what's next" is already here.
Because of what I do, I'm often asked by service and justice minded young adults where they should go to grad school.
That is when I usually share my story of waiting for twelve years before I even considered going back to do graduate work. (For the record, I don't recommend people go to grad school straight out of college. Go do something. Learn something. Get an idea about what you really want to do before you do it.)
It took me a long time to figure out what I wanted to go to grad school for. I thought about law school, but I'm not much of a reader. When a friend asked me "Do you know that you do in law school? We read!" I knew that was out.
Business school? Not good with numbers.
Public health? Failed chemistry.
At the time when I was weighing my options, I was working on issues related to service learning and social justice. My office was down the street from Princeton Seminary and I thought: "I wish there was a way for me to explore my spiritual life and integrate it into my career."
My dad was a minister, so I'd always know I'd never go to seminary.
And then the most unusual thing happened: I talked to some professors, and got over my "I would never go to seminary" thing and enrolled.
That's when I learned what I am telling you now: for justice-minded individuals who are in it for the long haul, seminaries and divinity schools offer some of the most exciting, innovative and world changing opportunities around.
Today, the Center for Faith and Service announced the fourth annual list of Seminaries that Change the World. While the STCTW website provides an in-depth exploration of each school and their programs, I thought I would share some of my favorite things about each school on this year's list:
Austin Presbyterian Theological Seminary
Austin made immigration reform and outreach a priority. Students volunteer and intern with a number of agencies address immigration and detention issues, including Grassroots Leadership, Justice for our Neighbors, and Workers' Defense Project. Students also visit detainees imprisoned in the Hutto Detention Center, a prison for immigrants in the US.
Bethany Theological Seminary
The Bethany Neighborhood is an intentional community based on mutuality and simplicity where students live and learn together sharing resources. The Peace Forum offers a weekly lunch and speaker series focusing on diverse peace and justice topics.
Community life is central to everything they do at Brite. The weekly schedule includes opportunities for worship and other practices of faith that invite the community into spiritual growth including Faculty colloquies, guest lectures, and special events.
Calvin Theological Seminary
Calvin offers a number of scholarships for individuals interested in military chaplaincy. Service as a Chaplain in the US Military offers unique opportunities to minister to young adults, as well as a career path and benefits not always available in traditional parish ministry.
Candler School of Theology (Emory)
Candler offers a number of compelling dual-degrees, combining theological studies with bioethics, business, development practice, law, public health, and social work.
Central Baptist Theological Seminary
Central has made cross-cultural learning a central priority. Students have the opportunity to travel to Thailand and Myanmar (Burma) as part of two of Central's programs. Over the past several years, students have also had the opportunity to serve as interns in Kenya, Hong Kong, and Haiti.
Christian Theological Seminary
Each year The Discipleship Project at CTS provides 12 scholarships for full-time, residential M.Div. students, including tuition AND a $12,000 annual stipend. Students who are part of The Discipleship Project cohort meet regularly with faculty mentors, engage outside community leaders, and visit vibrant congregations to study ministry in practice. Each cohort's final year culminates with a visit to an international site.
Claremont School of Theology
Claremont is a recognized leader in interfaith work. Claremont's Master of Divinity in Interfaith Chaplaincy can help prepare individuals who are interested in interfaith chaplaincy work – or any other work that requires navigating difference – with the essential skills to minister in today's increasingly pluralistic communities.
Columbia Theological Seminary
Columbia is located in the heart of endless ministry opportunities. Whether you're interested in urban or rural ministry, new church, small church, mega-church, non-profit management, or issues like racism, food security, gender equality, homelessness, sex-trafficking, or prison reform, opportunities for meaningful field-education experiences abound.
The Community Fellows Program at Drew brings in individuals of all ages and interests to study religion, theology, ethics, and related disciplines as part of the school community. This non-credit educational venture brings people from every walk of life into Drew classrooms to learn, explore, study, and ponder great questions from a religious and theological perspective.
For people passionate about working with individuals with intellectual and developmental disabilities (IDD), there is perhaps no better place to learn and serve than Duke Divinity, where students have the opportunity to live in the Friendship House. Friendship House is a residential program in which Duke Divinity School students live together in community with people with IDD. Students gain a broader understanding of belonging and an enlarged picture of the kingdom of God.
Earlham School of Religion
Prospective students who have done a year of service with a faith-based volunteer organization (like Lutheran Volunteer Corps, Jesuit Volunteer Corps, Young Adult Volunteers, etc.) should take a serious look at Earlham School of Religion. Earlham offers full tuition for residential students who, within the past three years, have participated in a Bonner Scholar or Bonner Leader program, or a service or leadership program.
Ecumenical Theological Seminary
Located in Detroit, Michigan, ETS's location offers students opportunities to get involved with a number of social justice causes pertinent to Michigan's urban communities, including the ongoing water crises, homelessness, community violence, and policing reform.
Fuller Theological Seminary
Fuller's School of Intercultural Studies offers a number of innovative degrees, including MA in Intercultural Studies, and MA in Global Leadership.
Garrett-Evangelical Theological Seminary
Garrett has developed an outstanding curriculum and student experience for individuals who are interested in ecological theology and creation care. Students have the opportunity to participate in intensive courses on-site in locations ranging from Chicago's South Side to rural farmland in America's heartland.
For a seminary, Hartford Seminary's student body is extremely diverse. Roughly 40% of students identify as Muslim, 40% as Christian, and 20% as Jewish and "other." For individuals interested in combating islamophobia and anti-semitism, as well as those wishing to develop multifaith competencies, Hartford's diverse learning environment and courses in Christian-Muslim relations provide an ideal learning space.
Iliff's one-year Master of Arts in Social Justice and Ethics (MASJE) is a professional master's degree that challenges students to understand, navigate, and engage diverse spiritual and religious motivations, communities, and strategies in order to create systemic social change toward more just social structures.
Lutheran School of Theology at Chicago
For students who want to develop skills and experience working with a community-based non-profit, LSTC's Public Church Fellows program offers a generous scholarship package, freeing up students to spend critical time developing relationships and programs with community partners. Public Church Fellows receive a stipend of $500/month ($5,000 per academic year) for their work.
Aimed at helping young adults who are completing a year of volunteer service with organizations like AmeriCorps, Teach for America, or faith-based volunteer programs figure out "what next",11 Luther Seminary has developed a course on vocational discernment. The program explores vocational discernment through questions about faith, commitments to service, identity and interpersonal relationships.
McAfee School of Theology (Mercer University)
For individuals who are interested in community transformation, McAfee's M.Div in Community Development helps develop skills related to community organizing, asset mapping, grant writing, and public policy advocacy.
For those interested in prison ministry (there is currently a shortage of DOJ chaplains), McAfee also offers a Certificate for Theological Studies at Arrendale Prison for Women in Alto, GA.
McCormick Theological Seminary
In collaboration with Dr. Jeremiah Wright, Jr., this year McCormick Seminary launched a new Doctor of Ministry program in African-Centered Religious Thought and Ministry. Students admitted into the program travel to West Africa and South Africa to explore the trans-Atlantic routes of slavery.
Seattle University School of Theology and Ministry
Seattle U's two-year MA in Transformation Leadership helps students develop competencies around intersectionalities – including language, race, religion, culture, and economics – equipping them to catalyze thoughtful change in their communities.
The School of Theology at The University of the South | Sewanee
The EQB Fellows Program provides a full scholarship for students who are passionate about and committed to changing the world. Additionally, the school has a robust Community Engagement Fellows program which provides a community and platform for students to get involved in service and social justice work with local non-profits through work-study job placements.
Union Presbyterian Seminary
Students interested in pursuing careers in public service can complete their field-education internship with Virginia Interfaith Center for Public Policy (VICPP) which works to advocate for public policies that better serve low-income, vulnerable, and underrepresented communities in Virginia.
Union Theological Seminary in New York
The Union Forum provides innovative ways for students to practice theologies of justice in the world. Through the Union Forum, students learn about social justice issues and engage in concrete action through a number of partnerships with community organizations.
University of Chicago Divinity School
The University of Chicago offers an innovative one-year program in the academic study of religion for individuals in other fields or professions or those who wish to study religion more deeply. The AMRS offers flexible scheduling and can be completed either in one year, or over a period of up to nine quarters.
Vanderbilt Divinity School
For students who want an multi-cultural immersion experience, the school offers a number of local and global intensive travel courses. These courses focus on issues ranging from immigration and border policies to poverty and global economic justice in the developing world. Immersion courses are offered from Nashville to Arizona, Namibia to Nicaragua, Vietnam, and Thailand.
Virginia Theological Seminary
For individuals interested in creation care, VTS offers opportunities to get a little dirt under your fingers. VTS is part of the Green Seminary Initiative, and offers funds to empower clergy and church to help conserve the environment. Students at VTS maintain composting, beekeeping, and a number of gardens on the campus.
Wake Forest University School of Divinity
The MDiv/MA in Management Dual-Degree Pathway targets students interested in ministry and religious leadership who want to gain business knowledge and expertise needed for non-profit leadership at humanitarian agencies, church and para-church organizations, or in the business world.
Wesley Theological Seminary
Wesley's Center for Public Theology offers students tools to connect faith and public policy. The Missional Fellows program provides students who are committed to social justice and service with financial support and educational opportunities in churches and non-profits. Fellows receive a $10,000 stipend in addition to consideration for merit-based aid.
Yale Divinity offers a strong supervised ministry program. During their field-education experience, students participate in a weekly practicum with a cohort of other student interns, where they reflect on theological challenges and joys in their work, and provide mutual support.
Related
Popular in the Community