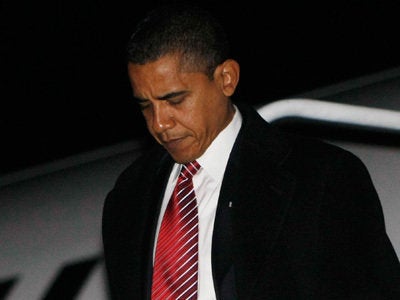 Everyone is looking for hope and leadership, and many Americans feel we have it in our President-elect. Many are comparing Barack Obama to some of the greatest leaders in American history, such as Abraham Lincoln and Martin Luther King, Jr.
When it comes to thinking about what the federal government can do for the arts, I share that hope but have another comparison in mind. There is a story that Winston Churchill proposed an increase in the British arts budget at the height of World War II. When challenged, he reportedly said, "I do it to remind us what we are fighting for."
We are fighting now to recover our prosperity but also our sense of purpose and pride as a nation. Like all other nations in history, our culture stands at the center of our identity, but it needs to be actively supported to flourish.
In the US we have a unique system in which private giving takes the lead in supporting the arts but government support provides a seal of honor by the public sector. Although funding for the National Endowment for the Arts is small compared to the massive investment many countries make in their own cultural life, it is symbolically and practically important, especially to smaller cultural institutions spread throughout the land.
As a candidate, Barack Obama offered a strong statement supporting increased funding for the NEA and for the National Endowment for the Humanities. Senator Obama also called for a new commitment to arts education, introducing young people to the diverse cultures of their country and helping the next generation of artists develop their talents. These are the bedrock of federal arts policy--and the legacy of enlightened thinking by presidents from Kennedy and Johnson to Nixon.
The Obama campaign statement on the arts offered hope in another area. He supported the idea of cultural diplomacy, with eased visa restrictions on foreign artists and a great effort to send artists around the world representing the US.
I hope we will see one other initiative from President Obama after January 20. If there is a federal public works program, it's important that it include building up the cultural infrastructure of communities, from libraries to museums and theaters. And the new administration could look to the WPA artists program for an example of how artists can be employed making these public works beautiful additions to cities and towns.
The Americans for the Arts reports that the arts employ 3 million people in the US. Think of what the arts do to bring hope to our people and to build a tolerant, civil society. President Obama should use the arts to build this new society.