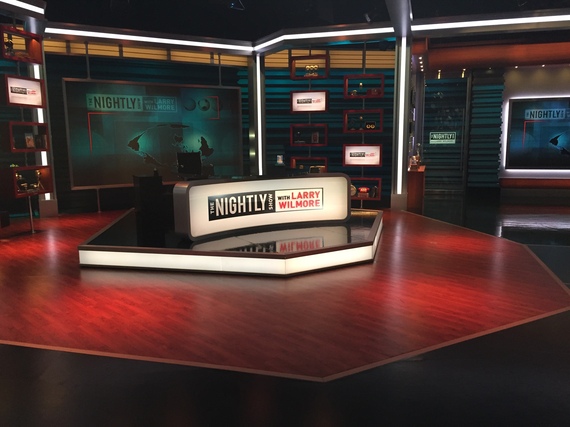 Just twelve weeks before the presidential elections, Comedy Central pulled the plug on one of its two black-hosted, late-night daily comedy programs, The Nightly Show with Larry Wilmore. The reason: It "hasn't resonated."
In an interview with the New York Times, Comedy Central President Kent Alterman said the show was failing with the network's key audience: young men. Alterman didn't specify whether he meant young white men.
For a show that regularly tackled issues of race and representation The Nightly Show was very different than its predecessors, The Daily Show with Jon Stewart and The Colbert Report. It wasn't perfect -- you'd be hard pressed to find such a thing in the world of late-night comedy. But it was unapologetically diverse and focused on current events from the perspective of people of color.
The show, which regularly addressed institutional racism, police brutality and the presidential campaigns, first aired more than a year and a half ago, joining the late-night programming line up as the replacement for The Colbert Report. It was a welcome change -- white men had dominated the 11p.m. to midnight slot for more than a decade. Just six months later, John Stewart's replacement, Trevor Noah, took over The Daily Show, pushing the time block into a new era of diversity.
When Trevor Noah was asked about ways The Daily Show was diversifying its staff, he replied that more than 95 percent of the audition tapes he saw came from White comedians. When he confronted the network, they responded "but this is what we're getting."
So I went to all the young comedians I knew -- black, Hispanic, female, whatever -- and I said, "Are you interested?" And they all said: "Are you crazy? Of course, I'm interested." So I asked, "Why didn't you audition?" And they said, "We didn't know about it." But they told me they'd sent it out to all the agents and managers. And they all went: "Oh, that's where you made the mistake. We can't get agents or managers." We can say we want diversity, but there's this little roadblock that no one tells you about.
Until the gatekeepers are as diverse as the audiences they are seeking to serve, racism will continue to be a problem for aspiring comedians of color. When networks cancel shows hosted by people of color who talk directly about race, there is a very real concern that there won't be anything similar taking it's place. There's no shortage of late-night programming hosted by white people. Blaming the failure of Wilmore's show on ratings gives Comedy Central an "out" for putting similar shows on the air, making it too easy to say: "We tried. It didn't work. We won't do it again any time soon."
Programs like The Daily Show, The Nightly Show, Full Frontal with Samantha Bee and Last Week Tonight aren't just about getting laughs. These shows serve as a new kind of journalism, using humor to dig deeper into the news of the day and take the powerful to task. The writers and hosts of these shows insist over and over that they're just comedians. But like it or not, they are exposing audiences to news and information through the stories and perspectives they elevate.
Representation matters. Over the course of Wilmore's show, we've seen an appalling increase in reports about police brutality against people of color, which is forcing a critical national conversation about race. At the same time, a presidential candidate who has made racist, homophobic, transphobic and xenophobic remarks became a major party nominee.
We need increased diversity across the board in television ("Shonda Rhimes can't do it ALL, people" quipped Thede). There is something unique about the roles these late-night comedy shows play. Their ability to critique current events has become an important feature of our media landscape. These shows talk about social issues in real time. These important conversations need to include more diverse voices, not fewer.
Original image by Casey Penk
Calling all HuffPost superfans!
Sign up for membership to become a founding member and help shape HuffPost's next chapter