What is a microbiome you ask? It's the tiny living community that surrounds us all and is the subject of investigation by human and veterinary health care providers everywhere. You've heard about microbiome from me before, see my post about it from last year, "What's in the Water." There is no question that the relationships all animals, including humans, have with the trillions upon trillions of bacteria, viruses and fungi--in, on and around us--are a critical part of the life experience. At Shedd Aquarium, this is what the Aquarium Microbiome Project is all about. Our lab offers a comprehensive look at microbiomes in controlled aquarium ecosystems and how they influence complex environmental conditions and animal health. The lab became operational less than a year ago but what we've already begun learning and discovering a lot. Shedd's microbiomes encompass the ubiquitous and naturally occurring microscopic life forms, or microbes, that are in the exhibits and in, on and around the animals living there. The majority of these microbes are not only beneficial; they are also essential to the health and well-being of the animals in our care.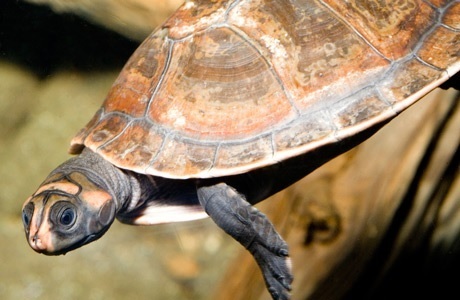 One study looked at the Amazon Rising exhibit, home to this red-headed sideneck turtle and other reptiles, birds, primates, invertebrates and hundreds of fish species. ©Shedd Aquarium
The anchor technology of the lab is an Illumina™ MiSeq DNA sequencer; the machine is used to decode molecules of DNA and reveal what microbe left them behind. In our early studies, our team looked at the community of microbes living on the skin of amphibians from their native environments and those who reside at Shedd. Human built environments have a profound effect on what microbes live there and thus what microbes people who spend time there are exposed to. We know from the work of others that communities of bacteria living on the skin of many amphibians appear to help protect the animals from infections like the well-known fungus that is devastating many wild populations. We hope that our investigations will add to this important area of growing knowledge and are interested in how the same concept impacts the animals in our care.
We've also taken a closer look at several exhibits at Shedd. We reviewed the process of exhibits being built, having water added, growing good bacteria to help get rid of fish waste and finally going to work by adding fish. We just finished looking at a set of samples from our Sea Dragon exhibit. Among other things this work showed us that some bacterial populations 'bloom' and then seem to almost disappear. It also showcased when bacteria important to fish health appear in their system.
Another large study recently completed looked at the microbial communities floating in the air over a several week period. The technique is so sensitive and informative that we could even detect the two days that some deep cleaning happened in the area! We collected daily samples of all particles filtered from the air through a specialized vacuum and decoded all the DNA on them. This helps us to understand how something as simple as cleaning can actually be very complex when it comes to microbiomes. In this case cleaning can actually increase the numbers and kinds of bacteria in the air for a short time. It's critical to understand what that means for our air-breathing animals like frogs, hawks and snakes.
We hope that the work of our lab will help us to inform best practices for caring for our animals here, but we are also excited about the potential to help with efforts like returning animals to their native habitats or supplementing populations of endangered animals in their original home ranges. Already we are hearing from colleagues about areas we can help better understand. Stay tuned!
Popular in the Community