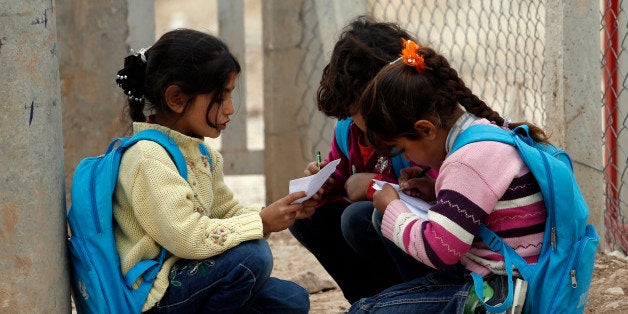 Education is the orphan of any war. It is true in Iraq, where ISIL recently yanked any studies of literature, history, art, or music from public school curriculums in areas it controls. The academic crisis is even more dire in war-torn Syria, where universities have been occupied or destroyed and thousands of students and professors have been displaced, threatened, or killed.
In Syria, escalating sectarian conflicts and the rapid advance of ISIL have driven Syrians who previously attended or taught in universities to seek shelter in refugee camps or wherever they can escape the violence. There is a severe risk of creating a "lost generation" with so many young people cut off from their studies and the promise of their future.
Syria's students and professors are the country's best chance to rebuild their society when the current conflict subsides. Universities, governments and the donor community around the world must take action to help them immediately, even while world leaders struggle to find the right foreign policy approach.
This summer, IIE's Scholar Rescue Fund reviewed more than 100 urgent applications from Syrian scholars. Among them were agricultural economists, pharmaceutical scientists, plant physiologists, textile scientists, and linguists. Their applications tell chilling tales. One scholar had to crawl on the floor to avoid sniper fire. Another returned home to find rubble where his apartment once stood. Several were tortured and threatened with death. But the most heartbreaking stories were from women and men who witnessed their family members abducted or killed right before their eyes.
What will become of Syria's scholars? Who will teach the next generation the vital skills they need to build roads and hospitals, feed their people and govern their communities?
And what will become of the nation's university students? The technical and intellectual skills that they build -- or they are robbed of -- today will define Syrian competitiveness in a global economy tomorrow. A failure to preserve Syria's vital academic capital would place even larger roadblocks on the path to peace and stability in the years to come.
The Institute of International Education has assisted displaced and persecuted scholars since its founding in 1919. Our Scholar Rescue Fund has provided life-and career-saving grants to more than 575 scholars from 51 countries since it was formalized 12 years ago. Our Emergency Student Fund has helped students affected by conflict and natural disasters to complete their education. But today's unprecedented need demands an even greater response.
Recognizing the looming threat, the Institute of International Education has led several commitments through the Clinton Global Initiative to mobilize emergency assistance to threatened students and scholars. CGI's convening power has enabled us to partner with other organizations offering support: including Jusoor, the Illinois Institute of Technology (IIT), the U.S. Department of State, the Global Platform for Syrian Students (GP4SS), Kaplan Test Prep International, and Carnegie Corporation of New York. Together, we created the IIE Syria Consortium for Higher Education in Crisis, whose 30 university members have provided over $3 million in scholarships for displaced Syrian students to date. We are also conducting groundbreaking research on the needs of Syrian students and scholars displaced in Lebanon, Turkey, and Jordan, with the aim of producing policy recommendations for government and UN agency response.
In March, Syrian college students received a rare lifeline. A humanitarian rescue operation -- organized by GP4SS with the support of the Portuguese Government -- allowed 45 Syrian students selected out of 1,700 candidates to resume their university studies under an emergency scholarship program, which provided a comprehensive integrated "higher education care" services package. Although proving to be a very effective and low-cost model, a lack of funding has left another 700 Syrian students without the scholarships they need to continue their studies in spite of having secured their admission at University with tuition fee waivers.
Considering what's at stake, we all must do more. Last year, one of Syria's most promising computer scientists contacted IIE's Scholar Rescue Fund in desperation. He had just fled across the border to Turkey, as he had been threatened and tortured in Syria for his affiliations with academia. Our fellowship brought him to a university in the United States, where he continues to develop innovative technology and teach computer science. His young family recently joined him. Our program can keep him temporarily safe and productive. But ultimately, he has to return. This scholar is Syria's future.
As the donor community comes together to provide basic food and shelter to more than three million Syrian refugees, it is also imperative that we remain mindful of higher education during wartime. Academia produces the doctors who save lives in the throes of conflict. It promotes human rights and conflict resolution. And it develops the workforce and economy of tomorrow. In our ever-shrinking world, threats against scholars and students are detrimental to peace, prosperity, and progress -- for Syrians and for us all.
This post is part of a series produced by The Huffington Post and the Clinton Global Initiative in conjunction with the latter's tenth Annual Meeting (September 21-24 in New York City). This week, President Bill Clinton, former Secretary of State Hillary Rodham Clinton, and Chelsea Clinton convene more than 1,000 global leaders under the Annual Meeting's theme for 2014 -- Reimagining Impact -- to advance solutions to some of the world's most pressing challenges. For more information on the Annual Meeting, click here. To see all of the posts by CGImobilizers in the series, click here.