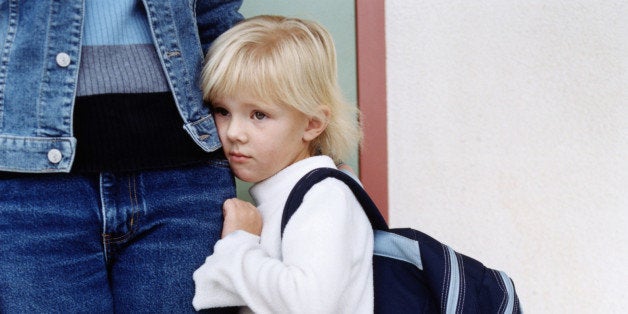 This fear may seem overly dramatic. I am 38 years old. I'm not overweight. I'm not a smoker. I don't drink excessively or eat poorly. I run three to four times a week. Looking at me, you'd assume I'm quite healthy. And you'd be correct. Sort of.
But I'm scared. Every morning when I wake up and start my day a panic takes over almost immediately. What if today is the day? What if I finally get really sick? What will happen to my baby?
My daughters are eight and nine years old. They are bright and interesting and bold and kind. They are the lights of my life, coloring everything I do with more magic and brilliance than I could have ever imagined. But I am not fearful about what will happen to them. They have an amazing father, a long list of incredible family and friends who are like family that I know will wrap them in love and protection and help guide them into the extraordinary lives I am sure they will live. No, it's not my daughters I fear for when I imagine a future that I don't exist in. It's my other baby, the one I gave birth to eight years ago when I finally found my true purpose in this world. It's One Simple Wish.
For those who don't know, One Simple Wish is an organization that is dedicated to bringing joy, love and hope to children who've been impacted by abuse and neglect; children who have experienced foster care and kids living in high-risk environments. Since 2008 we've touched the lives of more than 30,000 of these beautiful souls all over the US. We have traveled over 20,000 miles to meet thousands of kids who greet us with gratitude oozing from every cell in their being. We have found children families, have connected them to new passions and have told them all they are loved. This work is hard. This work is heartbreaking and this work is all I can ever imagine doing for a living.
But I am sick. Sort of. Just around the time I founded One Simple Wish I started to lose a lot of weight without trying. While many people might embrace this, I immediately knew something wasn't right. I was always nauseous, I was tired and most food gave my stomach a feeling that I dreaded so much that I preferred to not eat at all. I started to see doctors, lots and lots of doctors, while juggling a full-time job, a newly formed nonprofit and two babies under two. It took a lot of bloodwork, procedures and time but eventually a wonderful immunologist cracked the case...I had CVID, or Common Variable Immune Deficiency.
Soon a lot of pieces of the puzzle began to come together. As a child I was often sick with respiratory issues, so much so that doctors had tested me for cystic fibrosis. As a teenager I struggled to gain weight and often had sinus infections that would last for weeks. As a young adult, these sinus infections began to become resistant to antibiotics and it would take at least two rounds of high doses to clear them up. I had strange and unexplainable skin rashes. And I always had issues with my stomach.
My immune deficiency diagnosis came at a time when I had finally decided that maybe everyone was right, maybe I wasn't really sick. All those years of tests and doctors who couldn't find anything and years of being told that I was a hypochondriac had finally seemed to convince me that it was all in my head. And then, this!
For the rest of my life I would need to subcutaneously infuse immunoglobulins into my body each week. The first few treatments had minor side effects but I got used to it. My daughters became my little nurses, bringing me a heating pad or a bottle of water and laying with me in bed reading or watching TV as my pump ran. My husband settled into the routine of prepping my meds and then inserting the needles into my stomach or legs. Of course the diagnosis rattled me and our family but it was only after One Simple Wish really began to take off that I started to seriously worry about what would happen if I got really, really sick.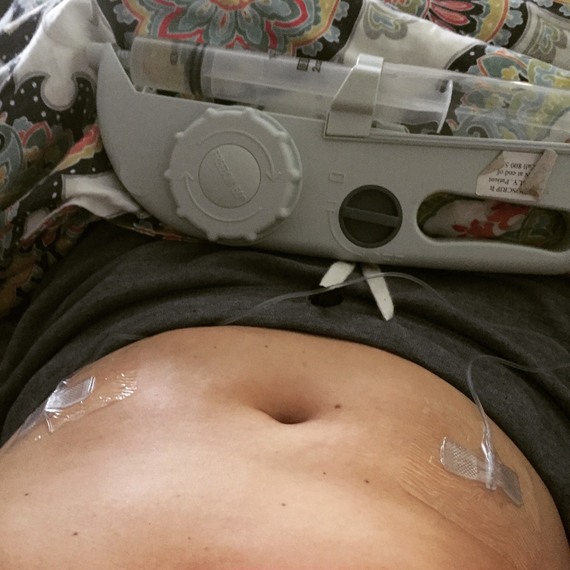 And so here I am, putting this fear out there in hopes that the universe and the community I have come to love so much will understand a bit more why I might act with such urgency. My emails can be short and direct. I do a million things at once. I jump at every chance to get involved in a project that helps more kids. I am not dying. But I am sick. And I am afraid I won't get to do all I want to do for these precious lives that do not have the amazing father and the long list of incredible friends and family that my daughters do.
This organization has a long way to go in changing the conversation around foster care in America. But we have made great strides. We are bringing the discussion into every home; especially those that probably didn't think much of what they could do or why they should do it. We have opened countless doors for kids that need as many opportunities as we can uncover. And we are just getting started.
I fear the day I get really sick, not because I don't have faith in the community that surrounds us but because I know there is so much more I want to show them. There is so much more love I have to give. There is so much more of my mind I want to dedicate to solutions. There are so many more ideas I want to bring to life. We don't have the kind of money to hire a large team or even to pay the team we have what they are worth so I spend a lot of my time fundraising when what I really want to be doing is developing our work. There are days I dream about winning the lottery; not to buy a bigger house or a vacation home or any more stuff, but to endow this organization with enough funding that I can rest a little easier knowing it'll all be taken care of if I am not here to beg, knock on doors and harass my friends and colleagues daily on social media.
Right now, we have a big project on the horizon. A new web platform that will encourage even deeper engagement between caring adults and the children who need to know they exist. We will offer more opportunities for them to connect. We will share profiles of children looking for families and collect inquiries from families who are interested. I am hopeful this amazing new platform will get me one step closer to my dream...one step closer to every child knowing that they are loved and one step closer to waking up without a panic, knowing that the children will always be in good hands.
REAL LIFE. REAL NEWS. REAL VOICES.
Help us tell more of the stories that matter from voices that too often remain unheard.