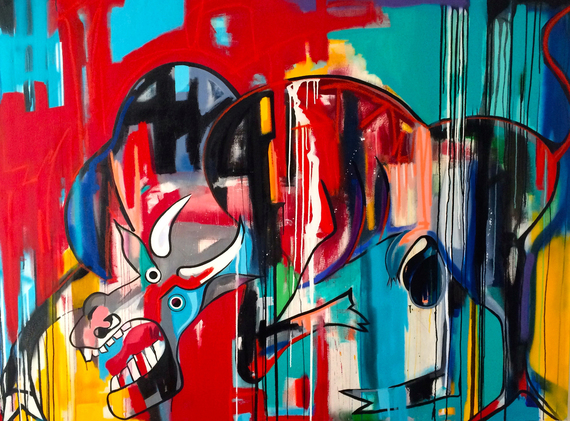 (El Toro by Josephine Barreiro, as seen in the Broad Strokes exhibit at Pen and Brush through June 5, 2016)
As many of us are still digesting all the art we've seen and heard in the last few weeks in New York alone - from Frieze to CONTEXT and beyond - there is one question that keeps me up at night: How well are women artists really doing in the marketplace as it stands almost midway through 2016?
I'd wager to say that I'm not the only one pondering this question. Not only has there been a growing dialogue about women artists recently, but there have been a number of outspoken advocates of gender equality that extend far beyond our long-standing and stalwart champions. Quite simply, people are talking.
From Art Newspaper's examination of persistent gender imbalance in museums and how to remove it, to a recent article in the New York Times examined the rise of women-only art shows, featuring Pen and Brush among many other institutions and art-world influencers, in support this recent "trend" and consider it, to quote artist Barbara Kruger, a catch-up "after centuries of women's marginality and invisibility." Institutions, from the Tate Modern to the New Museum, have taken up significant efforts to ensure that women are strongly represented and in their upcoming exhibition schedules and supporting scholarship. The most recent numbers available show that only 27% of the 590 major solo shows organized by 70 institutions between 2007 and 2013 were devoted to women artists.
It's clear that a high level, range and quantity of work by women artists exists. Look at the overwhelmingly positive response to the fantastic, exciting and delightfully disturbing work seen in the Rubell Family Collection's all women show, "No Man's Land," that debuted last December at Art Basel Miami Beach. This show made clear that an outstanding level, range and quantity of work by women artists exists... but it cannot be overlooked that attention they received can be attributed in part to the fact that people still see this as an anomaly.
As if there can't possibly BE so much outstanding work by women.
As if, though we have seen time and time again through the hard work of galleries, collectors, critics, institutions, and scholars who actively support women artists, the art market needs to be shown, once again, that these artists and this work exists.
Wouldn't it be great if this kind of massive presentation was not necessary to prove that women are doing spectacular stuff?
If I sound like I'm on my soapbox about this, there is a reason. Since 1998 I've served as the Executive Director of Pen and Brush, a 122-year-old non-profit that supports women artists and writers by showcasing their work to collectors, curators, editors, agents, publishers and the public at large. Our goal is to positively impact the careers of these women and ultimately effect real change within the marketplace so that these artists and writers have more opportunities for gallery representation, bigger book deals and more commercial and critical value placed on their work - by the simple virtue of giving it a platform to be seen by a larger audience.
Pen and Brush was formed before women had the right to vote, and so much progress has been made for women since our founding. Yet, regrettably, so much has stayed the same. On a regular basis we continue to field questions like, "Why only women?" "Why not include men too?" Followed closely by comments about the success of contemporary artists like Cindy Sherman and Marlene Dumas, two of only a handful of female artists who have attained "unicorn" status in the art world with their commercial success.
I think anyone who believes in gender equity in the arts wants good work by women to be intermixed equally and naturally with good work by men - but in reality, this simply isn't the case. By always falling back on the select few female artists who have achieved a high level of success, the implication is that all the male artists are outstanding but only these rarefied few women are truly shooting stars. It's not about protecting women artists or creating an affirmative action plan for them, either. It's about making the point that excellent work by women artists can be found in the same quantities, scope and scale as work by men.
When we sold our historic brownstone over three years ago, Pen and Brush began a new chapter in the organization's history, one that has been hyper-focused on making this point and on debunking these mythologies around art by women. Last October we opened the doors to a new state-of-the-art facility right in the heart of New York's Flatiron District. We also completely reworked our programming, doing away with the juried model and focusing instead on allowing our pool of talented curators (with resumes that include leadership roles at The Metropolitan Museum of Art, Dia Art Foundation and The Vilcek Foundation) to select work based on merit alone. This is important. The art we exhibit and the poetry and literary fiction that we publish through our imprint Pen and Brush Books has been vetted by experts in the field who, as part of their agreement with us, are not required to select any work at all. Instead, they have the ability to select work they are prepared to advocate for. We don't accept the fact that work by female artists isn't good enough to deserve the attention that male artists receive, and we believe that this will be proven out by our new approach.
It is in this way that we want to be a resource for the art world, for galleries looking to unearth emerging and mid-career artists, for collectors who want to see good art that is generally undervalued and for the artists who have struggled with getting the exposure their work deserves.
But this can't be done by one organization alone.
As we work in our little corner of the market to lift women artists and writers, we need to align with other organizations, influencers and art lovers who are working to effect change in their own spheres of influence. Because I don't believe that, as we approach the midway point of 2016, women artists are even close to receiving the critical acclaim, gallery representation, or market value they deserve. And the only way we're going to change this is for the art (and literary) community as a whole to make a concentrated effort to rise up against the conscious - or unconscious - bias that exists around female artists.
So let's get out there. Those of us who believe in gender equity need to join together. We need to continue to have our voices heard and to align our efforts to create this change in the world. And we will continue to fight this fight together until it's all about the art, and not the gender of its maker.
The original version of this article appeared in the January 29, 2016 issue of Blouin Art+Auction. reprinted with permission of Blouin Art+Auction.
Calling all HuffPost superfans!
Sign up for membership to become a founding member and help shape HuffPost's next chapter