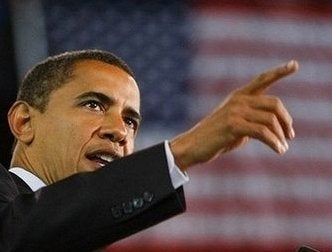 General Colin Powell, once considered a prime GOP candidate for the presidency, has endorsed Democratic Senator Barack Obama in the 2008 race for the White House. Saying that he felt his party had moved too far to the right, and citing the appointment of far right Supreme Court justices as a concern, Powell took what can only be described as a bold step in saying he will vote for the other side of the ballot on November 4.
In his interview with NBC's Tom Brokaw, however, Powell did not broach one subject where he could have a very significant impact: The repeal of the military's "Don't Ask, Don't Tell" ban on lesbian, gay and bisexual service members.
One year ago this month, Powell told a reporter that, "'Don't Ask, Don't Tell' is still a discriminatory policy; it is prejudicial." And went on to say that, "It's now fourteen years later, the country has changed, and the day may well come when it will not be a problem any longer."
And when asked by reporter Walter Isaacson "do you think that day will come?," Powell responded that "I think sooner or later it will come," saying that military leaders are "not just a bunch of old generals who cannot see the future."
Now, General Powell has endorsed a candidate that has consistently said he favors repealing the law. And that begs the question: Is he now ready to say the day has arrived when lifting the ban makes good sense?
His answer to that question could have a far-reaching impact for military families, and for the Republican party, as well as the Democratic ticket.
As someone who has dedicated his life to national security and military service, General Powell understands the tradition of military service that is part of many American families. Like Senator McCain's own family, many Americans are part of a long, proud tradition of military service. But "Don't Ask, Don't Tell" has mean that, for those who are LGBT, carrying on that tradition is rendered virtually impossible. As retired Air Force Colonel Dan Tepfer pointed out in a Dayton Daily News op-ed earlier this year, having a gay or transgender child changes the way many families view this issue.
Now, more than ever, General Powell can play a major role in changing that, and in bringing the GOP a long way toward embracing repeal, too.
Senator McCain has often cited Powell as a primary reason for his support of "Don't Ask, Don't Tell." And if the General publicly says the case for repeal made by Senator Obama and some GOP lawmakers is the right one, it should compel McCain to revisit that support. Doing so would not be unprecedented in his party.
Former Congressman Jim Kolbe of Arizona, who Senator McCain has said he admires and respects greatly, was a champion of repeal during his time in Congress. Similarly, GOP lawmakers Ileana Ros-Lehtinent of Florida and Christopher Shays of Connecticut, have also endorsed repeal. And during his time in the House, former Congressman Wayne Gilchrest, a Vietnam war veteran, also supported legislation to lift the ban.
General Powell may be able to help bring along even more Republican lawmakers in the fight to get rid fo the law, and he could challenge Senator McCain's defense of the ban by also challenging him to revisit his position on the issue. (McCain already said recently that he's now open to reviewing the law.)
Many have presumed General Powell did not want to inject "Don't Ask, Don't Tell" into the political arena by shifting his position in an election year, and that may have been understandable before now. But with his endorsement of a pro-repeal ticket for the White House, that has all changed. He now has a chance to be part of a truly historic movement to repeal the law, and to bring new allies into that movement at the same time. And, he has a very meaningful opportunity to make a real difference for military families by calling for an end to a law that keeps so many people from continuing their parents', grandparents' and even great grandparents' proud traditions of service.
General Powell is respected by many Americans, and his opinions carry weight, especially with those who know the military and national security best. That is why his endorsement today has ignited so many debates, and it is why his views on the debate over "Don't Ask, Don't Tell" could potentially re-ignite the campaign for repeal, too.
Popular in the Community