I am constantly amazed how many well-regarded wineries can turn out such dreadful wines. I don't mean the Two Buck Chuck category, I mean the $20 and above level whose winemakers quite obviously craft--and that's the word--wines to taste a certain way for a certain market. From the days of Lancers Rosé and Blue Nun to today's sweet, cloying Zinfandels and wholly insipid Pinot Grigios, wineries convinced their fans that wine is actually supposed to taste like soda or wood chips or sour water.
Thank heavens I have a lot of wine selections to draw on so that, for every terrible bottle I pour down the drain, there are several more--some surprisingly so--that reward me with a fine experience over lunch or dinner.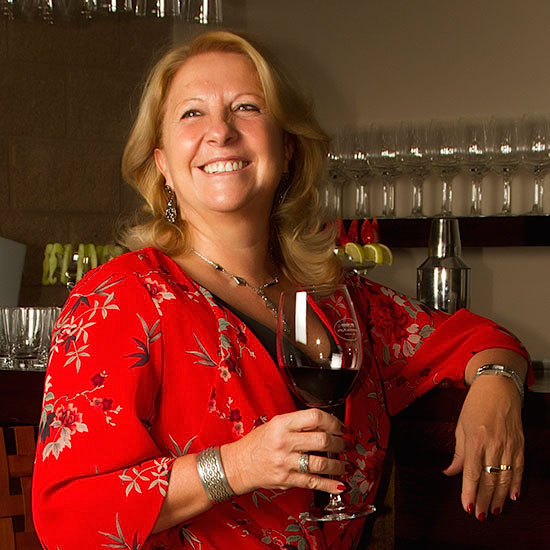 Susan Balbo Crios Rosé of Malbec 2014 ($15)--Argentina's first lady of wine, Susanna Balbo (above) was an enviable reputation for her range of wines, although some of her big reds are too massive for my taste. It was a happy surprise, then, that this rosé made from Argentina's best red grape had such refinement to it, with enough alcohol to bolster its fruit flavors. An ideal August aperitif that can go with any seafood that comes afterwards.
Noceto Sangiovese 2012 ($18)--Until now I've never had a California Sangiovese of any distinction--at least one winery even dared call theirs Brunello while others ripped the grapes out--and when I picked this from my cellar I thought, by the name, it was Italian, for it had a very Tuscan-style Sangiovese flavor and sensible alcohol level at 14.1%. Jim and Suzy Gullett in Shenandoah Valley have been working with the grape since 1987 and breeding shows, based on vines from imported Brunello scions. (Don't tell anyone, you can even buy it in a 3-liter bag for $60.)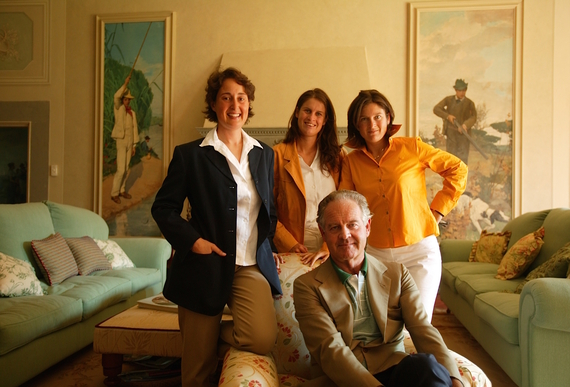 Santa Cristina 2011 ($11)--For a true Tuscan Sangiovese, at a 13% alcohol level that makes it always easy to drink with so many foods, Santa Cristina is as consistent as any commercial wine in Italy. As an I.G.T. wine it need not follow any particular formula, as with Chianti, but the Antinori family (above) guarantees the clean, versatility of a wine that is said to use some of the same fruit as in their D.O.C.G. Chiantis when there is an abundant vintage. If you like Mouton-Cadet as a French everyday wine, you'll like this much better as an Italian that never disappoints.
La Fiorita Brunello di Montalcino Riserva 2006 ($95)--Moving quite up the vine in Tuscany, this muscular but limber Brunello shows all the cachet a much-abused varietal can possess. With 14% alcohol it skirts the overripe, heady style that has crept into the region's winemaking. Owners Natalie Oliveros and Roberto Cipresso look for finesse from fairly young vineyards called Poggio al Sole and Pian Bosselino, with an even newer one named Podere Giardinello. An excellent choice for duck, goose, and squab.
Fortress Cabernet Sauvignon 2012 ($25)--The name may be brash and the label shows an off-putting iron gate, but this Sonoma County wine from an excellent vintage is very accessible, very pleasing at 13.9% alcohol, and its complex Bordeaux blend of 82% Cab, 7% Syrah, 3% Petit Verdot, 3% Malbec, 3% Cab Franc, and 3% "miscellaneous" shows that winemaker Charly dePottere is serious about getting just the right balance with focus on terroir. It's an elegant wine, fairly feminine for a cab, and goes splendidly with steak on the grill.
Inman Family Russian River Valley Chardonnay 2013 ($35)--Kathleen Inman has always stayed true to her reverence for refinement of Meursault and Chablis, and you smell it immediately in the lovely bouquet, then taste its depth on the palate, with only a warm note of toasted nuts that hints at a sensible aging in new French oak. The vintage allowed big flavors to emerge from just 12.2% alcohol, which proves conclusively that those California winemakers who create bigger, oakier styles back at the winery are all out of whack with what Chardonnay should be.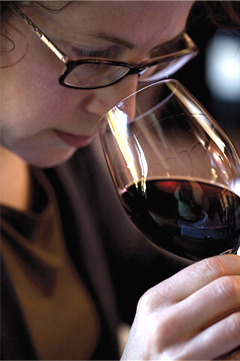 Franciscan Estates Equilibrium White Blend 2014 ($19)--My goodness, what a well-named blended wine! Janet Myers (above) wanted a floral style with some nuanced tropical fruit and nailed it with this ensemble of 72% Sauvignon Blanc, 17% Chardonnay, and 11% Muscat, this last really giving it an unusually aromatic quality. Pretty is a good word for, and its ability to match up well with seafood and poultry makes you want to buy a case of it.