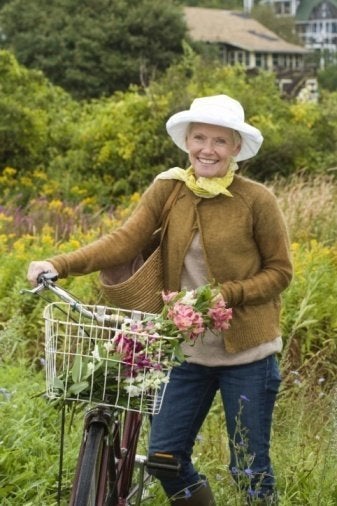 When my beloved Egypt -- a tortoise shell cat -- died at eighteen, I mentally calculated how old I'd be if I got another one and she lived just as long. Fifty-three. "Old," thought I.
Today I turn 54. And, to paraphrase another cat, Simba, from The Lion King, "I laugh in the face of fifty!" It's fabulous.
Barbara Hannah Grufferman is on the same page. Barbara was totally fine with turning fifty -- except that it snuck up on her. "Once I got over the shock that I was really and truly fifty, I wanted to do it right."
Barbara laughs when she describes herself as, "a bit of a Girl Scout". She started asking herself and anyone who would listen big questions ("How can I prevent heart disease?") and little-but-still-important ones ("Can I still wear jeans?"). After getting contradictory advice, she decided to go on a quest to find the answers -- and came up with a plan that would help her make the most of these years.
Luckily for us, she's pulled it all together in a smart, simple book called The Best of Everything After 50: The Expert's Guide to Style, Sex, Health, Money, and More. She found the best experts, met with them, asked them endless questions, and put their recommendations into play to make sure they worked. And they did, big time. "My health numbers are better than ever. My weight is down. I can do push ups. I've got a vision for the decade ahead. People tell me I look fantastic. I've never felt this great."
Barbara's book includes 26 experts -- most of them women over 50 themselves -- New York's most esteemed doctors, designers, nutritionists, financial planners, and more. The chapter on health comes first because, well, it's the foundation for everything else. "If you don't have your health when you enter your fifties, you won't be able to enjoy life to the full. And if you aren't feeling great now, you can definitely turn that around." (I'm honoured to be included as one of Barbara's experts -- alongside people like Diane von Furstenberg, Jane Bryant Quinn, and Julie Morgenstern -- for my work with the New Radicals, that is, people who discover how to put the skills acquired in their careers to work on the world's greatest challenges. For more, please see archived articles.)
The book is packed with information women like us can put into practice today. And I've started to see Barbara as a kind of curator -- she's going to regularly blog about the latest on the best of everything for women over 50, including regular check-ins with the experts.
When I interviewed her for this article, we got to talking in the way that only women do -- you know, you meet someone at a bus stop and within five minutes, you've shared everything. She told me about her hair, which has become a metaphor for everything she wants to become in her fifties. "I'd been highlighting and blow drying my hair for decades and I realized one day that I had no idea what my real hair looked like. I went to see Lorraine Massey, who's an expert on curly hair, which mine once was. She eyed me suspiciously. She told me candidly that she was willing to give me the cut and tell me how to care for my real hair, but she wondered if I could make the transition from years of "blow frying." I said yes, I wanted my hair to be free! To be honest, it took a while to adjust, but my hair has never been healthier."
I can relate. Check out the photo at the top of this post. I've been colouring my hair forever, and it's cut super short so that I don't have to deal with my curls (the bane of my existence as a young woman in the 1970s!). I'm thinking of following Barbara's lead. Stay tuned.
Barbara Grufferman is giving a talk at Barnes & Noble on Thursday, April 8 at 7:00pm. (East 86th between 3rd and Lexington, New York)

Is it fabulous to be a woman over 50? Please share your thoughts and experiences by commenting below. As always, I invite you to email me directly: Julia (that familiar symbol) wearethenewradicals (punctuation) (suffix).

Julia Moulden is on tour, talking about the New Radicals. Her new book will be published in 2011.
Popular in the Community