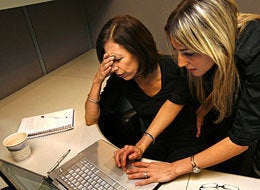 For generations, Americans shared the belief that if you worked hard, you could take care of yourself and your family and move into the middle class. In light of the current economic crisis, and recent data showing that wages have remained stagnant despite increased worker productivity, it's clear that this promise has been broken. In furtherance of our recent Mother's Day celebration, it is imperative that we think of solutions to make the middle class dream possible for working mothers once again.
Lawmakers recently extended a helping hand to get our nation's workers back on their feet by introducing the Employee Free Choice Act. This legislation, strongly backed by President Obama and a majority in Congress, would make it easier for workers to join unions if they so desire, giving working mothers a chance to get ahead.
The legislation couldn't come at a more critical time. As families continue to witness loved ones lose jobs in this recession, many married women are now finding themselves as the sole breadwinners for their households. Countless others who are single also are responsible for providing for their families, and are being squeezed by stagnant wages, increased expenses, and fewer opportunities. According to the Center for American Progress, women now account for a larger share of those employed because the industries dominated by male workers have been losing jobs at a faster pace.
But all too often, women aren't making enough to support their families. Women make up 60 percent of the low-wage workforce, and often occupy the lower rungs within this sector. What's more, since women continue to bear the primary responsibility for child care, elder care, and care for disabled relatives, and are more likely to be custodial single parents, they are often forced to reduce their work hours, take breaks from employment, or avoid jobs requiring work schedules that would clash with their critical family responsibilities. This leaves many with no choice but to take low-wage jobs. Combined with the grim reality that workers in low-wage jobs are the least likely to be provided health care coverage, sick pay, paid time off, family leave, or retirement benefits, many working mothers are barely making ends meet.
For these workers, union membership is a means to get out of low-wage jobs and into the middle class. Union membership increases womens' wages by an average of 11 percent (or about $2 per hour) compared with women in similar non-union jobs, according to a recent report from the Center for Economic and Policy Research. They are also about 19 percent more likely to have employer-provided health insurance and about 25 percent more likely to have an employer-provided pension.
Unions are playing a role similar to the one they have played before -- when they turned the once low-paid, dirty, dangerous factory work into the good jobs of the mid 20th century. Workers organizing through unions raised wages and brought paid leave, health benefits, and retirement to these initially "bad" manufacturing jobs, helping transform them into solid middle-class positions from which generations raised families, bought homes, and put their children through college.
Unfortunately, too many barriers to having a union exist, preventing us from creating the good jobs of the 21st century. The Employee Free Choice Act will help curb this problem, by giving workers a direct path to form unions so they can bargain for better wages, benefits, and job security. Lawmakers must now act quickly to pass this important legislation and help remove the obstacles that keep millions of women in dead-end, low-wage jobs. Working moms deserve a level playing field and an economy that works for everyone again.

REAL LIFE. REAL NEWS. REAL VOICES.
Help us tell more of the stories that matter from voices that too often remain unheard.