Accounting and business advisory professionals say continued uncertainty is their clients' biggest concern when it comes to the so-called fiscal cliff, according to a recent survey by Sageworks Inc., a financial information company.
More than half of the respondents also said the current uncertainty has already prompted clients to make changes in their businesses. Only a quarter of survey respondents said their clients were not making changes because of this uncertainty.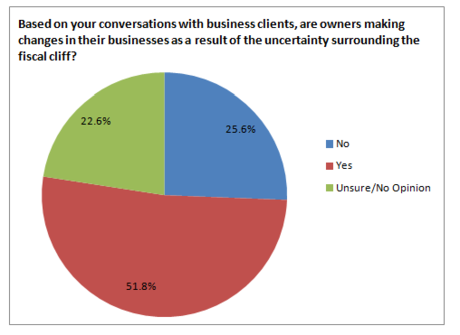 "Private companies operate in extremely risky environments that most of us would not accept," said Sageworks CEO Brian Hamilton. "Business owners already have enough to worry about, and now they're further burdened with how new policies are going to affect their bottom line and discretionary income."
In the survey, accounting and business advisory professionals were asked to gauge their business clients' biggest concerns about the fiscal cliff. Almost 30 percent said their business clients worry most about continued uncertainty, while another 21 percent said their clients are concerned that policy changes made to avoid the cliff will be negative for their business.
About one in five respondents (20.7 percent) said clients fear the outcome of efforts to avoid the fiscal cliff won't address longer term issues of government spending and national debt. Only 8 percent said clients were most worried that the U.S. will actually "go over" the cliff, and only 3 percent said clients aren't worried about the fiscal cliff.
Sageworks conducted the online survey between Dec. 12 and Dec. 18, collecting responses from 164 accountants and business advisors. Respondents were all clients of Sageworks and were not randomly selected.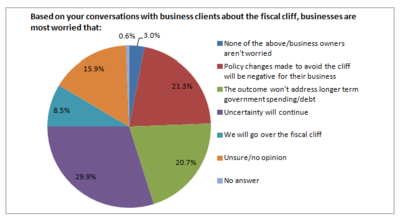 Hamilton said the uncertainty surrounding the fiscal cliff debate adds another layer of complexity to business decisions. While the best plan addressing the fiscal cliff would tackle national debt head on and successfully, any plan would be better than the current stalemate, according to Hamilton.
"You can't expect businesses to plan for their 2013 and 2014 operations when you throw new policies at them on Dec. 31."
A Sageworks survey in November of accounting and banking professionals found that three-quarters believed the national debt was making it less likely that businesses would increase hiring. A similar percentage said the national debt, which is a record $16 trillion, was making it less likely that businesses would increase business investments.
Popular in the Community