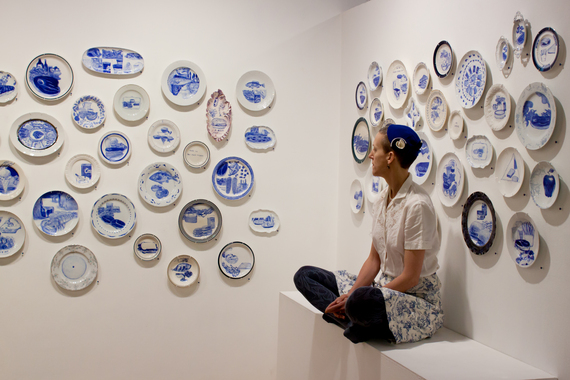 Painter Julie Green and "The Last Supper." Photo by Felicia Phillips.



"He told us he never had a birthday cake, so we ordered a birthday cake for him," said a prison official in 2007.
The cake and some pizza was an Indiana man's last meal request before he was executed on a Friday morning in May.
The name of this man and the crime he committed is discoverable within a few clicks on Google. But that would be missing the point, according to Julie Green, an art professor at Oregon State University.
Since 2000, Green has painted 600 plates depicting the last meals of death row inmates, "The Last Supper." In cobalt-blue mineral paint, she notes on each plate the state and date of the execution alongside the meal request -- but no name, no crime -- before the ceramic dish is kiln-fired at 1400 degrees.
"It is a memento mori representing a lot of suffering," Green said. "By putting a name, it makes it less accessible."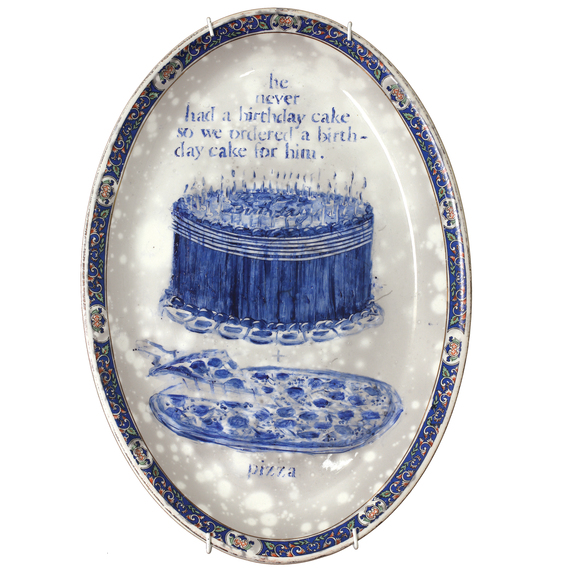 Indiana 05 May 2007. Pizza and birthday cake shared with 15 family members and friends.



Some painted plates display more lavish meals, as seen by a Florida death row inmate's 2006 request for lobster tail, butterfly shrimp, a baked potato, strawberry cheesecake and sweet tea. Other painted plates demonstrate a yearning for the comforts of home or childhood, like the 2014 request for a peanut butter and jelly sandwich. Or macaroni and cheese, which Green has painted 10 times. Or fried chicken, which she has painted 84 times. Burgers, 89 times. Other plates don't show any meal at all, indicating the inmate may have refused a last meal or made no request.
"Food in general is a connection for me," Green said. "It resonates with people."
The genesis of the project occurred during Green's morning ritual of toast and tea, as she read an article about a death row inmate's last meal.
"Why is this in the newspaper?" she asked herself. "You're giving somebody a choice, and then you're going to execute them? That's very strange to me."
Fifteen years later, the growing gallery of painted plates is coming to The Mary and Leigh Block Museum of Art at Northwestern University in Evanston, Ill. (May 9 to August 9). The university holds a special place in the history of capital punishment. In 2003, former Gov. George Ryan commuted all Illinois death sentences, making his historic announcement at Northwestern's law school, home to the Center on Wrongful Convictions. At a seminal conference in 1998, the center featured 29 exonerated death row inmates, calling to the governor's attention critical errors in the justice system. In 2011, former Gov. Pat Quinn abolished the death penalty in Illinois altogether.
Green's collection builds on this history, sparking discourse.
"The narrative is the work being done around Chicago on social justice," said Elliot Reichert, curator of special projects at the Block Museum. "We are trying to invite a lot of people into a larger conversation."
The museum is encouraging dialogue through a series of events, a justice-focused community curriculum that it is developing and a comment book that travels with the exhibition, inviting perspectives of all kinds, like these:


"As a mother, it was very sobering to read the last request by a man for his mother's cooking. I can't imagine making a final meal for anyone."
"Why no display of the names of the victims or these criminals and their families?"

The conversation has no end in sight, as Green is committed to adding 50 plates to "The Last Supper" every year, or as long as capital punishment persists. Thirty-two states and the federal government allow the death penalty, despite waning public support, falling from 78 percent in 1996 to 55 percent in 2013, according to the Pew Research Center. In 2014, an unprecedented U.S. death row study found that more than 4 percent of defendants sentenced to die are innocent.
But for Green's work, hope comes in the form of two painted plates -- first meals rather than last meals. They represent two men, former death row inmates who were exonerated and released. Bucking her own trend of static blue-and-white plates, Green painted them in full color.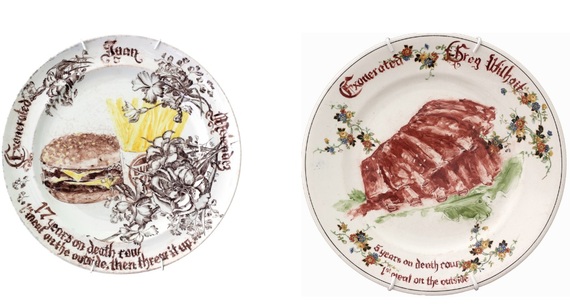 Left: Exonerated Juan Melendez 17 years on FL death row. Burger King burger and fries. Right: Exonerated Greg Wilhoit, 5 years on OK death row. BBQ ribs.



Since 1973, 152 inmates have been exonerated from death row, according to the Death Penalty Information Center. Beyond (and including) death row, an exoneration happens every three days in the United States, with the toll at more than 1,500 since 1989.
"We do not have the death penalty in Illinois anymore, but that hasn't gotten us out of the woods," said Sara Sommervold, an intake attorney at Northwestern's Center on Wrongful Convictions. "It is a cause and an issue that is close to the heart of many of the people that are here."
For the Indiana man whose first birthday cake came moments before his lethal injection, his last human moment will live on, immortalized on a painted plate, one supper in a sea of dishes.
Editor's Note: Green's technical advisor, Antoni Acock, fires every plate for "The Last Supper."
Calling all HuffPost superfans!
Sign up for membership to become a founding member and help shape HuffPost's next chapter