I was an "Emma Girl." My high school education took place within the grey walls of Emma Willard School (EWS), a private girls' school founded in 1814 by women's rights activist and advocate for women's higher education, Emma Hart Willard.
In many ways my time at EWS transformed me just as it was supposed to: teaching me the academic focus that would carry me all the way through a doctorate degree, establishing the beginnings of my voice as a writer, and encouraging me to speak up about my ideas and beliefs.
Unfortunately, while much of what I learned at EWS had to do with supporting the budding character and individual strengths of young women, one of the most defining parts of my high school experience taught me a hard lesson: the rights and safety of girls and women are not always valued even within institutions that espouse to protect them.
Even now, almost two decades later, it gets asked when alumnae get together: You were there when the teachers were removed, right? When that girl was kicked out? Did you know her?
The answer is: yes. Yes, I knew that girl. Her name is Kat, but I knew her as Katie. The 28-year-old teacher we all knew she was having sex with? The man who she would come forward 18 years later and assert forcibly raped her? His name is Scott.
I've thought back on the incidents many times since my time at EWS. None of it has ever felt right to me. Here's what I knew at the time, what was common knowledge among many students: I knew Katie, a senior, and Scott were sleeping together. I knew Scott had a relationship with at least one former student. I knew Katie and Scott did sexual things that fell only under the title of 'really weird' and aggressive in my sexually inexperienced brain. I knew that emails detailing some of these things had been found by another student and shared with the administration. Yet, for weeks after the emails were turned in to the administration Scott remained on campus. He remained a teacher, a coach, a shadowy presence. We all whispered about it—nervous, excited, concerned.
The conversation Katie and I had the afternoon before vacation has always struck me because of what happened afterward. I can see her clearly still—a girl I'd thought of as vibrant, mature, and worldly, seemingly suddenly ashen, slight, and vulnerable. Our conversation was brief and vague, but it left me feeling unsettled.
The next morning Katie was gone, seemingly erased from our school.
Over vacation letters went out from the Head of School to parents explaining that Scott (and another teacher) were dismissed from their positions for "overstep[ping] the carefully defined and articulated boundaries of faculty-student interaction." No mention was made of Katie—leaving this closing claim that, as a boarding school, EWS has a "special responsibility for the welfare of the young women who are our students" begging the question: So, about that student…?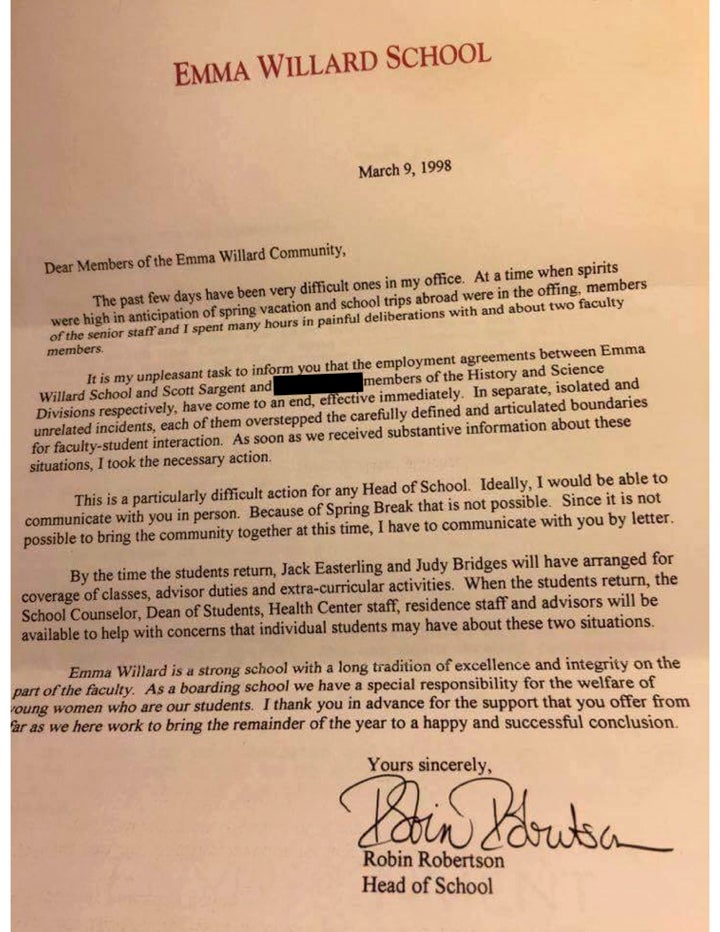 When we returned to school after break, we were told nothing about Katie, but we heard stories, of course. Stories that she'd gone to New Orleans, that she was homeless, that she'd no longer be able to go any of the colleges that had accepted her. Her story, whispered between us, was a warning shot we all heard. We knew not to press the issue. However, some students made a subtle reminder that we would not forget what happened—that we knew it was wrong: A picture of Katie and Scott on the soccer field appeared in the student-run school yearbook, the caption stating that he was giving her tips on "aggressiveness."
It was years later that I understood exactly how wrong it all was. How did a man with a known history of sleeping with students keep his position as a teacher and coach at an all-girls boarding school—where he had access to and control over precocious young women living away from home with limited access to boys their own age? How did he retain access to Katie (and other students) even after the nature of their "relationship" went from a rumor to common knowledge to irrefutable fact? How did the school permit this man to depart, reputation at least intact enough to get a job at another school, yet leave Katie to fend for herself? How did the school, after failing to protect Katie in the first place, further violate her by choosing to kick her out of school rather than provide her support?
Here are the details of Kat's story as she tells it in the New York Daily News: Kat was groomed from the age of 17 as a submissive victim to a 28-year-old predator—her teacher, her coach. She states that she experienced both statutory and forcible rape on school grounds. And she says that when she reported this fact—still bleeding from an attack—she was not taken to a hospital. The police were not called. Her parents were not informed.
Instead, she says, she was told she was being dismissed from school for violating the code of conduct. She says the Head of School told her that her father was disgusted with her, and she was not welcome back home. She says she was placed on a bus to New Orleans to stay with a friend. According to Katie's father he was only contacted after Katie was on the bus, and he was told that Katie chose to leave school.
When I read Kat's story suddenly everything clicked into place. It was the first time I could make sense of the disconnected knowledge I had carried around for years: The school administration knew. And they punished Katie for being a victim.
We all know the story, right? At this point it is business as usual: Yet another institution fails to protect women's rights, blames a victim, and upholds rape culture.
But this time it happened at a school that claims to be a bastion of women's rights, Emma Hart Willard's school.
This school, my school, has been tarnished.
Katie was one of us. Like me, she was an Emma Girl.
We were Emma Girls then. But here's the thing: We aren't girls anymore. We grew up.
We grew up, in the spirit of Emma Hart Willard, to know ourselves. We grew up to be forces to be reckoned with. We know how to speak our minds even when it is unpopular or inconvenient.
We learned this thanks to the many, many wonderful teachers who kindly and thoughtfully ushered us into adulthood. We learned from a spectacularly challenging and energetic academic environment. We learned from our colleagues—from the shining lights we watched mature in each other.
This community of former students has heard Kat's voice. It has been a week since Kat's story has come out, she has been met with the support of hundreds of former "Emma Girls." We are congregating in online group over 800 strong to demand that the current administration of EWS rises to the challenge they, and many other educational institutions, are facing.
Will they clearly admit their wrong-doing and make substantive changes to protect the rights of the young women in their care—and the rights of the other women who will continue to come forward?
Will they lead the charge to protect victims of abuse above all else, including the reputation of school administrators and sexual predators?
Will they speak up to help end institutionalized rape culture? Or will they continue to be part of the problem—nodding cautiously at the allegations in emails to alumnae while quickly distancing themselves from the past, the facts, and the victim.
EWS, you are at a crossroads. Your next steps will determine your legacy as an institution:
You can choose to step forward with the bold women that claim this school as our own and prove that you are committed to ending sexual violence, victim-blaming, and rape-culture.
You can stand up and proclaim, in words and actions, that your concern is not only with the correct legal stance, but with the correct ethical stance.
You can say that your legacy will be truth—uncomfortable though it may be.
However, EWS Administration, so far your response has been a PR dance around the truth—and continued fundraising emails. And that is not the answer required of you.
You weren't Emma Willard when you failed Kat. So far, it seems, you still aren't.
But someone needs to be. So, we, the women who were educated in those walls, are going to be.
These voices demanding that our school will be on the right side of history? These voices that say that we will not forget what happened to Kat? That we will stand with Kat?
We are Emma Willard, even if you are not.
We are taking our name. And we will let you know when you have earned it back.
#WhatWouldEmmaHartWillardDo
Related
Popular in the Community