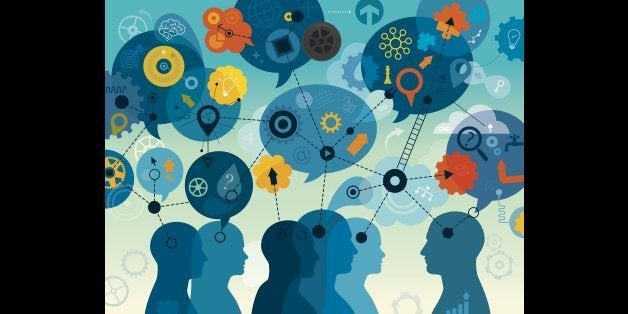 What would happen if we focused on the process of learning rather than just the metric to judge it by? Would it change that much? Probably.
It would certainly change how we taught and it would also change what we taught. It may even change the people who we are trying to embed in the learning process -- the students themselves.
Significant time, attention, and resources have been directed toward closing the persistent achievement gap in our K-12 public education system. The same, however, cannot be said about solving the engagement gap. The engagement gap -- how much students are engaged in, motivated by, are empowered via their own learning. To what extent they believe what they are learning has relevance and meaning to them and their lives -- both in, out, and after, school.
The engagement gap is a phrase that comes up often in the business world -- maximizing employees' involvement, dedication, purpose with the organization they work for or with. Business frequently sees it as both a value and a vehicle to progress. Yet in education we too often forget to see our students as partners and instead designate them to the role of recipients -- or worse empty vessels to be filled.
However we know that students who are engaged in their education do better on a variety of indicators. They stay in school, graduate with the skills and competencies needed for higher learning and the workforce, and develop a greater understanding of how to be successful, contributing members of a democratic society. In short, students who are engaged in learning continue to grow and learn.
And since achievement is unlikely to improve unless students are engaged in their education, finding ways to close the engagement gap is an essential goal to ensure that high school seniors graduate well prepared for the rigors of college and careers -- and become well rounded, successful, contributing members of society.
But what exactly is the engagement gap, and what have education professionals learned about what works in narrowing or eliminating it?
Engagement is more complex than entertainment or excitement, though it can incorporate those emotions and reactions. Engagement is also more complex than just providing student voice, though again that should be a prerequisite. Engagement is about knowing your students. Knowing what makes them tick, knowing what inspires and motivates them. It is also about knowing your craft as a teacher and being able to adjust methodology to suit needs. Engagement is also a two-way street. For true engagement, everyone must play a role. It shouldn't be a passive activity, where the teacher engages the student, but rather an active one, where the students have roles to play. True engagement equates to ownership of learning.
Above all, seeking engagement in education requires teachers to take a step back from the expected and to develop--often spontaneously--responses to the occasion. The most engaging and creative teachers are often those who are prepared to take risks; to try something new; and to listen, reflect, and engage students in the processes of learning and decision making for schools. Ironically, focusing myopically on outcomes or benchmarks, while providing a good path, can take us away from making every school and every classroom an all-engaging environment. If we are to make every school engaging and every student an engaged learner, then we must be prepared to let the teacher teach and the learner learn. We must be focused more on the process of learning and a little less on the outcomes.
In May 2016, ASCD convened a Whole Child Symposium that brought together education experts with deep knowledge of research, school administration, classroom teaching, and professional development to answer these questions. These educators led a conversation about how each school and every classroom can become an all-engaging learning environment.
Russell Quaglia, Executive Director of the Quaglia Institute for Student Aspirations
And we wonder why we are losing these kids . . . we haven't made the connection to what matters to them. . . . If we want them to get engaged, we have to first let them know that they matter.
Kaya Henderson, Chancellor of the District of Columbia Public Schools (DCPS)
When I say that people chuckle [but] this is not a laughing matter. This is incredibly serious. We will only be successful if our schools are places where they love being.

Bena Kallick, author and codirector of the Institute for Habits of Mind
Their ideas matter. Are the kids cocreating those projects? They have as many great ideas as we do. So, to what degree do we invite them to the design table?
Kim Thomas, 2016 Illinois State Teacher of the Year
I am not discouraged by how you walk in my classroom. I am encouraged at how you are going to exit this room... it's the teacher's responsibility to make those students want to come back to that classroom and learn.
The symposium, the fourth in a series, provides a forum for educators - as opposed to pundits - to discuss today's pressing education issues. And it aims to recommend actions that each of us, regardless of our areas of influence, can take to improve education systems, processes, and outcomes. So what was recommended for tackling the engagement gap? In short it was a focus on,
Student-Teacher Relationships
Students with teachers who care about them and encourage their development are more likely to be engaged in school. Ensuring that every student feels cared for, supported, and listened to is both good pedagogy and good youth development.
Exciting and Relevant Learning Experiences
Every student should have access to a well-rounded curriculum that relates to their context, cultures, and experiences. One-size fits-all actually fits nobody.
Student Voice That Matters
States, districts, and schools should measure student perception of school culture and climate, the quality and relevance of their education, the preparation they feel for their next steps, and other key areas. And they should develop systems where student voice is an integral part of the school. Students as partners in - not just recipients of - learning.
Engaged Teachers = Engaged Students
It's difficult, if not impossible, for students to be engaged if their teachers aren't. Educators need professional development, career growth, and distributed leadership opportunities that are relevant and engaging and keep them committed to the profession. If we want the students to have ownership and a voice we must ensure the same for our educators.
To find out more read the Whole Child Symposium Report on The Engagement Gap: Making Each School and Every Classroom an All-Engaging Learning Environment at www.ascd.org/wcsymposium

Calling all HuffPost superfans!
Sign up for membership to become a founding member and help shape HuffPost's next chapter