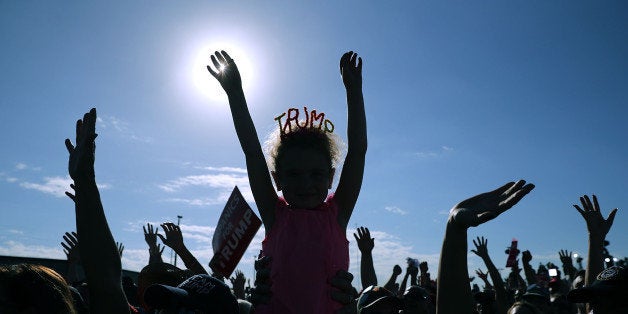 Over the past few weeks, I have heard the same question over and over: what will it mean for women if Hillary Clinton is elected? To me, the question isn't, "what do the election results mean?" but "what do they say about the United States?" If Clinton wins, it will reflect where we are. We have changed. We have moved on from antiquated views of who women are, and what behavior towards them is acceptable. To paraphrase both Michelle Obama and Condoleezza Rice, it would be saying, "Enough."
Clinton's presidency would certainly be historic and always would be a marker of a broken ceiling. Perhaps she would encourage more women to think of a career in politics. And, if the turnout for Clinton also brings people to the polls to vote for other women, a victory for her could be accompanied by victories for other women. The visible change to the demographic of those in politics would serve as models for younger women. We know it's harder to aspire to results when you have seen no evidence of their possibility. Simply electing a woman to high office will instill in both girls and boys the idea that both women and men can be leaders.
But, I don't think there will be any significant changes in our country in the short run. Organizations and systems change slowly. Changing institutions is like turning an ocean liner. What this election could show is that we are turning the ship.
When Julia Gillard became Australia's Prime Minister in 2010, she expected to be a novelty for the first few months in office. Yet, she experienced misogyny for years, finally coming to a head in her now-famous speech in front of parliament in 2012. In the speech, she berated opposition leader Tony Abbott for his misogynistic insults and offensive insinuations that women are not equally fit to be leaders.

We saw something similar in this country after President Obama was elected in 2008: his historic presidency turned out not to be a silver bullet for eradicating racial tensions and disparities.
Even in office, I expect Clinton will continue to face double standards, like those she has encountered on the campaign trail. Her likeability has been a frequent topic of discussion, while I haven't heard similar conversations about male candidates. We elect presidents to be the Commander-in-Chief, not to be a guest at our dinner table.
If Clinton is elected, we might see some subtle changes, like seeing more women in places of power. What we know about networks and homosocial reproduction tells us that she's likely to appoint more women to senior posts, just as Obama did with African Americans during his two terms. The phenomenon is not necessarily an implicit bias, but a natural outcome of the people she knows and the people in her network.
Sexism and gender inequality won't be solved overnight, but electing a woman to the highest office would be a significant step in the right direction.
REAL LIFE. REAL NEWS. REAL VOICES.
Help us tell more of the stories that matter from voices that too often remain unheard.