We all face life challenges from the seemingly insurmountable to the mundane. We seek advice in a variety of places (parents, friends, mentors), but when author David Rensin does -- at least for the past 16 years -- he asks himself, "What would Louie do?"
Seven years after Devil at My Heels was released, Zamperini's wartime saga of survival as a POW became even more widely known when Laura Hillenbrand published Unbroken. Her book spent four years on the The New York Times Best Seller list, and the film based on the book, directed by Angelina Jolie, opened last Christmas.
After all he'd done (both in his life and in documenting it), you'd think Zamperini would long for time off. After all, he was in his '90s. But you'd be wrong. He still had unfinished business with Rensin.
"After Devil at My Heels we had started outlining a second book designed to frame not only the lessons he'd learned from his incredible life, but tell stories and adventures from after he got back from WWII that he shared.
"But once he began helping Laura (she interviewed him 75 times), Louie was so busy that we put our project on the back burner. Still, every now and then he'd call me out of the blue and just start talking about what he'd been doing, what Laura had discovered about his life, and -- to my surprise -- about what he wanted in the book we'd never quite got around to doing. I'd scramble to turn on the tape recorder and get every word. I hoped that the time would come when I'd need the material.
I had a long wait. Then I got a call in December of 2013 from his daughter, Cissy, who said, 'My dad wants to finish that book.' Was I interested? Hell, yes. So, I went to Louie's house almost every week from January to May. I turned in the book on July 1, and two days later he died."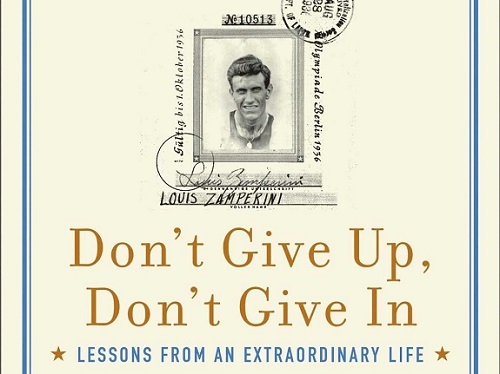 Don't Give Up, Don't Give In was designed to answer three basic questions: What had he done after the war; share his inspirational wisdom about attitude, being prepared, and giving back; and explain how his faith played a role in his life.
Rensin's path to Zamperini was paved with decades of bylines, countless magazine interviews and articles, and fifteen books, including five New York Times bestsellers. As a long-time contributing editor at Playboy, he built a solid reputation interviewing legends like Bill Gates, Jerry Seinfeld, Lorne Michaels, Martin Scorsese, Ben Stiller, Bill Maher, Whoopi Goldberg, Chris Rock, Robert Downey, Jr., Sean Penn, Tom Cruise, Nicole Kidman, and Shirley Maclaine, to name a few.
"All of those interviews taught me how to make a voice come alive on a page. I had a natural feel for it, and for some reason people liked talking to me. That's thanks to my editors, Steve Randall, John Rezek, and Barry Golson, they honed my abilities and I got to meet people I'd never have encountered otherwise."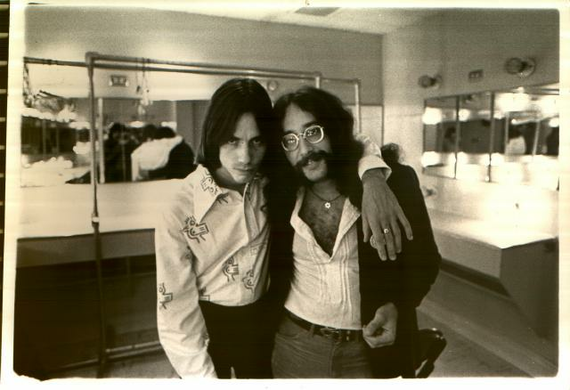 Rensin during his rock and roll writing days. With Jackson Browne, backstage at the Santa Monica Civic Auditorium, 1973
Rensin was born in Manhattan and his first eight years spent blocks from Yankee Stadium in the South Bronx. A move to Teaneck, NJ followed, and when he was fourteen his father relocated the family to Northridge.
"We landed in LA on February 7th 1964, the same day the Beatles landed in New York," recalled Rensin. "A couple of nights later, I was in some motel on north Sepulveda Blvd. watching their first appearance on Ed Sullivan, and the Beach Boys on another program. My mom handed me a Playboy magazine that had been on my dad's nightstand in the adjoining room, and said, "Here's what you want." Little did she know that I'd spend much of my career at the magazine.
Rensin graduated from Cal State Northridge with a degree in Political Science, but got into writing because "I hung out with a friend who was on the school paper. I loved music, and figured I could do some reviews, and every week I could go to concerts for free, or to the Ash Grove, Troubadour, and Roxy, I could grow my hair long, and meet interesting girls. I came up in the perfect time."
However long it typically takes a writer to find his or her style and niche, Rensin's epiphany came early. While on assignment for Rolling Stone, one of its editors took him to task over a story he'd written.
"My habit was to write one or two lines of description and three paragraphs of quotes. I figured people could explain themselves better than I could do it. My editor said, 'No, it has to be three paragraphs of description and two lines of quotes.' And I finally realized what I was supposed to be doing: Q&As. I loved voices, and I learned how to make the interviews flow and have an internal logic that held them all together. It's not as easy as you might think."
Rensin's debut book was The Bob Book: A Celebration of the Ultimate Okay Guy , co-authored with Chicago's own Bill Zehme. It became a cult classic. He followed by collaborating on a string of Bestsellers with comedians like Chris Rock (Rock This! Hyperion, 1997), Tim Allen (Don't Stand Too Close To A Naked Man, Hyperion 1994 and I'm Not Really Here, Hyperion, 1996), and No Shirt, No Shoes ... No Problem (Jeff Foxworthy, Hyperion 1996). He also helped world-renowned composer Yanni tell his story in Yanni in Words.
Rensin also helped with the late super-manager Bernie Brillstein's memoir, Where Did I Go Right?: You're No One in Hollywood Unless Someone Wants You Dead (LittleBrown, 1999), and the follow up, It's All Lies and That's the Truth: and 49 More Lessons from Fifty Years of Trying to Make a Living in Hollywood (Gotham 2004).
Rensin's own book, The Mailroom, an oral history of what it was like to start at the bottom dreaming of the top in a talent agency mailroom (CAA, WME, UTA etc), was published in 2003 and is still required reading for new mailroom employees in Hollywood.
"When I originally decided to track down Miki, I called his dad Miklos Sr., who told Miki. Miki then asked his close friend Cynthia Applewhite to vet me. Well, Cynthia was the wife of Louis Zamperini. We spent four months meeting at DuPars in Studio City and became friends. She liked what I wrote about Miki, and we stayed in touch. She kept urging me to write a book about Miki, with Miki. But if you knew Miki you'd know that wasn't possible.
"In '99 she said, 'Dave, you should watch Louie's story tonight on 48 Hours.' I watched it and, like everybody else, my jaw dropped, and I called her back and said, 'Ok, I watched it. Who is writing the book?'"
Rensin got the job. Devil At My Heels was the culmination of the two years the two spent working together, taping hours of talk, paging through Zamperini's treasure trove of scrapbooks. Although Zamperini had written an autobiography in 1956 with the same title, the new book "tore it down completely and re-built it from the bottom up" with new information.
Hillenbrand has said that she discovered Zamperini during her research while writing Seabiscuit. "When she finally got around to contacting Zamperini, he politely declined her offer. "Louie said, 'We just finished my book.'"
"Of course he knew of Seabiscuit and while I considered myself lucky to have gotten to him first, I told him, 'Louie, if I had not come along to write your book and you got this letter from Laura Hillenbrand, I would strongly recommend that you jump on it, because she's a terrific writer.
Eighteen months later he did.
On Sunday January 18, Don't Give Up Don't Give In: Lessons from an Extraordinary Life debuted at #9 on the NY Times hardcover non-fiction list. It's no surprise why. Zamperini has inspired millions through his books, and the movie, as well as a superlative runner who went to the Olympics in 1936, and when he was at USC, held the NCAA mile record for fifteen years. Had WWII not happened, he might have been the first man to run the mile in less than four minutes.
For Rensin, however, he is simply grateful for the man who generously allowed him to be a caretaker of such a monumental legacy.

"Thanks to Louie's trust, and his family's, I got to experience the world as Louie saw it. And that, is quite something!"
Click here to visit David Rensin's website
Calling all HuffPost superfans!
Sign up for membership to become a founding member and help shape HuffPost's next chapter