I reflect, today, on Dr. Martin Luther King Jr's birthday. I look at what the United States has become in the last two years. It is a cesspool where people are still being discriminated against for their religion or the color of their skin. People are still getting pulled over or shot by police, just because they are black. All of the work that civil rights activists have tried to achieve in the last fifty years is now being covered up by ignorance, bigotry, and hate. We are more divided now than ever, as a country. It is as if we are going back in time and not moving forward.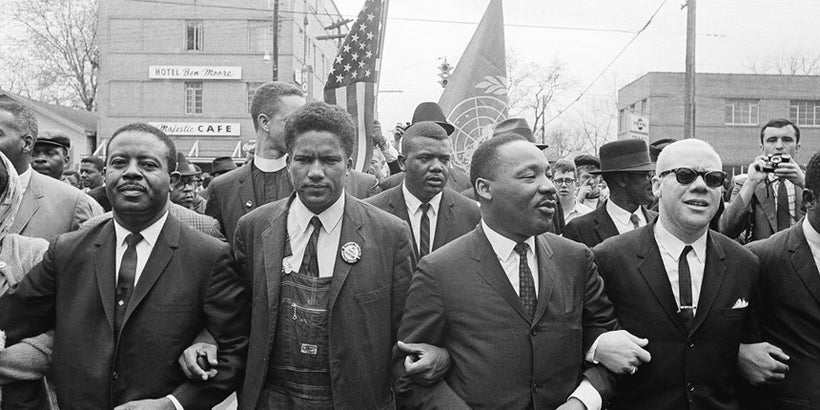 I am sure if MLK were to wake up from the grave today ,he would be shocked from seeing all of the work and progress he made, for history to only repeat itself.
There are many quotes that MLK had said that were hard for me to choose when finding one I want to share. He was a charismatic and passionate speaker who said so many motivating things that mean so much, to what we are facing in the World today.
DR, MLK said, "Darkness cannot drive out darkness; only light can do that. Hate cannot drive out hate; only love can do that."
The more we hate one another, the harder things will be for us. There is no worse feeling than hate. Yes, love can be painful at first but there is no better feeling than love, especially when the feeling is mutual. Hate eats at your soul and destroys you as a person. But when love happens, it can build mountains or bridges. Whereas hate can only destroy them because the only thing hate builds is walls.
"The ultimate measure of a man is not where he stands in moments of comfort and convenience, but where he stands at times of challenge and controversy." MLK
It doesn't matter if someone will hate you for standing up for what is right. If a friend doesn't stand by your side at a time like this, then they are not a friend at all. This is a time where people cannot be silent. Especially when they have a voice they can project for the voiceless.
Do not be silent during times of injustice because silence is much louder than any word.
Kaya is a blogger, activist, and writer.
REAL LIFE. REAL NEWS. REAL VOICES.
Help us tell more of the stories that matter from voices that too often remain unheard.
This post was published on the now-closed HuffPost Contributor platform. Contributors control their own work and posted freely to our site. If you need to flag this entry as abusive,
send us an email
.