This week marks the 60th anniversary of the Montgomery Bus Boycott victory, which began when Rosa Parks refused to give up her bus seat to a white man in 1955. The action brought national attention to the nascent civil rights movement, and a local minister – Dr. Martin Luther King, Jr. – who lead the campaign to end one of the most visible signs of racism in the South.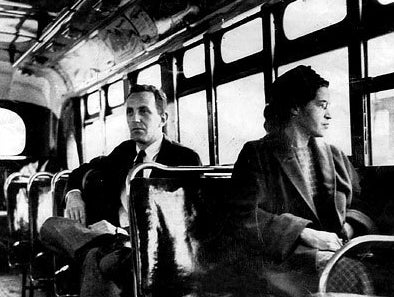 The boycott continued as the legal case worked its way up to the Supreme Court, which ruled segregated seating on public transit unconstitutional. The city subsequently passed an ordinance allowing bus passengers to sit wherever they wanted, and commuters returned to Montgomery buses on December 20, 1956.
The victory propelled the civil rights movement forward. The labor movement joined African-American leaders in 1963 to organize the historic March on Washington, at which Rev. King delivered his iconic "I Have a Dream" speech. As the decade progressed, laws were passed barring discrimination in voting rights, employment, and housing.
Moreover, these civil rights advocates set precedents that guided other marginalized Americans, such as feminists, persons with disabilities, and LGBTQ people, as they fought for their legal and constitutional rights. Many of those fights continue to this day. And in many ways, it all began when one NAACP activist wouldn't give up her seat on a bus.
Transit Racism
Remarkably, public transit still remains a focal point today of the struggle to overcome less overt, but very real racism today.
You see, if Rosa Parks was taking action against transit racism today, she likely wouldn't talk about segregated seating. Instead, she would be calling attention to disappearing service and unaffordable fares in communities that need transit the most like Washington, DC, where WMATA has proposed fare increases and service cuts at Metro stations used primarily by minority and low-income riders.
She would be protesting the emergence of transit deserts in urban neighborhoods which make it all but impossible for working class African Americans to get to good jobs. In Monroe, LA, bus drivers, members of my union, the Amalgamated Transit Union, were using their cars to transport citizens to and from work because there was no bus service in lower income communities.
She would decry the disgraceful lack of concern for seniors and persons with disabilities who are relegated to the unreliable and sometimes dangerous paratransit service. In Atlanta MARTA's paratransit service, Mobility, was outsourced to a private transit company. The result was a decline in service with customers waiting up to two hours for a ride and missing doctor's appointments.
She would ask why transit funding is being diverted to fancy new streetcars that ferry tourists around while transit-dependent people wait longer to ride a dilapidated bus run by a multinational company that cuts corners on labor and safety while pillaging as much local transit funding as possible for their corporate headquarters overseas. In Memphis, TN $32 million was committed to repair two of the city's historic trolleys, which only serve tourists, while bus service is being cut in low income communities because steady declines in federal and state funding.
Our newly elected President Donald Trump and his party ran on a platform to eliminate federal funding for public transit, one that would further debilitate the crumbling transit systems that working families rely on each day.
Today, those who hate minorities are starving entire neighborhoods of all transit, not just the front seats. So if your think the discrimination ended with the Montgomery Bus Boycott you are wrong. It took on whole new dimensions ---by taking away ALL the seats, not just the front ones, particularly in communities of color.
Mobility for All
If we as a nation truly care about the poor, the marginalized, and the dispossessed, if we care about racial justice, we must guarantee mobility for all.
If she were alive today, Rosa Parks would be at the center of this battle, as she was 60 years ago.