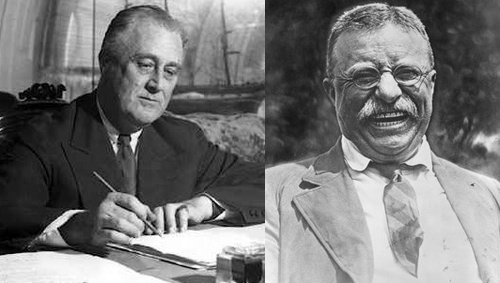 FDR Biographer and noted conservative Conrad Black wrote recently from his Florida retreat about how Franklin Delano Roosevelt put America to work rebuilding the nation: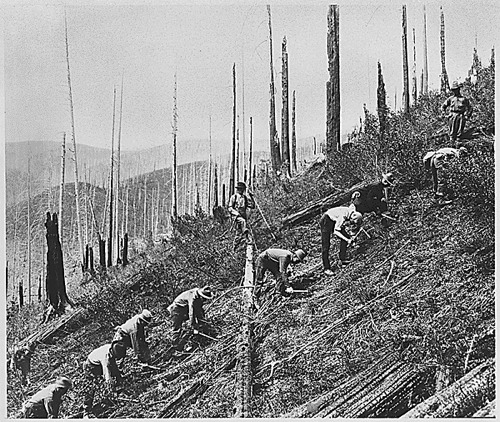 Civilian Conservation Corps enrollees clearing the land for soil conservation.
"The government hired about 60 per cent of the unemployed in public works and conservation projects that planted a billion trees, saved the whooping crane, modernized rural America, and built such diverse projects as the Cathedral of Learning in Pittsburgh, the Montana state capitol, much of the Chicago lakefront, New York's Lincoln Tunnel and Triborough Bridge complex, the Tennessee Valley Authority and the aircraft carriers Enterprise and Yorktown.

It also built or renovated 2,500 hospitals, 45,000 schools, 13,000 parks and playgrounds, 7,800 bridges, 700,000 miles of roads, and a thousand airfields. And it employed 50,000 teachers, rebuilt the country's entire rural school system, and hired 3,000 writers, musicians, sculptors and painters, including Willem de Kooning and Jackson Pollock."
In his own time, Teddy Roosevelt was almost as busy creating a new green America: He founded the Forest service, created the first National Bird Preserve, and according to Wikipedia:
Roosevelt set aside more land for national parks and nature preserves than all of his predecessors combined, 194 million acres . In all, by 1909, the Roosevelt administration had created an unprecedented 42 million acres of national forests, 53 national wildlife refuges and 18 areas of "special interest", including the Grand Canyon.
Across America, companies are shedding jobs; probably 200,000 people in October alone. Soon it won't be just banks needing a bailout; soon we may need an intervention in job creation as big as the New Deal.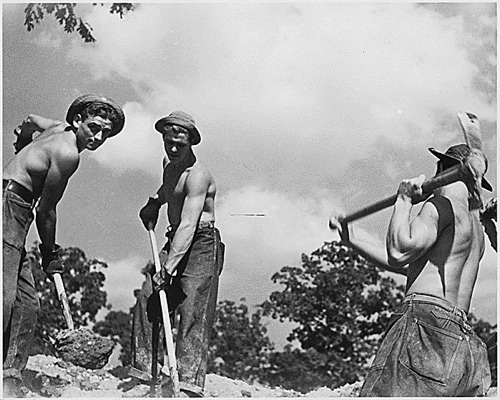 Civilian Conservation Corps at an experimental farm in Beltsville, Maryland. (Circa 1933)
What would the Roosevelts do? Perhaps Teddy would see this as an opportunity to plant more trees, protect more natural landmarks, clean our air and water and fight climate change. He would certainly approve of Franklin's Conservation Corps.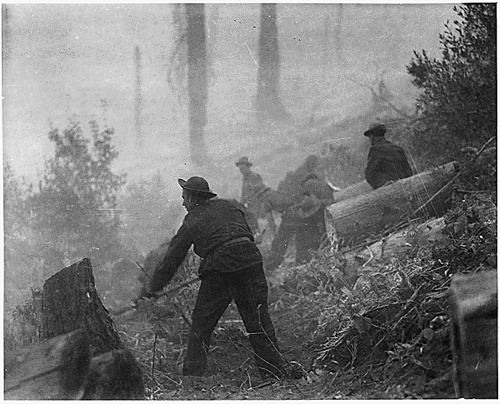 Civilian Conservation Corps enrollees on the fire line in a big forest fire in the West.
Perhaps Franklin would listen to Van Jones and put the unemployed to work insulating buildings and houses that consume 46% of our energy. Perhaps he would electrify the railroads the way the way he he did rural electrification.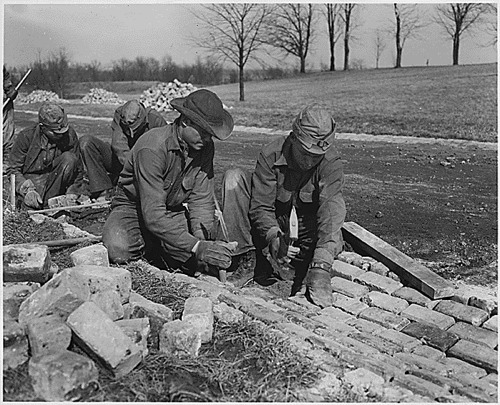 Both would probably turn this crisis into an opportunity to put people to work building a more efficient and durable infrastructure and to achieve energy independence. Let's hope that our next President is a good student of history.
Related
Popular in the Community