A Burning Man Project Donor's Story

My first Burn was in 2010. The transformative idea that hit me there was water. I've had a life where I didn't have access to clean water, but never a situation when I didn't have much water at all. Facing that reality for the first time at Burning Man was harsh. It made such an impression on me.
When our first dust storm hit, we found a shelter in an Irish bar. I asked the guy if I could have some water, and he said, "Ma'am, this is an Irish bar." Everybody laughed. So I had a beer instead, and I actually don't drink! But when you're thirsty, you don't care.
While we were out there, I had an opportunity to go to Fly Ranch, a nearby oasis centered on this amazing geyser. When I got in the water there, it felt so nourishing and important. I thought about how nature supports us. It's a gift.
After we left Black Rock City, we stopped at a motel. When I turned on the faucet and saw that clean water, we all went crazy! We take it for granted every day, but Burning Man etched into my brain how important water is to my life.
Now, I get into situations, and I ask myself, "What would water say about this?"
Later on, after some business success, I moved to LA, into a place with a swimming pool. I didn't know how to swim, so I started taking swimming lessons. My teacher kept teaching me how water supports us, and how we don't need to be afraid of it.
This all came to mind for me as I got more involved with Burning Man Project, and we began to talk about purchasing the Fly Ranch property. What would it be like to merge the power of Burning Man with the nourishing support of water?
Talking with the team about the vision, I thought of a kids' book about Burning Man that had recently come out called The World's Biggest Playground. If "play" is the word for Burning Man, what is the word for Fly? I said, what about "love"? We weren't sure about it yet — but then again, we'd all felt the love in the water there!
At her first Burn, my sister broke down crying at one point. I asked her why, and she said, "I saw this assurance of affection from people I don't even know." That's how I felt, too.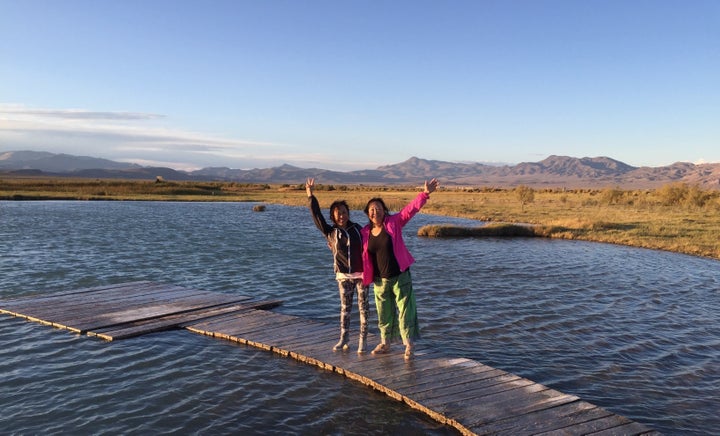 At Fly, the water and mud is so warm and assuring and gentle. It gives you that affection itself.
A few weeks ago, we brought a group of people to Fly. Stuart Brand was there, as was Garrett Gruener. When they got into the water, Stuart and Garrett both used the word "love". Stuart immediately said Ryan, his wife, "would love this place!" Garrett said as he slipped into the water, "I'm in love. I'm in love. I'm in love!" The team looked at me and said, "You're right! Love is the word!"
The assurance of affection.
That's what inspired me about Burning Man's potential at Fly Ranch, and why I donated to support the purchase of the Fly property. Black Rock City will remain a place to play, to push, to excel. Fly will be a place to nurture, love and connect.
The thing with love is, there's little love, and there's Big Love. The little love is the personal love. The Big Love makes you give to things that are bigger than your life.
On that recent trip to Fly, people asked Stewart Brand why his organization, the Long Now Foundation, was interested. He said the common thread is continuation for the long term. How does Burning Man find sustainability and continue to evolve? That's exactly what Burning Man founder Larry Harvey talked about in his Long Now seminar.
It's harder to make a deeper, long-term connection on the playa. Usually it deepens later, in the afterglow. Fly is a place where the deeper sense can be built. How do we take the same Burning Man principles and foster a lasting connection? Work together? Carry on beyond the event? A culture is an evolving organism. We can do it all year round. Fly gives us a vehicle that can take us further and allow us to do more.
I am a dreamer and a maker, and I love laboratory for experiments. If we are going to build shelters there, how could we involve the Burners, the architects, the artists, to build structures that are very out-there and beautiful, but also green? Can we make Fly Ranch entirely green?
Can we do some agriculture? It's the desert, right? Things don't grow. But we have water! Can we invent new types of agriculture? Can we feed the people who come to stay there with food grown on that land?
These are some random thoughts inspired me about the land. I love the idea that there's land now that belongs to the Burners. It's not just renting, it's ownership! And to that end, the money we gave to Burning Man Project to purchase this land is not investment, it's donation. It's a gift.
Popular in the Community