"I can't predict what's going to happen with movie deals but I can predict what's going to happen with Putin."
After he said it over the phone, author Ted Bell and I chuckled. It was mid-morning on a Monday. Bell and I could hear one another over the line, sipping our coffee (he in Northern California, I in Southern California). We were wrapping up a telephone interview on Bell's writing career and the release of his new book Patriot.
I couldn't help but ask the former World-Wide Creative Director Of Young and Rubicam, turned New York Times Bestselling writer, what writing his first novel taught him about writing his ninth. As an aspiring writer myself, I wanted some advice from a reliable source not just for me, but for other writers, too.
"The first thing I would say to anyone who ever considers writing as a career or a profession, the only preparation, it's either in you or it's not." He paused to think for a moment.
"Second, the only way to prepare for a lifetime career as a writer is to read books all the time. You don't feel like you're learning it but if you read enough and read carefully enough, you turn yourself into a writer."
Bell started reading books alright, Ian Fleming books at the age of 12 or so to be exact.
"Up until that point, I'd been reading Huckleberry Finn, Tom Sawyer and a few other titles. All of the sudden, I was reading about Paris and cars and Monte Carlo. Fleming electrified me and opened up my world. I read every one of his books, back to back."
When it came time for Bell to leave advertising and write his own books, he wanted to write something along the lines of Ian Fleming but wasn't sure he could do it. "I figured out my character, Alex Hawke, he likes flashy cars, thrills, chasing bad guys. But he falls in love, he's a sensitive guy. I wanted to make him as different as Bond as I could."
Differentiating Hawke from Bond wasn't the only thing Bell focused on with each novel. Time and time again, as he sat down to write each book (in what became a Hawke series) he would try to write better than he could. "That's another piece of advice for writers: "Don't be satisfied saying "hey this is actually pretty good." Talk yourself into another level of performance. Throw yourself into it head first, be passionate about it. The passion is what readers pick up on the page."
When it comes to his readers, there's one thing Bell's prior advertising career helps him understand really well. "Stories are much more interesting than facts." As a digital marketer and writer myself, I know this to be true. I catch myself nodding over the phone in agreement with Bell.
"In fact, when I was in advertising, I would often tell the tale of two apple salesmen, each with their carts in close proximity. Both selling apples at the same price. One tells you a joke everyday, the other just sells you the apple. Who do you think wins the repeat business?"
Hawke has become a repeat business for Bell indeed. Patriot is his ninth book in the series and readers Tweet or Facebook Bell often as they clamor for more.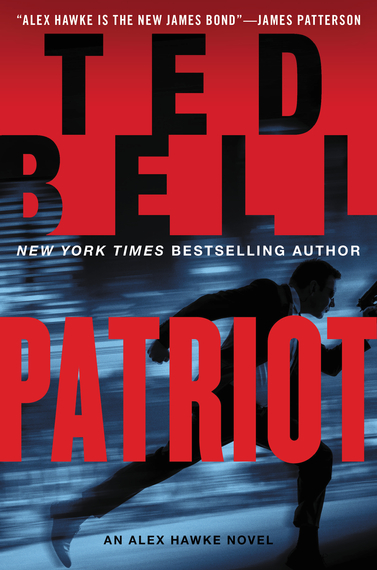 I asked Bell, as a writer and creative, how he prevents himself from getting bored with his leading lad. "Alex?" he laughs. "He's the least boring character I know. I hear him so clear in my mind, and know how he is going to react to things."
Then Bell shares one thing he'll never get used to "reacting to."
"My books are starting to come true," he told me. "In Patriot, I wrote this whole scene about Putin in a two man submarine. A few months later, I saw a picture of him in a two man sub and I gotta say, it's a little spooky."
What's certainly not spooky is what the future holds for both Bell and Hawke, although Bell cautions me that he doesn't want to jinx anything by talking about it up front. By "it" he means seeing Hawke make his way to the silver screen.
"I still haven't given up on Hollywood," he told me as we were rounding out our call. "I've created something that people respond to and I'd like to give them as many ways to respond to that story and character as I can. And of course the thing that every writer dreams about is seeing their character up on the big screen."
He does comfortably share with me that he's had a courtship with Hollywood for years and that there is serious interest from a top producer, top studio and actors who want to play the character.
"I have dealt with Hollywood long enough to know that the only time I'm really going to believe that they took Alex Hawke and put him up on the big screen is when I'm sitting in a dark theatre eating popcorn, looking up at the screen and saying, "Oh yeah, there's my character. They made my book into a movie." That's when I'll really believe it."
"Do I think it's going to happen?" he asks out loud. "No, I'll believe it when it happens. Do I think it's never looked better? Yes, I do. It's certainly within the realm of possibility. Honestly, I can't predict what's going to happen with movie deals but I can predict what's going to happen with Putin."
To that we both laugh and I know our time is up. I end the interview by saying, "Well then sir, within the realm of possibility and with the certainty of your Putin predictions, when "it" happens, I hope I'm invited to the movie premiere."
Popular in the Community