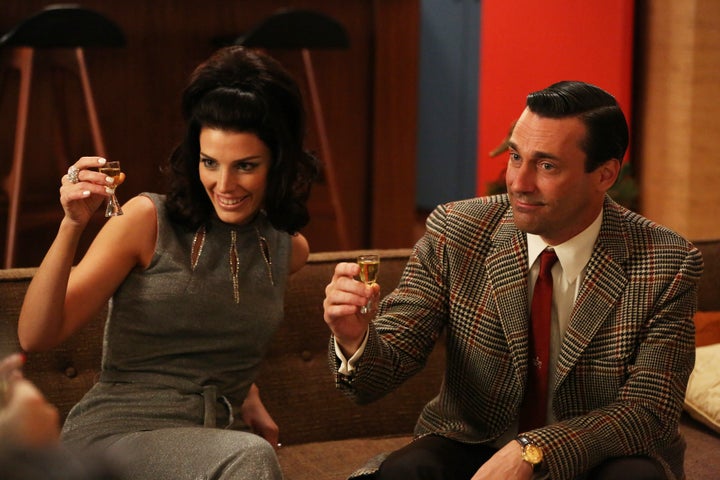 Note: Do not read on if you have not yet seen Season 6, Episode 1 of AMC's "Mad Men," titled "The Doorway."
After all the speculation and secrecy about what year "Mad Men" Season 6 would pick up in, the two-hour premiere didn't provide any answers ... on the surface. But the series' depiction of a New Years' Eve snowstorm in New York City and mention of a college football game were major clues about the timeline of the new season.
According to The Weather Channel, snow has only fallen at midnight on New Years Eve in New York City seven times throughout recorded history. One of those years was New Years Eve of 1967, when "moderate snow was reported with 2 to 3 inches of snow on the ground."
A reference to the Cotton Bowl helps definitively nail down the "Mad Men" Season 6 start date. James Wolks' new character Bob Benson told Don that he scored tickets to the college bowl game, which featured a matchup of "Crimson Tide vs. Texas A&M." Those teams played each other in the 1968 Cotton Bowl on January 1, 1968, with Texas A&M beating Alabama 20-16.
Additionally, there was a reference to Christiaan Barnard, who performed the world's first human heart transplant operation on December 3, 1967.
So there you have it: "Mad Men" Season 6 starts in late December of 1967, and the premiere already crossed over into early 1968.
The timeline jibes with what we know about where "Mad Men" left off last season and how much time usually elapses between seasons. Season 4 ended in October of 1965, and Season 5 picked up seven months later in May of 1966. Season 5 ended in spring of 1967, and it looks like Season 6 also skipped ahead more than half a year.
PHOTO GALLERY
How 'Mad Men' Could Cover The Late '60s
"Mad Men" airs Sunday nights at 10 p.m. ET on AMC.
Calling all HuffPost superfans!
Sign up for membership to become a founding member and help shape HuffPost's next chapter
BEFORE YOU GO