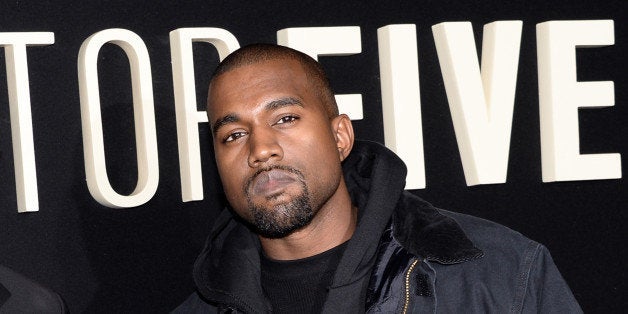 Like most televised music and awards shows, Kanye West's recent appearance on Saturday Night Live's 40th Anniversary Special produced a slew of polarized rants across the social media sphere. Much like candy corn, country music, and thunderstorms, people tend to fervently hate or passionately love West -- with very few opinions falling somewhere in between.

This shouldn't come as much of a surprise, as West has spent his fair share of time in the limelight for controversial stunts (recall the 2009 MTV Music Video Awards with Taylor Swift, or his unscripted political tirade on the NBC's 2005 Concert for Hurricane Relief). In interviews, he's dubbed himself "a creative genius," "the voice of the generation," and nothing less than "the best rapper" out there.

As I scrolled through Twitter following his SNL performance, I saw a reoccurring theme in the tweets of those who love to hate West, criticizing him for being "cocky," "arrogant," and downright narcissistic. This got me thinking about the way we perceive confidence and self-love in a society full of young people that lack both so greatly. And then it hit me: While Kanye West might not be the hero our generation wants, he is without a doubt the hero our generation needs.

Along with how to artfully toe the line between confident and cocky, here are five other lessons that we can all learn from Mr. West:

1. Dare to be different

Growing into fame, Kanye West was and still remains unapologetically different from the other rappers of his time. His ability to stand out, however, goes beyond his story-like lyrics or high-end sense of style. While today's celebrities and artists are constantly encouraged to remain grounded and selfless, West recognizes his own abilities and challenges others to do the same.

"People always tell you, 'be humble, be humble,'" said West to the crowd at a 2011 performance in Los Angeles' Staples Center. "When was the last time someone told you to be amazing? Be great! Be awesome!"

Whether you're a fan of him or not, West makes a valid point about our society's tendency to downplay our talents, achievements, and strengths in an effort to appear humble. While there's nothing wrong with a little modesty, there's a lot to be said for taking a Kanye-esque approach to living and simply embracing what you're good at. After all, what's wrong with that?

2. Handle criticism like a champ

Whether you're a student, employee, artist, athlete, or a human being in general, we're all plagued by criticism at some point in our lives -- if not daily. However, what's far more important than the harsh words you face from others is the way in which you respond to it. As someone who's received more than his fair share of hate, West has taught himself to handle criticism like a champ.

"Criticism can bother you, but you should be more bothered if there's no criticism," said West in a 2008 radio interview. "That means you're too safe."

In other words, it's all about flipping your perspective and the way you perceive the criticism that surrounds you. Would you rather spend your entire life playing things safe, or take creative risks that stir controversy and emotion? I think we all know what Kanye would do.

3. Be original

What sets Kanye apart from other modern-day artists is his ability to constantly keep his fans on their toes in anticipation of his next move. After all, rumors of a release for his upcoming, still untitled album have been swirling since fall 2014 despite the fact that he's yet to confirm a date.

And this isn't the first time Kanye has taken an unconventional approach to releasing and promoting an album. In 2013, the music video for his track "New Slaves" was projected onto the side of buildings in over 66 locations internationally, all in an effort to build hype for the release of Yeezus.

"I'm a creative genius, and there's no other way to word it," said West in a 2013 interview with Rolling Stone.

4. Learning never stops

Just because your formal education ends or you finally turn 18 doesn't mean you're done learning for the rest of your life. In fact, some of the best lessons can come from mistakes that we learn on the job, in the real world, or as adults.

"If you learn from your mistakes, then I'm a fucking genius," said West in a 2007 interview with Rolling Stone.

Even as an adult who's been around the block a few times, Kanye admits that he's still learning lessons every day. However, his carefree attitude and ability to focus on the future and his goals keeps him from getting caught up in the mistakes of the past.

Not to mention, he's constantly surrounding himself with other greats of the music and entertainment industry -- this is evident through his collaborations with artists like Jay-Z, John Legend, Frank Ocean, and Lupe Fiasco. He shows us that by surrounding yourself with the best in the business (whatever your business may be), you're setting yourself up for success.

5. Carpe diem

If there's one mantra that truly captures everything it means to live like Kanye, then it's carpe diem or "seize the day." Whether he's spending 12-hour days in the studio, responding to harsh criticism, promoting an upcoming album or fearlessly speaking his mind, fans and haters alike can't deny that he's making the most of every minute.

"If you have the opportunity to play the game of life, you need to appreciate every moment," said West in his 2005 Grammy acceptance speech. "A lot of people don't appreciate the moment until it's passed."

When you picture the ideal role model for the modern-day youth, Kanye West probably isn't the first person that comes to mind. However, there's a lot our generation can learn about channeling confidence and self-love from the artist who's never been afraid to put himself first. Next time you're faced with harsh criticism, a creative block, or a mistake from the past, ask yourself: what would Yeezus do?
Calling all HuffPost superfans!
Sign up for membership to become a founding member and help shape HuffPost's next chapter