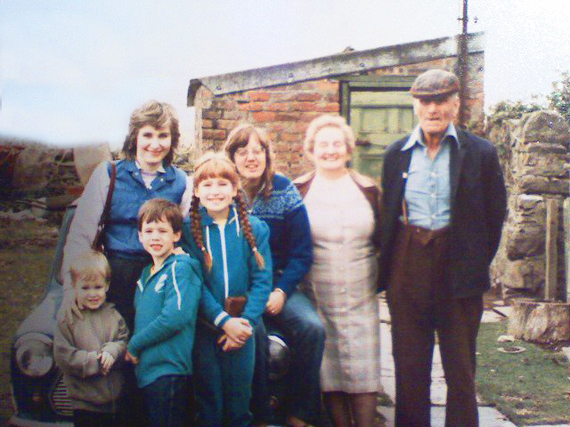 Since 1984, I have been fascinated with amputees and specifically what led to the lost limb and how they are able to adjust to the world afterwards. In my personal opinion amputees are among the most beautiful people on the planet. They are forced to face one of the most physical and mental challenges that exist to mankind. Their strength and courage to move forward give hope to others. Their wounds are constant reminders that horrible things can happen in life, and the power to overcome. To quote my favorite LA-based band Dawes, "things happen, that's all they every do." These people are even more amazing when you start to think about how difficult life can be for those of us who are non-amputees. They are the definition of life and living.
In 1984, at age 7 my parents took our family to the homeland. During our first trip to Scotland, we visited the family farm called Stoneybriggs of Auldbar near the city of Brechin. At the time my grandfather's cousin Jim Calder still ran the farm and lived there with his family. One of his daughters was born with a birth defect that left her without any arms.

She was an amazing woman who left a great impact on me at such an early age. My siblings and I watched her drive a car, steering with her feet using a special apparatus. She poured us a drink using her feet and buttered bread for the sandwiches using her foot. This truly grossed us out but only because we weren't accustomed to adding butter to cheese sandwiches.
When I came back to America and my second grade class, I told some of the kids in my class about this amazing person I had met. My teacher told the entire class "it was just Jimmy Calder making up stories again." So naturally, I went home and told my mom and she wrote the teacher a note telling her that every word of what I was saying was true and the teacher apologized to me in front of the class. Vindication at such an early age!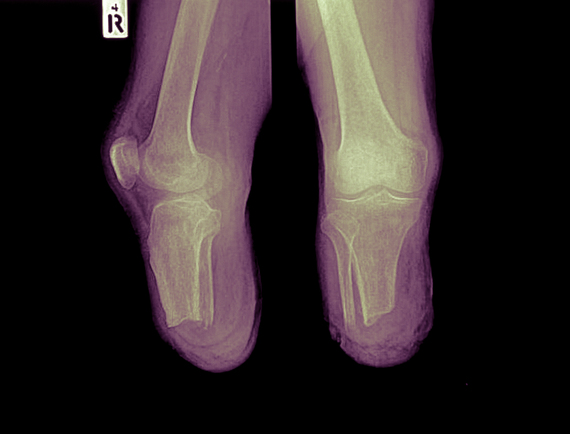 Later on in high school, I dated a girl whose father was an above the knee double leg amputee. I watched him move around the house with ease without even using prosthetics and he even drove us around in a specially equipped car. I never really knew how he had lost his legs because the family didn't talk about it much. I knew that he had been in Vietnam, but I asked and he was not injured in combat. Knowing what I know today, he most likely suffered from peripheral artery disease (P.A.D.) In his case, he was a heavy smoker, which makes me think that this may have been what he had.
According to Heart.org, "untreated P.A.D. can be dangerous because it can lead to painful symptoms or loss of a leg, and patients with P.A.D. have an increased risk of coronary artery disease, stroke and heart attack. Because people with P.A.D. have this increased risk for heart attack and stroke, the American Heart Association encourages people at risk to discuss P.A.D. with their healthcare professional to ensure early diagnosis and treatment."
These two individuals and how they adjusted to their new reality left great impact on me.
Wound care is a niche sub specialty that doesn't get a lot of attention in the press. In wound healing our number one goal is to heal a wound successfully and to avoid amputation. Timing is everything in wound care. The earlier we can see a patient in one of our partnering hospital's wound centers and begin specialized treatments the better their chances for healing and saving limbs from amputation.
Diabetes, obesity and P.A.D. are the major drivers of non-healing wounds. According to Medscape, "chronic wounds represent a significant burden to patients, healthcare professionals, and the U.S. health care system, affecting 5.7 million patients and costing an estimated 20 billion dollars annually."
The Amputee Coalition is a nationwide voluntary health organization dedicated to ensuring no amputee feels alone and that amputees and their families have the resources they need to recover, readjust and live life fully with limb loss/difference. The organization's website states that the mission is to reach out to and empower people affected by limb loss to achieve their full potential through education, support and advocacy and to promote limb loss prevention. If you are unfamiliar with this organization visit their website at www.amputee-coalition.org. There are many ways to get involved.
In my almost 8.5 years in wound care I have come to the conclusion that our biggest enemy is lack of information among patients. If patients knew the stats and figures surrounding advanced wounds they would never ignore them and would seek treatment right away. However, it is important to remember that it is not the patient's fault. It is extremely hard to get someone to care about an issue until it crashes into a daily reality. We must do more as a healthcare community to educate the masses.