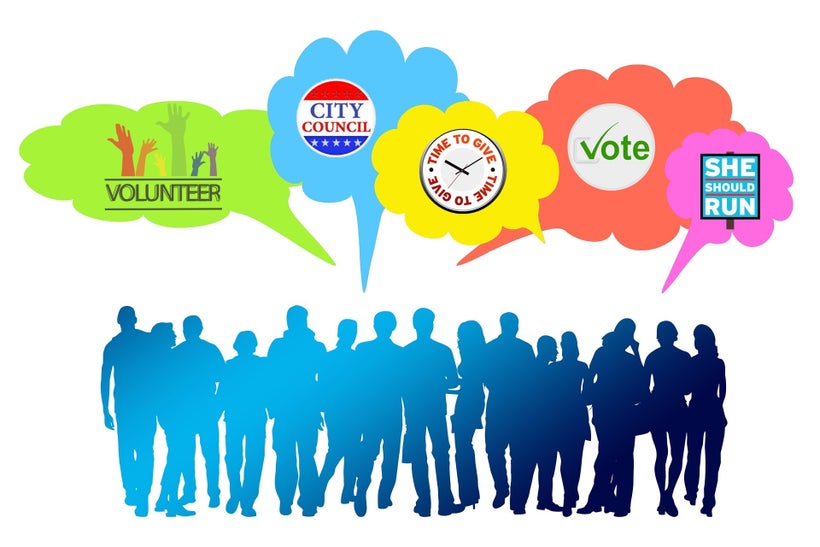 "Christmas and the holidays are the season of giving. It's the time when people are more kind and open-hearted." Gisele Bundchen
Many people reach out to those who are in need during the year-end holidays. It is often a time when people feel especially generous and surrounded with the spirit of giving. To make the holiday season more meaningful, I invite you to be more civically engaged and give back to your community, both now and all year long.
What does it mean to be civically engaged?
It is working to make a difference in the civil life of our communities. It means promoting the quality of life, through both political and non-political processes. Excerpt from Civic Responsibility and Higher Education.
Civic engagement is a spectrum of activities. It may take the form of direct community service that is motivated and informed by the root causes of social inequity. It may include activism, advocacy, political action, community organizing, nonprofit work or public service at all levels of government.
In simple terms, if you care about what happens in your neighborhood, and are taking action and participating in the building of your community, then you are civically engaged.
How can you be engaged in civic issues?
As noted above, civic engagement can take many forms, and generally is divided into three principal categories: civic, electoral and political. Approximately 90% of Americans are active in political action, connecting to information and current events, often through social connectedness or participating in a group or service. However, only 26.5% of people surveyed volunteer with a non-profit organization.
Some things you can do to be civically engaged:
Attend City Council meetings in your community
Volunteer for non-profit organizations
Be an active member in a group or association
Participate in fundraising for philanthropic activities
Find out who represents your area at civic and national levels
Get involved in your local Chamber of Commerce
Volunteer for cleanups, deliver meals to handicapped and the elderly, and spend time at elderly homes, hospital or homeless shelters, especially during the Holidays.
According to the National Philanthropic Trust, one of the country's largest grant-making institutions, Americans donated more than $373 billion to charity last year, equivalent to about 2% of U.S. GDP. Some 40 percent of charitable donations are made during the last six months of the year, a period known in the philanthropic world as "giving season."
Remember, though: You can be generous at any time of the year. As many have experienced, there often is a strong feeling of satisfaction when you give back in some way, when you do something for others. As the great Winston Churchill once said: "We make a living by what we get, but we make a life by what we give."
#CivicEngagement #NonProfit #Volunteering #Activism #Advocacy #Community
*This article reflects my personal views only.
Calling all HuffPost superfans!
Sign up for membership to become a founding member and help shape HuffPost's next chapter
This post was published on the now-closed HuffPost Contributor platform. Contributors control their own work and posted freely to our site. If you need to flag this entry as abusive,
send us an email
.