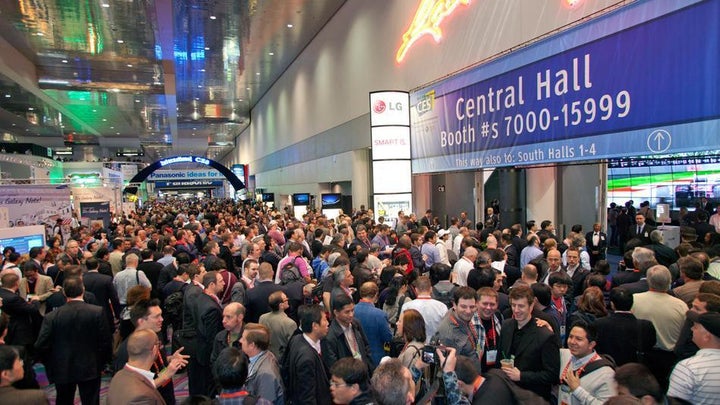 While much of the hype around the massive, annual Consumer Electronics Show (CES) in Las Vegas, Nevada is about Connected Cars and Robotics, there are a number of other hot products and debuts about which you should be aware. After a whirl-wind day 6-day conference of 170,000 + people from around the globe, fleets of shuttle buses, un-ending Uber lines, 3800 exhibitors, and slick insider events at night; here are some of the best of the best that should be on any tech-lover's list. Fasten your seatbelts.
First, HP announced several new products during CES, but perhaps the favorite stand-out was the HP ENVY Curved AiO 34. Billed as the widest curved all-in-one, the product not only boasts a four-speaker, Bang & Olufsen sound bar, but also the capability to wirelessly charge your Android phone through the PC charger base. And in the days of major privacy concerns, HP even has the design forethought to include an actual pop up camera that is only enabled when in use. And these are but a few of the eyebrow-raising features. Watch for this product and more to be available early 2017, if you can get your hands on it.
Next up, Alibaba. Though many think of this impressive company as the Chinese version of Amazon, Alibaba is much more than that, and they came to CES to prove it. Far from just an e-commerce platform, Alibaba demonstrated its strength as a full and integrated ecosystem. Attendees clamored to learn about the company's cloud offering, connected car (already fully operational in China), purchasing platforms, and Alipay payment platform. This $15.69 billion annual revenue company is clearly one to watch particularly due to their YunOS software that is doing everything from powering smart refrigerators to various laptops. The company's business model and reach makes it a tech player to watch on a global level.
Bonus: Astell&Kern - AK70 Portable High-Resolution Audio Player
In terms of the beauty-tech convergence, it's L'oreal game. The head of the company's incubator division, Guive Balooch, along with the International Global Director of Kerastase, Vincent Nida, were on hand to provide rare insights behind the challenges and strategy around bringing the mythical Hair Coach smart hairbrush (and International CES Innovation award winner) to market as well as the company's process and vision for future projects at the intersection of beauty and technology. Part of the secret to L'oreal's success hinges on its intuitive process in selecting various tech partners but also an impressive respect for a disdain of gimmicks around beauty devices. L'oreal believes that the technology should be a companion piece to beauty and truly provide an added value non-existent elsewhere. With such a philosophy, watch for even more in terms of hot products for consumers in the tech-beauty space that will be quite compelling.
Splashy keynotes and powerful press conferences were plentiful during CES, quite naturally; yet Qualcomm, the semiconductor and telecommunications equipment giant was particularly intriguing. The power that this company will bring to everything from the next level of drones to artificial intelligence in cars and more is truly staggering. With the tag line of the "Invention Revolution" heavily present throughout the company's keynote, it's all about 5G and more. While you can read about such elements everywhere, part of the company's additional allure comes from Anthony Murray, SVP and general manager of IoT at Qualcomm who is leading the company's Voice & Music efforts. He explained, "We try and address the market in a way in which we see that there is first the entertainment aspect, then there is the utility aspect. How do we control and interact with our environment? If you look at our portfolio, there are these tiny in-the-ear buds and that's mainly for the entertainment aspect. But the reason for making them very miniature is that our vision is that people will be wearing them in their ear all day as their personal assistants. You'll be able to say, 'call me an Uber.' And before you get the door, all the data will be captured so that a car is ready for you buy the time to you get to the door." You heard it here, first!
Bonus: Catalyst - Raising the bar or setting a new bar for total protection
The sythesis of music and technology was also very much present at the Gibson pavilion at CES. An impressive display of the brand's guitars was on hand, complete with an elevated runway fashion show of guitars and headphones, yet audiophiles should find the company's Philips Everplay speakers a stand-out. The bluetooth offering actually plays at a distance three times the average length away from the audio device. The speakers are also dustproof, waterproof, and come in several sizes. These sure-to-be-sought-after products will be available in May, 2017. And for those with particularly luxurious taste, Gibson, along with its partner Onkyo, unveiled diamond encrusted headphones with state-of-the-art sound technology. For insiders only, this stunning product is a testament to the company's brand to continue to push the limits in aesthetics and technology.
Bonus: DabKick - Experience Epic Moments Together
For those who are active, the new thing is "rideables." That's right, rideable electronics; and Swagtron made quite a splash during CES with its collection of hoverboards, mini-bikes, and more. But the biggest buzz is around the company's surfboard which techies are calling a hoverboard for the ocean. Debuting the first electric surfboard, the SwagSurf, the company is leading the way with a foldable, remote-control operated beauty. Though you won't be able to get your hands on this until at least the end of first quarter this year, the product should be a hot ticket once it hits the market.
Bonus: Handl - The Revolutionary New Way to Handle your Phone
Samsung was definitely in the CES house with everything from a major press conference to a private home appliance displays to what was easily the largest one of the largest exhibit areas of all-things-Samsung on the convention floor. The products are sleek and no detail is left forgotten with everything from the brand's washers and dryers to televisions to VR headsets, but what seems to be most interesting to many people attending the conference is the company's upcoming Soundbar Sound+ capability that offers a built-in subwoofer that should please any audiophile. It's all about that bass, and it seems this addition will differentiate Samsung in the market once this element is available. Coming soon during 2017.
Bonus: Waterpik - tech and healthcare seamlessly combine
A personal safety stand-out is newcomer Aluma Connect. This product is the only sexual assault prevention device that attaches to a cell phone and has a silent alarm for instant access. The brainchild of a serial entrepreneur and father who was alarmed about the growing rate of sex trafficking and female assaults, the Aluma Connect actually "weaponizes the cell phone" in a unique manner that blends the best of hardware and software to provide protection. Set to launch in the spring of 2017, this device also serves as a support for seniors who are on their own and are seeking support through a discreet technological device rather than the standard. The team's passion and research make this a product-to-watch for 2018.
Finally, on the music-tech side there are a number of interesting innovations. Look for the AfterMaster, a new, one-of-a-kind one-of-a-kind personal audio re-mastering device that has created an intriguing, new product category in the consumer electronics industry. The AfterMaster Pro transforms television audio by raising and clarifying dialogue levels, but this baby also helps smooth out rough edges for, say, podcasters capturing red carpet interviews. Loud, ambient sound is a thing of the past once the file is put through this device. Using special algorithms, this product will be coveted.
Bonus: Levl - Burn fat with just one breath
Echobox earphones and custom fit company Snugs teamed up for a debut of custom-molded earphones that democratize a typically expensive process. Using 3D scanning, Snugs provides custom earphones about 10 days from the scan offering an extremely comfortable fitting to Echoboxes' hi-resolution audio experience. Doesn't get any better than this.
In addition, attendees were treated to a special performance by Hip hop legend RZA (see video below) of Wu Tang Clan, Grammy-winning record producer Noah "40" Shebib, known for his collaborations with Drake, Beyoncé, Lil Wayne and Alicia Keys, Eclectic electronic music duo Parisi, all in the name of a very hot company called, Roli and it's brand new product, Roli Blocks. A super unique device that works with an app that enables even the super novice to create professional level music, Roli Blocks is truly amazing. Rza, who is also an accomplished composer for theatrical scores noted that the device actually replaces the turntable in that it is a full system that provides shape and dimension to typically simplified sounds. Connected with a click of magnetic connectors, this product, created by accomplished jazz musician and Roland Lamb (also creator of the coveted Seaboard) makes any and everyone a musician; and is just so darn innovative you have to hear it and try it to believe it. Do so, during 2017.
Last but not least, in terms of tech trends, watch for more focus on devices and services that will help you do the same activities better rather than the introduction of entirely new elements. News will be further consumed via social platforms, and one of the biggest consumer demands around connected cards will be in-car wifi and an interactive dashboard.