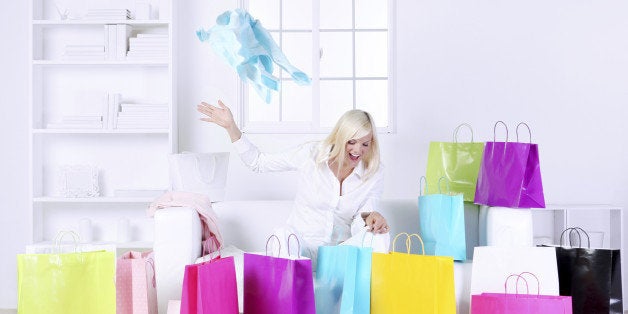 Have you ever arrived at a hotel in a far-away destination for a friend's wedding after many hours of flights, delays and airport food and upon check in the front desk staff hands you a bag stuffed with delicious treats and information for your stay? These thoughtful wedding welcome bags, provided to guests traveling to your wedding, are no longer seen as the exception and have become the rule in wedding etiquette.
While most of our clients realize they need to have something waiting for their guests upon arrival, a common question I hear is, "What exactly should go in the welcome bag?"
The actual makeup of what you gift your arriving guests can vary greatly based on your budget, but with access to such a wide range of resources today, welcome bags are now accessible for all budgets. Plan for these and your guests will be incredibly appreciative.
The actual container you use to pack up your welcome bag can technically be anything. It can be as creative as you can dream up and should in some way reflect your wedding destination or theme. From paper bags to fruit crates to baskets, beach bags and duffle bags, we have seen it all and the options here are endless. If most of your guests are flying in to town for your wedding weekend, there is a good chance they only packing a carry on suitcase where space is at a premium. We find that the gifts actually make it home when they can fold flat into a small suitcase. Lightweight canvas bags are our preferred choice and can easily be personalized for your wedding. Etsy is a great resource for these, but you can find them anywhere. Bonus points here if you have your stationer create a design to match your other paper goods that can then be printed on the bags.
What's the point of going to all this effort if you don't include a note thanking your guests for making the trip? The note can be handwritten, printed off your home printer, digitally printed or even letterpressed -- let your budget be your guide here. The key point is to thank your guests for attending and to provide them with any critical information they will need for the weekend. I always recommend including an itinerary and information on transportation information for each wedding event. You would be surprised how many people will travel to another state or country and will forget your actual invitation at home. To avoid a barrage of last minute questions, include this information for everyone's convenience.
Map and List of Things to Do
Most cities large and small have a tourism office or a convention and visitors bureau. These are often government-funded entities that already have maps available and lists of the best things to see and do in town. A simple Google search of your wedding city followed by CVB and you will have a contact for where you can most likely get all of this for free. When I was in graduate school, I had the good fortune of interning at Visit Tampa Bay and I am still always impressed at all the resources available to visiting guests. Bonus points here if you include your favorite spots in town. If you got engaged locally, you might want to draw attention to that location, or if there is a favorite breakfast place you love, be sure to point it out. Your guests will love to experience the local flavor.
This is my favorite part of the welcome bag! These keep your guests from having to purchase $5 bags of chips in the hotel gift shop and allow you to really show off your personalities. I love to have my clients tie their snacks to either their favorite foods or to into their wedding theme. I recently had a client who was known to love fishing include goldfish crackers and Swedish fish candies, a client getting married in the Bahamas included individual rum cakes, a client who got married in Tampa included two bottles of Cigar City beer, and a client known for her love of Girl Scout cookies included a box of Thin Mints. There is no end to your options here and if budget allows, you can really make a statement with personalized containers or labels, but no one will complain if you just pick up a bunch of treats at Costco either.
After a night of drinking and dancing at your wedding reception, your guests will be thrilled to have a spare bottle of water in their rooms. Pick your favorite brand or whatever if on sale at your grocery store. Since water is heavy, if you are getting married far away from home, you will want to pick this up locally and not attempt to ship it with the lighter weight items. You can personalize these with custom labels designed by your stationer to match your wedding paper items.
This one will completely depend on your personal beliefs and style, but if you are feeling up for it, include a bottle of wine, a split of champagne or a mini bottle or two of your favorite liquor for your guests to make a drink before coming down for the welcome reception or rehearsal dinner. If you pick something unusual, you might want to explain why you selected it in your welcome note. Personally, I would pick orange vodka as it is my personal favorite, is a local nod to Florida, and mixes great with water. If a mixer is often required, you might want to include a small bottle -- the size you would get from a vending machine or mini bar -- of that as well.
Show your guests you really thought of everything by including a mini emergency kit of headache medicine, Bandaids and antacid. They will be singing your praises the next morning at brunch. There are a lot of companies online that sell these pre-packaged in a cute little bag specifically for weddings, which will save you a lot of time.
Please share in the comments the best thing you ever received (or gave) in a wedding welcome bag.