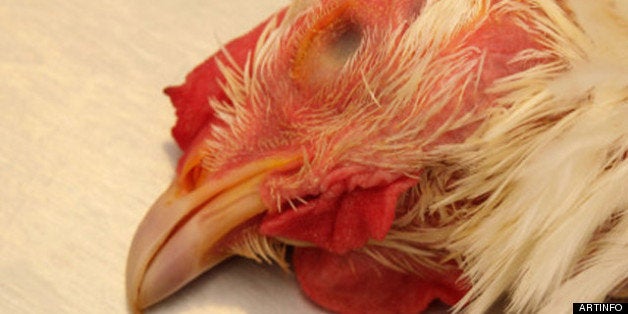 The Canadian art world is putting the Alberta College of Art + Design on trial this week, after the school's recent firing of one of its most-respected and longest-standing instructors, Gordon Ferguson, for his perceived role in a student's demonstration of performance art. With the exception of a brief citation on CBC.ca, and a short piece in the National Post, only fringe news sites have since carried the story and issued editorials; while a wave of popular petitions, damning letters, and an appeal on the behalf of a national teacher's association have been otherwise issued through formal channels and on the public stage. As the issue gains momentum, ARTINFO Canada has examined the available facts, responses, and notable precedents.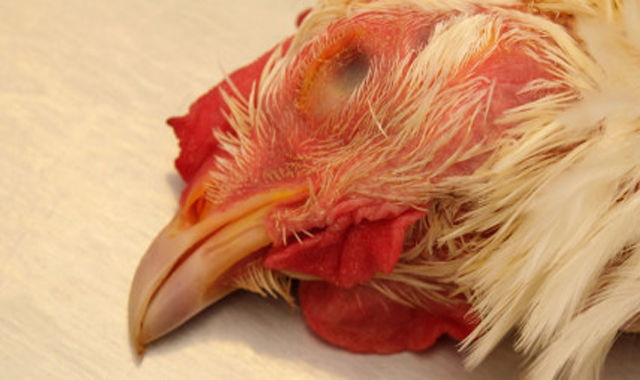 On April 18th, an ACAD student presented a live white chicken, "cooed at the creature, comforted it," and then summarily slit its throat and stuffed its feathers and innards into a pot, writes the National Post. Reaction, apparently, "was mixed."
Police were brought to the scene but did not press charges; ACAD offered counseling for witnesses. The student, who identified himself to media as Miguel Suarez to CTV, explained that his intention had been to bring some consideration to the visceral process by which we consume chicken. "I just wanted to put it out there, that that's the process that it takes," he said in a video aired by the station.
ACAD issued a statement shortly thereafter acknowledging that "there was an incident yesterday" and that it was taking it "very seriously" and was "in the process of investigating." It promised to "take all steps that it deems necessary and appropriate to deal with the incident in a timely manner."
On May 8th, ACAD professor Gordon Ferguson was let go from the institution, something the 32-year sculpture instructor has confirmed to the media, saying his dismissal was "absolutely related" to the incident. Ferguson's lawyer has advised him not to speak to media, though he has admitted that he "has a lot to say."
Over the week that's followed, a petition to reverse Ferguson's dismissal has received nearly 1,500 signatures, with that count quickly rising. The Canadian Association of University Teachers (CAUT) has announced it has retained legal counsel to represent both Ferguson and the ACAD Faculty Association (ACADFA), "which also supports him." Meanwhile, public letters of admonishment authored by the likes of Lisa Steele (co-signed by Joanna Householder and Tanya Mars, among others), Vera Gartley, Miruna Dragan, Paul Robert, and Paul Anderson have been widely disseminated.
CAUT executive director James Turk issued a statement Monday that reads, "We find it unacceptable that an art college would fire a professor because one of his student's projects, while legal, was controversial." In her public letter, Lisa Steel, who is a respected Canadian video and performance artist and head of the Masters of Visual Studies program, University of Toronto, expressed her "revulsion" for ACAD's "over-reaction," and lamented the school's failure to produce a "teaching moment" from the controversial work. "Unpopular opinions will continue to surface within our classes and our schools. It is our job to actively listen," she wrote.
Similarly controversial works and performances have appeared throughout contemporary art education history, but have rarely provoked the same type of response. In 2004, a 24-year-old UCLA student Joseph Deutch presented a work of performance art named "untitled Russian roulette," in which, using a wooden gun, he staged a fake suicide in front of his classmates, many of whom initially believed the act to be real. Deutch was awarded an A- for the work, and was unpunished by his administration, but the jarring incident (with its lack of mentionable aftermath) incited legendary performance artist Chris Burden and his wife, sculptor Nancy Rubins, to resign from the school's faculty. What Deutch had done, they said in a statement issued through their art dealer, was a kind of "domestic terrorism" that made onlookers "fear for their lives." Burden stated that university grounds possess "rules of speech and decorum," and emphasized that in his own canonized gun piece, "Shoot," 1971 (in which the artist had his assistant shoot him in the arm with a rifle), the audience had been forewarned.
In a 2008 incident at Yale University, Aliza Shvarts, a senior art major announced that she had artificially inseminated herself "as often as possible" while periodically taking abortifacient drugs to induce miscarriages for her senior art project. The Yale Daily News dismissed the project a "creative fiction," though Shvarts's response to this one various public platforms defended the impregnations as "real." The administration had the last word, however, explaining that "Shvarts is engaged in performance art." A Yale spokeswoman attempted to clarify that Shvarts "stated to three senior Yale University officials today, including two deans, that she did not impregnate herself and that she did not induce any miscarriages. The entire project is an art piece, a creative fiction designed to draw attention to the ambiguity surrounding form and function of a woman's body." Klasky went on to suggest that Yale would not have permitted a project of the sort described in the student newspaper. "Had these acts been real, they would have violated basic ethical standards and raised serious mental and physical health concerns."
Closer to home in Canada, OCAD University student Thorarinn Ingi Jonsson gained infamy when he crafted a fake bomb art project and placed it outside the Royal Ontario Museum in 2007. The project's accompanying video simulated the 'bomb' exploding, and faculty alerted the administration around the same moment that a bomb squad was brought onto the museum site. A prestigious fundraiser for the Canadian Foundation for AIDS research was evacuated from the ROM that evening, effectively canceling the event as well as the $100,000 it had been planned to raise. Jonsson was granted a discharge on $33,000 in sureties, and was also suspended from OCAD; the student later terminated his studies and returned to his native Iceland. The school also initially suspended two faculty members who had led the video production course in which the student presented his project, though they were cleared a week later. In his decision on the "ROM bomber" nearly a year later, Judge William Bassel declared it "a really stupid act, even for a young person," and mandated that Jonsson volunteer 320 hours over the summer for an AIDS organization in Iceland. OCAD president Sara Diamond was quoted as saying "the student was just right out of line," and that OCAD emphasizes ethics in art. "The sad thing is," said Diamond, "this is the kind of event that puts us in the spotlight and makes contemporary art seem irresponsible, which it isn't."
Last, in an earlier and far more gruesome example also at OCAD in 2001, part-time student Jesse Power and two of his friends videotaped a cat being skinned alive, for an artwork allegedly intended to discuss the hypocrisy of eating meat. A roommate called the police, who came to find the tape and a beheaded cat in the fridge. The tape and case, both referred to as "Kensington the Cat," sent animal activists into a fit and made headlines internationally, and Power ended up serving 90 days in jail.
I have been hesitant to weigh-in on the Ferguson case because it's almost too obvious a problem to write about. I've watched as popular arguments have veered unsteadily toward questions of is-it-or-isn't-it (art), and God knows that's stupid. Further, bringing the legitimacy of debate to an act so malevolent in its cowardice (ACAD's) seems too much like reward.
But I will say this: first of all, this isn't - and cannot be - about good or bad art. No, we will not perpetuate that conversation, and certainly not on a public forum with those so far outside its parameters as to have the bad sense to engage in it.
Further: We should be discussing the element of risk that's actively being stripped-down and bullied-out of contemporary art. We've been watching it happen in the academe for over two decades, now, as advisors and juries demand theory and defense; as performance art, in its growing popularity and insipidness, continues to be neutered on the public forum by such gadflies as Tilda Swinton; and as the academe finally presents a singular - and singularly harmful - vulnerability to its tenured faculty: stand behind a student taking risks, and we'll risk everything to drop you flat.
My final thoughts? The reversal of trends we're seeking will not be found in the very place that's born-out its devolution. We will do our best work and take our greatest risks by being brave, by standing outside the institution. We are standing with Ferguson, right now, aren't we? And we are so many.
More of Today's News from BLOUIN ARTINFO:
Did You Enjoy This Story? If so check out other articles from ARTINFO Canada
Related
Popular in the Community