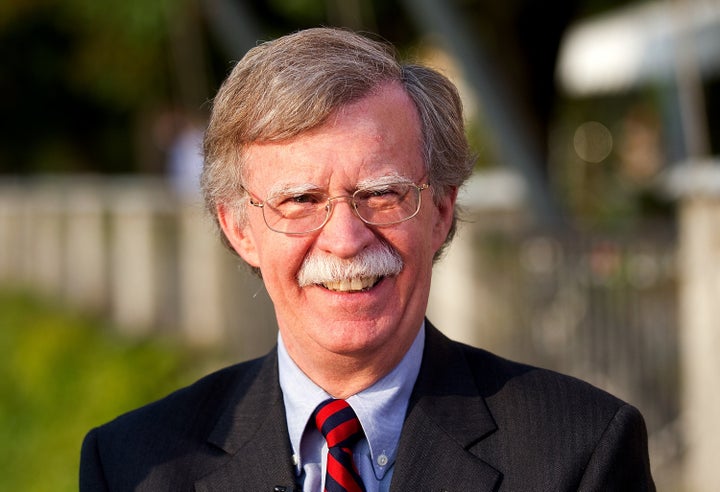 TOP STORIES
Hey everyone ― I'm headed to Mississippi and Texas next week for the final reporting leg of a massive feature I'm excited for you all to read come April. My colleagues Eliot Nelson and Ariel Edwards-Levywill be filling in for me until next Monday!
HERE'S WHAT YOU NEED TO KNOW ABOUT TRUMP'S NEW PICK FOR NATIONAL SECURITY ADVISER Former U.S. ambassador to the United Nations John Bolton is replacing H.R. McMaster. Take a look at his hawkish career, support for the Iraq War and record on Asia. And this Trump tweet on former Bush officials has not aged well. [HuffPost] [Tweet | Share on Facebook]
BREAKING: REPORTED HOSTAGE SITUATION UNDERWAY IN FRENCH SUPERMARKET Shots have reportedly been fired in the town of Trebes in southern France. [HuffPost]
SENATE PASSES $1.3 TRILLION SPENDING DEAL And has sent it to Trump, who is expected to sign. [HuffPost]
PROTESTS OVER STEPHON CLARK'S DEATH SHUT DOWN SACRAMENTO KINGS GAME, FREEWAYS "Black Lives Matter activists linked arms and blocked the Golden 1 Center while chanting: 'Stephon Clark!'" [HuffPost]
PARKLAND SURVIVORS STRUGGLE WITH GRIEF AS MESSAGE SPREADS "You can't move on from something like this; nobody ever can," survivor David Hogg told HuffPost. The Parkland students were also featured on the cover of Time this week. [HuffPost]
THE AUSTIN BOMBER SAYS HE MAY BE A PSYCHOPATH IN FINAL RECORDING "I wish I were sorry, but I am not." [HuffPost]
KAREN MCDOUGAL, WHO ALLEGES AFFAIR WITH TRUMP IN 2006, SAID HE CALLED HER BEAUTIFUL, LIKE HIS DAUGHTER The ex-playmate told Anderson Cooper about the awkward compliment Thursday. [HuffPost]
'HOW THE LAS VEGAS GUNMAN PLANNED A MASSACRE' The New York Times compiled video showing the final days of Stephen Paddock, as he plays poker and lugs bags of weapons into his hotel suite. [NYT]
WHAT'S BREWING
U.S. TUBERCULOSIS CASES MAY BE THE LOWEST IN YEARS But the treatable and curable disease is on the rise in New York City, and an alarming number of latent cases are lurking. [HuffPost]
SECURITY EXPERTS SAY YOU SHOULD NEVER TAG YOUR MOM ON FACEBOOK For this one reason. [HuffPost]
SLACK WAS ALREADY A LIKELY TRAP FOR GIVING UP ALL YOUR INFO It just got even less secure when it comes to your boss reading everything. [The Next Web]
IT'S A NEW ERA AT VANITY FAIR When Lena Waithe, the black, openly lesbian female writer, producer and actor is featured on its first cover under the magazine's new editor, Radhika Jones. [HuffPost]
WOMEN AGED 28 TO 65 GET REAL ABOUT BEING SINGLE And have some advice for their younger selves. [HuffPost]
BEFORE YOU GO
Calling all HuffPost superfans!
Sign up for membership to become a founding member and help shape HuffPost's next chapter