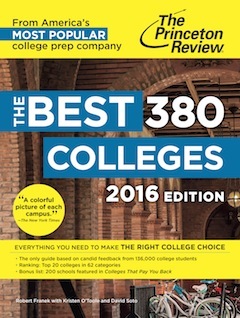 The 24th edition of The Princeton Review's Best 380 Colleges is out, including our 62 top-20 ranking lists. These lists are based on survey responses from true experts in on-campus life--the students at these colleges. Every one of these academically outstanding schools has a profile in the book and on our website chock-full of direct quotes from those students, offering you a campus snapshot with #nofilter.
I'm thrilled to have worked on every edition of this book for the past 15 years (lordy!). Our very first edition featured 250 schools and survey results from 30,000 students. Not only have we added 110 schools to the book over the past couple decades, we've increased our student survey participants by more than 300 percent! That's right, our profiles and ranking lists are now based on survey responses from 136,000 students!
Which college is No. 1?
None! Not even Harvard, Yale, Princeton, or Stanford is necessarily the best college in the land. Shocking? Maybe, but the best way to approach the application process is for YOU to decide what's best for you. That's why we don't rank schools from 1 to 380, but we do rank the top 20 schools in 62 different categories--to help you find colleges that have the unique qualities you want. Interested in a career in broadcast or print journalism? Check out Hofstra University, #1 on our Best College Radio Station list (2 years in a row!), or Cornell University, #1 on our Best College Newspaper list. Headed for the campaign trail? George Washington University has topped our list of Most Politically Active Students for 3 years running. If your goal is to be the next Neil de Grasse Tyson or Oliver Sacks, check out our Best Science Lab Facilities list. Number 1 this year is the U.S. Naval Academy.
All of our lists are based on the opinions of students at each school. While editors, administrators, and faculty may all have useful information and advice to impart, only students can truly dish the dirt, and heap the praise, on what their schools have to offer.
How do I use these rankings?
When I talk to students and parents about how to find their "best fit" college, I focus on three categories of fit: academics, culture, and financial aid.
Academics
If you know what you want to study, pick up a copy of our book and flip through the section of "Great Schools for the Top 20 Majors." Undeclared? Never fear, ranking lists like "Best Classroom Experience," "Professors Get High Marks," and "Best College Library" will still give you a sense of the intellectual climate on campus.
Culture
... varies widely from campus to the next! The range of options when it comes to the size, setting, and overall vibe on college campuses is truly incredible--as our lists "Future Rotarians and Daughters of the American Revolution" and "Birkenstock-Wearing, Tree-Hugging, Clove-Smoking Vegetarians" demonstrate. We have lists of colleges that students have rated on both ends of the political spectrum, LGBTQ friendliness, town-gown relations, and a variety of extracurricular activities--including our newest ranking list, "Students Most Engaged in Community Service." I always ay the best way to get a sense of a college's culture is to visit campus, but our rankings will help you narrow down your list of dream, match, and safety schools.
Financial Aid
Financial fit is just as important when it comes to college as cultural fit--the cost of college has always been a major concern for students and parents. Over the past 20 years, average tuition numbers have increased significantly faster than average inflation rates. Folks are looking at college as a significant investment, from which they expect a real return. We've ranked schools based on students' satisfaction with their financial aid packages, their ratings of their school's career services (we started that one 10 years ago at the request of a parent). Our book Colleges That Pay You Back also includes ranking lists like "Best Alumni Network," "Best Schools for Internships," and a special list of schools that offer excellent value even if you know you won't qualify for financial aid.
As back to school season gears up, I'm looking forward to talking with even more students, parents, and counselors this year. I bring all of your unique stories back to The Princeton Review HQ, where our test prep and admissions experts are constantly searching for new ways to help you achieve your education goals.
Rob Franek, Senior Vice President-Publisher at The Princeton Review, is the company's chief expert on education and college issues. Over his 22-year career, he has served as a college admissions administrator, test prep teacher, author, and lecturer. Follow Rob and The Princeton Review on Twitter to share your admissions stories, or find out if he's speaking in a town near you: @RobFranek & @ThePrincetonRev
REAL LIFE. REAL NEWS. REAL VOICES.
Help us tell more of the stories that matter from voices that too often remain unheard.