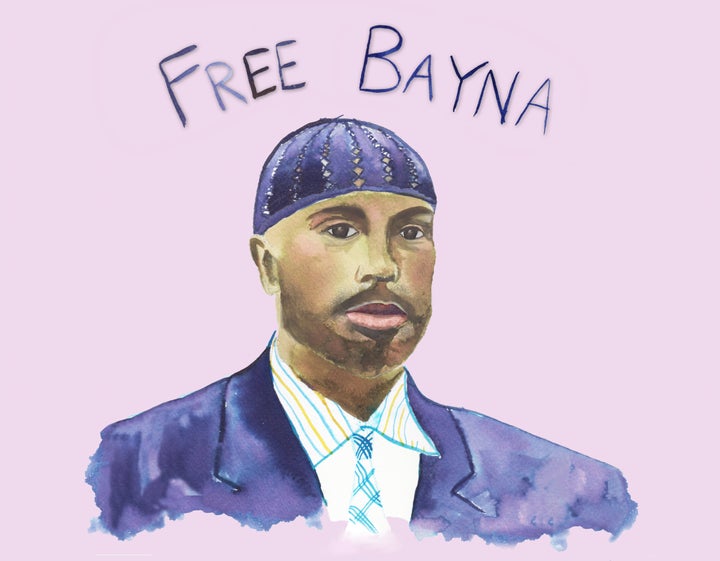 We, the members of F2L Network, write to put forward our own narrative about the events of the past few weeks in regards to Bayna-Lekhiem El-Amin's sentencing on September 15, 2016 to the media attention around his case, as well as to urge our extended community to show love and support for Bayna-Lekhiem.
We are fighting for Bayna-Lekhiem's freedom—pushing for an appeal of his sentence, supporting him financially and emotionally while he's on the inside, and working to correct the racist narrative of his case that the media and New York state prosecutors and judges have perpetuated.
We refuse to be silenced by a racist media that erases Bayna-Lekhiem's identity and history, fails to acknowledge the community that supports him, and works in collaboration with the legal system.
We will continue to fight for Bayna-Lekhiem El-Amin—to follow his wishes in overturning the popular narrative of his case, to help him stage an appeal of his sentence. We have already gathered over 1,500 signatures on his behalf, and over 20 letters in support of him.
We will continue to grow, and so will support for Bayna-Lekhiem El-Amin and other queer and trans people of color being targeted by the state.
On Thursday, September 15, Bayna-Lekhiem El-Amin was sentenced to nine and seven years for two counts of assault. The sentences will run concurrently, meaning that Bayna-Lekhiem will serve nine years in a maximum security prison, after which he will serve five years of post release supervision.
On the day of the sentencing, approximately 30 community members were in the courtroom to support Bayna-Lekhiem. A community member even interrupted Manhattan Supreme Court Justice Arlene Goldberg requesting to approach the bench and they were immediately surrounded by police and told to sit down. At this point they began to say loudly that no community members were allowed to testify on Bayna-Lehkiem's behalf. After Goldberg handed down the sentence, numerous supporters stood up and shouted "shame on you" and "racist," protesting her decision. Supporters were soon escorted out of the courtroom by NYPD officers.
This kind of solidarity is unusual; often, the state condemns its victims, overwhelmingly Black and brown, disproportionately queer and gender non-conforming, to prison with scant opportunity for objection. But F2L aims to build communities of resistance that cannot be exploited, tortured, and killed without a fight. If the state refuses to respect our existence, it will have to expect our resistance.
This past week, Bayna-Lekhiem was transferred from Rikers Island to Downstate Correctional Facility, in Fishkill New York.
In the aftermath of the sentencing, reporters for New York City media outlets continued the use of anti-Black language in their reporting, as well the erasure of Bayna-Lekhiem's queerness and of Jonathan Snipes' and Ethan York-Adam's role in escalating the encounter. Shayna Jacobs, who writes for the New York Daily News, referred to Bayna-Lekhiem as a "towering terror" and a "remorseless brute" in her article following the sentencing. Aidan Gardner, employed extremely racist bias in his reporting for DNAInfo, claiming that "[a] gay couple was bashed over the head with a wooden chair, knocked to the ground and kicked by two men hurling anti-gay slurs." Antonio Antenucci, referred to Bayna-Lekhiem as "[t]he brute wanted for bashing a gay man over the head with a chair" in The New York Post. Neal Broverman used sarcastic and biased language in The Advocate to describe Bayna's experience of what happened that night: "El-Amin — who is 6 foot 6 and weighs 280 pounds — claimed he used the chair because the men were attacking him and he feared for his life." By intentionally and repeatedly framing a Black man as a menacing threat to vulnerable white people, the media justified the violence that a nine-year prison sentence represents.
Again and again, Bayna-Lekhiem was held to a standard that Snipes and York-Adams were not — in a Gawker article, the reporter Rich Jozwiak asked why Bayna-Lekhiem's criminal record was not mentioned in a Village Voice article that sought to offer a counter narrative of the case. Why was Bayna-Lekhiem's criminal record relevant to the case, while Snipes and York-Adams' were not? Why was Bayna-Lekhiem charged with assault and denied his queerness in the trial, but Snipes and York-Adams were not, despite admitting they started the fight to the police? Nothing in Bayna-Lehkiem's past justifies this kind of racist railroading.
Not only did these reporters use racist language throughout their coverage of the trial but they also left out crucial information about the support that actually existed for Bayna-Lehkiem at his sentencing, or failed to mention his supporters entirely. Not one news story reported that the court proceedings had been interrupted by a community member, though there were several reporters and a photographer present. We at F2L know that these reporters go from courtroom to courtroom pumping out stories, nodding at judges, waving at prosecutors, in and out of court buildings, they are allies of the court, and we see them as equally responsible and as key collaborators with a racist criminal justice system.
We are calling on our extended community to call in to these news publications and complain about the anti-Black language being employed in their so-called reporting. These journalists' racist articles shaped public opinion in New York and likely affected the court's decision on September 15 to lock up Bayna for nine years for a bar fight he did not start. Details on how to call and complain can be found here.
Numerous eye-witnesses — none of whom were permitted to testify in the trial — have confirmed that Jonathan Snipes and Ethan York-Adams initiated the interaction at Dallas BBQ in May, 2015, approaching Bayna-Lekhiem, hitting him in the face with a purse, and referring to him with racial slurs. Bayna-Lekhiem, who responded in self-defense, immediately fled the scene to seek medical care for his injuries. Neither Snipes nor York-Adams were seriously injured; neither, despite initiating the interaction, were taken into custody or hit with charges.
Though Bayna-Lekhiem was ultimately charged with two counts of assault, the initial accusation that he committed an anti-gay hate crime undoubtedly contributed to the severity of his sentencing. In the aftermath of the 2015 incident, publications like the New York Daily News, Gawker Media, and the Advocate all ran article describing the interaction as a an anti-gay hate crime and leaving out information about Bayna-Lekhiem's sexuality, as well as his history as a community organizer and educator in New York City Black queer communities, until independent reporting from The G-List Society revealed this information. Two New York City politicians, NY State Senator Brad Hoylman and New York City Councilman Corey Johnson, publicly responded to the encounter as a hate crime, orchestrated a street rally against hate crimes in Chelsea, and made statements such as "our community is clearly not safe," continuing the mobilization of white gay male "victimhood" against Black queer survival.
We must reiterate that this narrative contributed to Bayna-Lekhiem's treatment in the NY court system, anti-Black depiction in the media, and the ultimate severity of his sentence.
New York State, led by prosecutor Cy Vance and Supreme Court Justice Arlene Goldberg — uphold and perpetuate a legal and judicial system in which Black people, particularly queer and trans Black people, are perpetrators and criminals, and white people are victims. Bayna-Lekhiem is spending nine years in a maximum security prison because of the racism at the foundation of the New York State legal system and the law in general.
Popular in the Community