One year ago, at Women's Foundation, we challenged ourselves to focus on results -- to improve the lives of women of all ages. After our research on the Status of Women in Missouri found that Missouri women earn $0.71 for every dollar men earn for the same work, we promised to focus on results for equal pay for equal work.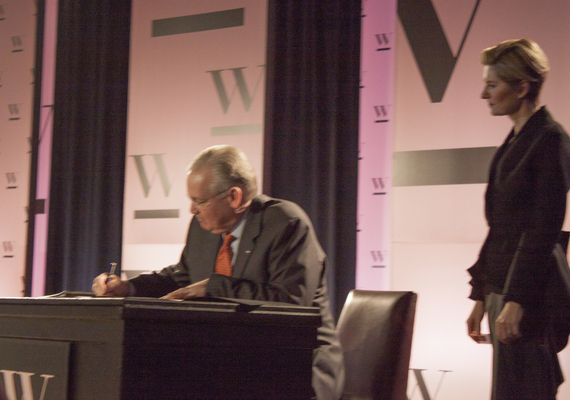 We're proud to say we kept our promise. At our 2015 Annual Luncheon, Governor Jay Nixon signed equal pay Executive Order 15-09. An executive order (E.O.) is a policy or regulation issued by the Governor, which has the force of law. E.O. 15-09 promotes gender pay equity in the workplace by directing state agencies and encouraging private sector organizations to use best practice guidelines to identify and address gender wage gaps within their organization. Women's Foundation is partnered with the University of Missouri to establish these guidelines; preliminary guidelines can be viewed here.
Here's why you should care:
Many people haven't seen the research or refuse to believe that a gender wage gap exists. That's why we strive to change the conversation and move the issue forward. The time to argue about whether the pay gap exists is over. It's time women see results.
It's historic.
Executive Order 15-09 is the first significant step Missouri has taken toward gender equity in years, but it's only the first step. Missouri can be a leader in pay equity if we continue to identify solutions to address the pay gap.
It establishes best practice guidelines.
State government agencies are required to follow these guidelines to establish better equal pay policies within their organizations and private organization are encouraged to utilize the policies as well.
The guidelines are widely accessible to anyone. By making these guidelines available to the public, employers have access to guidelines that will help them identify and solve existing pay gaps in their organization. Employees will also have access to the guidelines and will be better equipped to advocate for better workplace policies.
Executive Order 15-09 is the step Missouri needed to take and Women's Foundation is honored to have played a part. We have worked tirelessly to promote the issue of equal pay and we won't stop until it's achieved.
Calling all HuffPost superfans!
Sign up for membership to become a founding member and help shape HuffPost's next chapter