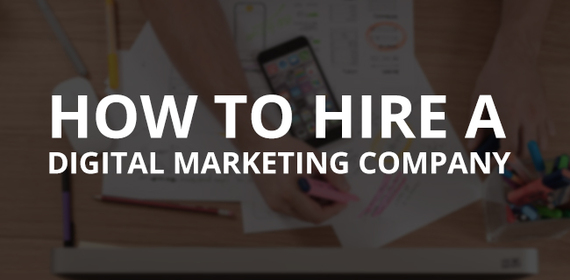 So you've decided to take the plunge and hire a digital marketing company to take over the marketing for your business - great idea!
Marketing utilizing inbound strategies, such as those utilized by digital marketing, has some amazing advantages and there's tons of studies to back it up. Not only can investing in digital marketing create more leads for your business, it can help you scale at a much faster rate by allowing you to automate many of the strategies.
Although making the choice to invest in digital marketing may have been an easy one, choosing the right digital marketing company may not be. If you're scratching your head trying to figure out which agency is right for you, don't worry! Today we're going to walk you through the four things you need to know before hiring a digital marketing company.
1. Do your homework.
It may seem simple enough but often times a business will go with the first agency they see or hear of. While you can "luck out" and find one that fits you right, you risk the chance of making a bad decision, which could cost you a lot of money.
Here are a few suggestions to compile a list of agencies you may want to consider...
Search "digital marketing [your state]". The companies that are on the first page have clearly invested time and energy into ranking their website for that search term (via SEO), which shows you right off the bat that they know what they're doing.
Find companies in your industry/niche that are successful and determine what agency they are working with. Sometimes this can be as simple as going to the bottom of their website and searching for a line that says "Marketed by..." or "SEO by...". If you can't find it on their website, call up the companies and ask to be referred to the agency they're using.
Ask friends and/or family members who are currently working with a digital marketing company if they recommend them. Asking someone you trust could be the easiest way to find a great agency.
2. How do they measure success?
For example, the KPI's that are measured for marketing a law firm are much different than those for an ecommerce store. The law firm might focus on calls and email inquiries as leads whereas the ecommerce store would focus on subscribers to their email list.
When choosing a digital marketing company, ask them not only how they determine their success, but also how they will communicate this to you. Agencies have different ways of reporting their campaigns. Some have monthly or quarterly reports, others have routine "check ins". Choose one that fits the way you do business.
3. Do they have clients in the same industry as yours?
All agencies are different. Some serve large clients, some serve small, some only serve niche industries.
To have the optimal experience with an agency you will want to confirm that they truly know your industry inside and out. Having clients in the same industry (or even in the same vertical) can allow the marketing company to transition from the research phase of the marketing process to the implementation phase much quicker. Meaning, they can start getting you results faster.
4. Talk to past clients.
You would be amazed at the amount of businesses that hire a marketing company without doing at least a small amount of due diligence into past relationships. Having a brief conversation with these past clients can help mitigate some of the risk of hiring a new agency.
Instead of asking for reference from the marketing agency (since they'll always give you clients who had great experiences), find past clients by asking for past examples of work the agency has done in your industry. Find the contact information for each business and ask them the following questions...
Were they ever late in completing any projects/campaigns?
Why did you end the relationship with the agency?
What were the pros and cons of working with the agency?
Wrapping up
Choosing the right digital marketing company doesn't have to be a mind-boggling experience. Following the tips above will allow you to make an informed decision, saving you time and money in the long-run.
Have a question about choosing a digital marketing company? Shoot me a tweet here - I'm more than happy to answer it for you!
REAL LIFE. REAL NEWS. REAL VOICES.
Help us tell more of the stories that matter from voices that too often remain unheard.