There are currently more than 60,000 homeless men, women and children living in New York City. Some people will tell me that I, of all people, ought to applaud any artist who addresses homelessness in his or her work. After all, it is a topic I have grabbled with for over 10 years, ever since I created the Homeless Museum of Art.
Presented by the nonprofit organization More Art, Andres Serrano's series of large-scale photo portraits of New York City's homeless, entitled Residents of New York, attempts to "give a dignified face to a group of people often ignored and marginalized in society," according to the project's website.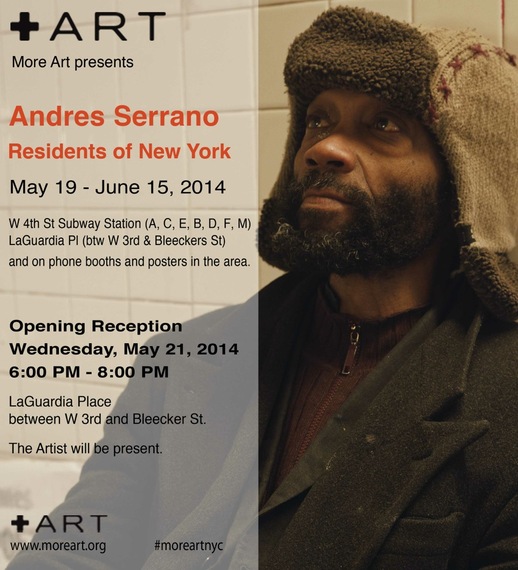 This is not the first time that Serrano, famous for his notorious "Piss Christ" (1987), has picked homelessness as a topic: Back in 1990, he created Nomads, a series of studio portraits of homeless individuals; last year, working with the nonprofit Creative Time, he made "Signs of the Times," a YouTube video-collage showing the kind of cardboard signs the homeless frequently use to ask passerbys for change.
One might forgive Serrano for his use of neutralizing euphemisms in the titles for all three art projects -- I know firsthand from running my museum that the mere mention of the word "homeless" can shut doors, eyes and minds. Explaining the title Residents of New York in a promotional video, Serrano says: "I didn't want to call them homeless because it's such a cliché." I applaud his determination to move beyond clichés, especially if it means avoiding the common representation of the homeless as sad men and women bundled up in several layers of dirty clothing, sitting on the pavement with their backs against a wall. Such blatant images are by now emblazoned in every New Yorker's mind and regularly exploited by agencies like the MTA, which famously used them in an anti-panhandling ad campaign with the slogan, "Give the homeless the kind of change they can really use."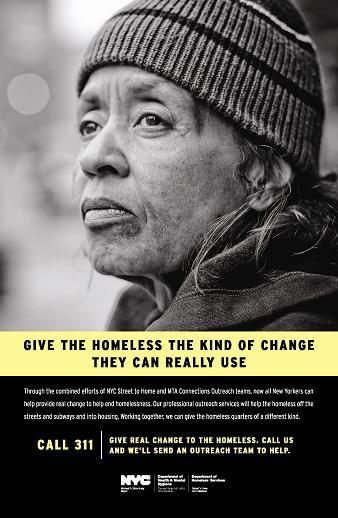 How disappointing it is, then, that Serrano is presenting us with nothing more than a series of blown-up snapshots that depict the homeless just like we encounter them daily on the streets of New York City. Despite the hype about the artist's "personal connectivity and interaction with the homeless" and the promise of a "compelling revelation," his portraits of homeless individuals turn out to be all but indistinguishable from stock photos of the same subject. In other words, he has delivered precisely the kind of cliché he promised to stay clear off.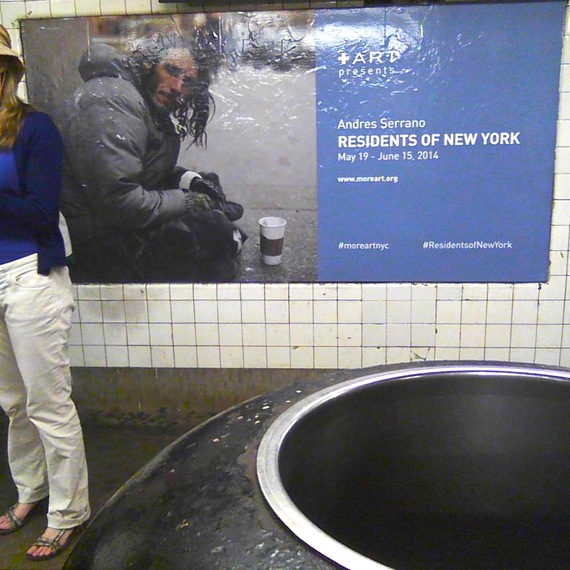 I also find it rather ironic that this public art project is presented, among other places, at the West 4th subway station, a large subway hub that used to be teeming with real homeless before the MTA cracked down on them by enforcing its Rules of Conduct, which include "no panhandling or begging" and "no lying down."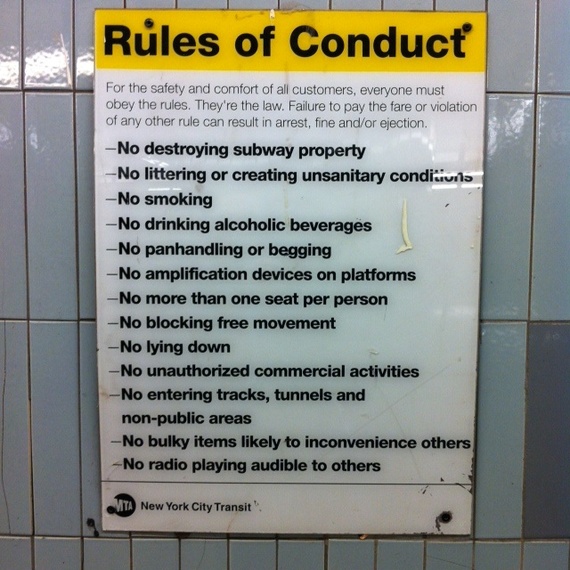 In the promotional video mentioned above, Serrano further explains that he chose the name Residents of New York "because [the homeless] are residents and they live in New York City." I suppose he means to say that all's well since we all live here together, that we're all in the same boat and that all it takes to recognize the presence of those other "residents" is a closer look at them, preferably via pictures shot by someone who has selflessly taken it upon himself to "engage" with them on our behalf. But how much "engagement" does it actually take to produce a meek series of snapshots of homeless individuals and exhibit them in the public spaces we already associate with the homeless? For my part, I can't help seeing Residents of New York as just another case of veiled opportunism marketed as "socially engaged art."
Serrano has professes to "like to make art about things that matter." For him, "it's not art about art; it's art about something you understand when you see it." Perhaps he should not make it quite so easy on himself (or, for that matter, on the viewer). Sometimes the effect of "what you see is what you get" is just not enough.
Andres Serrano
Residents of New York
May 19-June 15, 2014
W 4th St Subway Station (A, C, E, B, D, F, M)
LaGuardia Pl (btw W 3rd & Bleecker St)
and on phone booths and posters in the area
Calling all HuffPost superfans!
Sign up for membership to become a founding member and help shape HuffPost's next chapter