The time will inevitably come when your immune system fails at its ONE JOB, and you'll get sick. Out come the pillows and the Netflix, but as you ride out the illness, you also need to eat.
You may know that trying to kill those germs with alcohol isn't the smartest move (it's not!?), but what should you consume? Is chicken soup really good for you, or is that something your mom told you to shut you up? We asked Lingxia Sun, a clinical dietitian at Johns Hopkins Hospital, what the best eating strategy is for anyone who's got a cold, the flu, or is just generally feeling lousy.
Above all else, make sure you're eating
"The most important thing is that you still eat something," Sun advises. "Some people don't have an appetite when they're sick, so they don't eat anything. Food is how our bodies function, and you need all the food you normally eat because your body is fighting the disease."
That said, some foods are going to help you more while others can even make you feel worse. With your typical cold/flu situation, you have an infection that might be making you feverish, achy, nauseous, and stuffy, depending on how your body does things. So your goal is to eat foods that relieve some of those symptoms, and to avoid foods that aggravate them. Logical enough, right?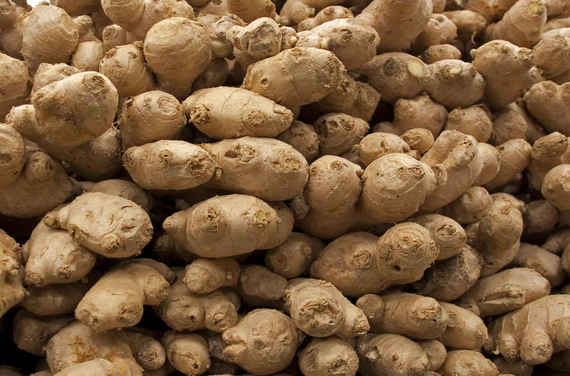 Credit: Flickr/Tony Hisgett
Eat: Ginger
A few foods provide specific benefits to reduce your symptoms. For nausea, ginger has been shown to provide relief, so add ginger to teas or a mild stir fry to calm your stomach.

Eat: Bananas
Bananas are easy to digest when you have an upset stomach, and they provide potassium, an essential electrolyte that helps maintain water balance for optimal cell function.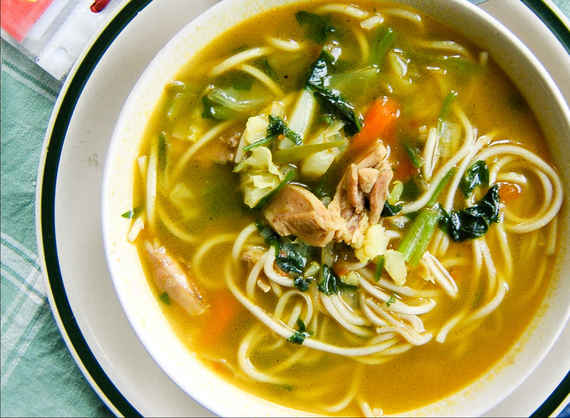 Credit: Flickr/Pankaj Kaushal
Eat: Chicken soup
Congestion can be relieved with hot tea and soup, and a lab study has even shown that chicken soup officially has potential for helping with colds! Guess Mom was right, after all.

Eat: Garlic
Garlic has antiviral and antibacterial properties, though research on whether it's helpful for colds is inconclusive. Still, if your stomach can tolerate it, garlic can't hurt, especially if you add it to that ginger-y stir-fry you made.
While none of these foods will magically cure you, they can make your sick days a little less miserable. The bottom line is that you should be eating something and focusing on healthy foods, though that can be difficult when there are close calls, like the next two...