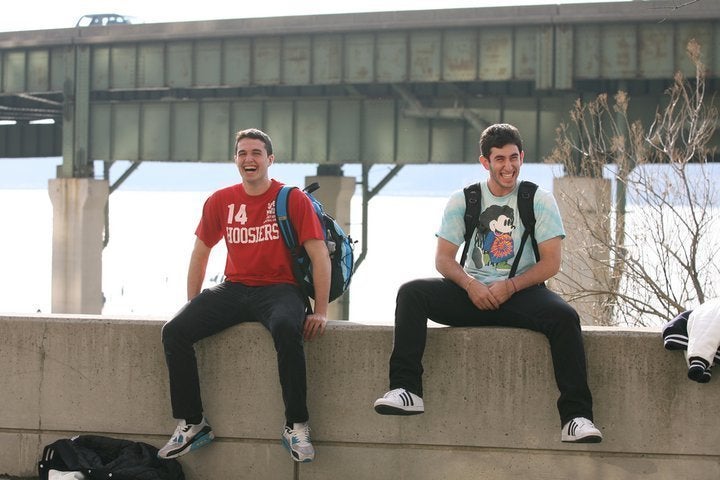 No, "West Side Stories" is not a musical.
It's the new mixtape by Upper West, an emerging hip hop duo that includes college freshman Doug Gleicher, of WashU in St. Louis, and Jesse Fink, of UPenn. With catchy beats, relatable lyrics and familiar sampling tracks, it's hard not to compare these guys to Trinity College sensation Sam Adams, whose most recent track features rap lyrics over a base of the Pixies' "Where is My Mind?"
Both Gleicher and Fink are graduates of the Collegiate School, the swanky all-boys high school on (you guessed it!) Manhattan's Upper West Side. The group's producer, Andrew Underberg (aka "Wonderberg"), is another Collegiate graduate and earned his BA in Music from Brown University.
Upper West has played live shows at several venues already. The boys were a big hit at Choate Rosemary Hall, a boarding school in Connecticut. They have also performed at venues in New York City, and on March 10, they will play at the South by Southwest Music and Media Conference in Austin, Texas.
While producing music, touring and filming two videos, Gleicher and Fink somehow still manage to be real college kids. The former is actually on the baseball team at WashU, and he posts about his busy life on Upper West's Facebook page:
So early but I'm up. Gotta juggle college baseball, music, school, and semi-professional modeling... #theclimb. -DG
"#theclimb" is right. Upper West's new mixtape has earned a slew of positive reviews, and the group already has over 7,500 "likes" on their Facebook page. With the tracks on the new release, the duo pays homage to their roots: "Grew up on 72nd / moved up to 87th ... Grew up on fields of grassy gravel down on Riverside" are a few of the opening lyrics to "West Side Story," the first of the nine songs.
Listeners of the mixtape may feel a bit of déjà entendu: several of the tracks have hooks from familiar songs playing beneath the rap lyrics. "What We Do," for instance, is an adaptation of Beirut's "Elephant Gun," and "Slow Down" is a new take on Death Cab's "Marching Band of Manhattan." Most creative, perhaps, is the fifth track on the mixtape, "Seasons," which is an adaptation of the song "Seasons of Love" from the musical Rent. And children of the 80s and 90s should be sure to catch the intro to the track "Pride" ("I see pride! I see power!"), which features a recording from the best movie about any Jamaican bobsled team ever created. (Yes, it is Cool Runnings).
Check out the video for Upper West's "Slow Down" below, a sure-to-be hit off their new mixtape (go ahead and skip to 1:06 for our favorite part). They say they're not "just another frat rap / More dudes with tank tops and snapbacks" in "What We Do," but after watching the video from their earlier single "I Won't Grow Up" (second video below), we're ...not too sure about that. What is certain is the fact that these guys are talented and will be sure to win the hearts of female first-years across the country. We're one step ahead of you -- download their mixtape right here!
REAL LIFE. REAL NEWS. REAL VOICES.
Help us tell more of the stories that matter from voices that too often remain unheard.