Ah, Costa Rica! The land of pura vida, amazing rainforests, beautiful beaches, cool wildlife, and a bad reputation of being too expensive and filled with tourists.
Because of its expensive and touristy reputation a lot of people tend to skip backpacking Costa Rica and head straight to it's more affordable neighbors Panama and Nicaragua.
As a foreigner living in Costa Rica who has absolutely fallen in love with the country it always makes me sad when backpackers tell us they are skipping Costa Rica or are only visiting places like Jaco and Manuel Antonio (filled with tourists).
I created this guide to backpacking Costa Rica to give you the most thorough info on how to see the best that Costa Rica has to offer while on a backpackers budget.
Let's start with the border crossings….
Backpacking Costa Rica: Border Crossings
Anyone else get serious anxiety when it comes to border crossings? I always have mini panic attacks and it always turns out just fine!
If you are starting your travels in Costa Rica you can fly into either the Liberia or San Jose airport. We like San Jose because the flights tend to be cheaper and it is more centralized, but if you'd like to start in the north-west corner and make your way down the country to Panama, Liberia is a good option.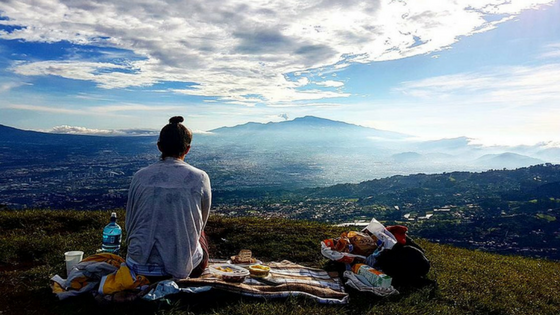 Costa Rica/ Panama Border:
I've only done the border crossing to and from Panama once. It was a bit of a nightmare going into Panama. You can read our full post about it on my blog here.
Heading from Panama into Costa Rica is pretty easy. There is no fee for entering the Costa Rica (you pay about $8 per person when leaving) but you will have to show proof that you are leaving Costa Rica within 90 days. Usually, if you have a plane ticket back home from another Central American country within 90 days this will be fine as proof.
Another option is to buy a bus ticket to Nicaragua. Tica Bus now sells tickets online (yeay!) and they cost about $30 one way to Managua, Nicaragua.
The best way to cross to and from Panama is by bus. There is a public bus that runs from San Jose to the border (Sixaola is the town name) several times a day. It costs about $12 for a one-way ticket. You can find more about it from their website here.
Costa Rica/ Nicaragua Border:
If you are crossing from Costa Rica into Nicaragua you won't have much trouble. I found this border crossing to be incredibly easy. They even have people employed to help you go through the process on the Nicaragua side. In fact, now that I think about it, I didn't even show proof that I was leaving Nicaragua within 90 days when I entered.
If you are crossing from Nicaragua into Costa Rica you will need to go through the same process as it would be to enter from Panama. Make sure you have proof that you are leaving within 90 days.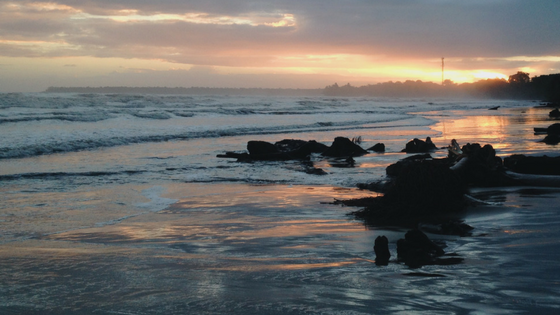 The best way to cross between Costa Rica and Nicaragua is by Tica Bus or one of the public buses. If you are coming from San Juan del Sur, Granada, or Managua and heading to San Jose, Tica Bus is the way to go. It is a bit pricey at $30 but it saves you the trouble of switching between several buses and you'll have the ease of having a comfortable reserved seat. They will stop at the borders and you will have to get off the bus to go through the exit and entry process.
If you choose to go the cheaper option and use public transportation there is a bus from the border (Penas Blancas is the town name) to Liberia which runs several times a day. From there you can get anywhere in Costa Rica. There is a free app called Off The Grid Traveler which I suggest downloading for bus schedules and routes in Costa Rica. It's a total lifesaver.
Backpacking Costa Rica: Where to VIsit
While backpacking through Costa Rica you will likely head to the places which are most easily accessible by public buses. Unfortunately, these are usually the more touristy places which don't always give you the best insight into how amazing the country actually is.
Montezuma: A really cool laid back beach town on the Nicoya Peninsula. The walk along the seven beaches there is by far one of the coolest things I've experienced in the country. There is also an amazing waterfall to explore.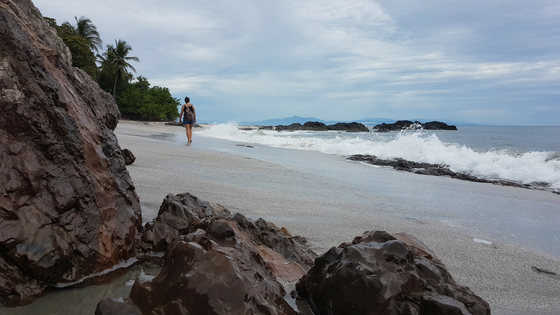 Tortuguero: It is a bit of a journey to get here and it is only accessible by boat. Because of that, not many tourists make it here. I absolutely love Tortuguero for its rasta island vibe. Try to visit during the late summer/ early fall to see huge turtles laying their eggs on the beach.
Cahuita: This cool town on the Caribbean is home to our absolute favorite national park in the country. The beaches are not the white sand beaches you'll get on the Pacific, but they are still nice and a great place to watch the sunrise.
Samara: A cool hippy town on the beach. A great place to go if you are interested in surfing.
Backpacking Costa Rica: Transportation Info
If you view any of the guides for the places I listed above there is a complete section on transportation to each location. It is usually possible to get to any place from San Jose or Liberia by bus. The problem tends to be getting between places. It seems as though all buses run through San Jose. Depending on which areas you'd like to visit you may have to go back to San Jose to get to your next destination which is sometimes extremely inconvenient.
As I said previously, definitely download the free app Off The Grid Traveler to help you plan out your route.
Within each location, you might find that things are more spread out or difficult to access than you expected. I suggest renting a car for a day or two to explore (more info is in each guide for getting around within each location.
If you do opt to rent a car, please read my guide to car rentals in Costa Rica first so you don't get hit with unexpected charges. Plus there is a nice car rental discount in there for you as well.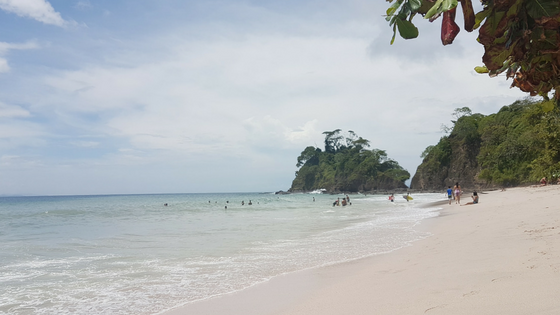 If you need another way of getting around I suggest Uber instead of taxis.
In fact, please don't take taxis. Uber is legal here (for now) and is always about half the price of taxis.
Backpacking Costa Rica: Accommodation Info
Your best bet for finding cheap accommodations are hostels or Airbnb. If you are looking for an authentic experience I'd check out Airbnb. Usually, this will give you the option of meeting your host who will be able to give you a better idea of a true local experience.
If you are interested in meeting other backpackers, hostels are always the best way to go. There are some really nice hostels in Costa Rica where you can get a bed for a few dollars a night.
I used to suggest Couchsurfing a lot for backpacking Costa Rica, but after hearing some horror stories from people being assaulted and Couchsurfing doing nothing about it, I now suggest staying away from Couchsurfing.
Backpacking Costa Rica: Money Saving Tips
Alright, now what you've all been waiting for, how to save money in the most expensive country in Central America.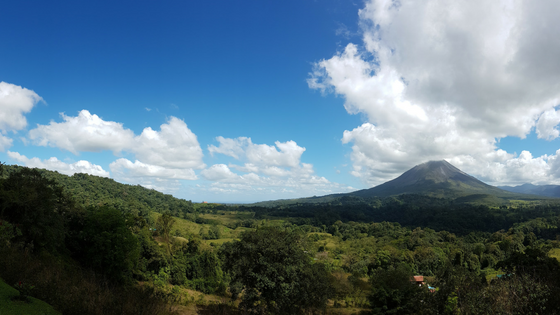 -Stay at a place with a kitchen so you can cook your own meals.
-Eat at the small local restaurants called sodas.
-Buy alcohol in Panama or Nicaragua and bring it in with you. You are allowed to carry in up to 5 liters.
-Visit the local farmer's markets (ask at your hostel when one is) for cheap produce.
-Skip the day tours if they seem pricey and opt to take an Uber to places on your own.
-Skip the guides at national parks
-Travel during the rainy season (May to November). Everything is cheaper.
-Don't book tours ahead of time. Most hostels partner with local companies and can get you a better rate.
-Ask at your hostel or Airbnb what the employees favorite local activities are. They can give you a more local experience which is almost always cheaper.
Backpacking Costa Rica: Packing Suggestions
I have a complete packing list for women here and men here. I also have a complete list of gear suggestions. The number one piece of advice I have for you as a backpacker is that it is so humid here (and in the rest of Central America) that everything in your backpack will be wet all the time. Bring things that are fast drying to help some of that. There's nothing worse than having to put on damp and smelly clothes every day.
Need any more tips for backpacking through Costa Rica? Check out my blog Costa Rica Vibes for tons of travel tips and guides for seeing Costa Rica on budget.
REAL LIFE. REAL NEWS. REAL VOICES.
Help us tell more of the stories that matter from voices that too often remain unheard.
This post was published on the now-closed HuffPost Contributor platform. Contributors control their own work and posted freely to our site. If you need to flag this entry as abusive,
send us an email
.