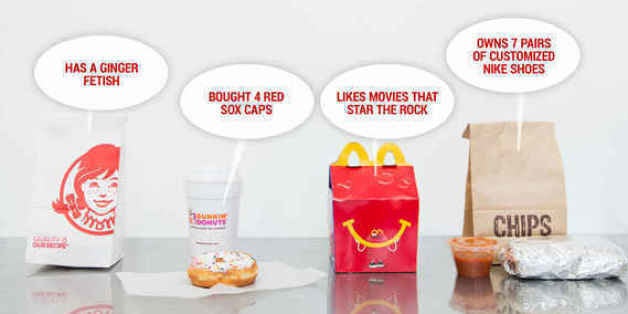 Though you may not know it, the fast-food chain you love the most is actually a gateway into your soul. And since one of us very nearly majored in sociology, we feel confident that we can tell everything we need to know about you from that choice. Check it out, and if you disagree or want to Venmo us money, do so in the always-classy comment section.
Suspecting you might have royal ancestry, you started to trace your lineage but balked at Ancestry.com's pricey $19.99 membership. Instead, you spent the money on a Whopper Jr. and, like, 600 chicken nuggets.
You love John Mellencamp almost as much as you distrust anyone who is lactose-intolerant.
You own 36 pairs of roller skates, but have never actually skated. You like Joaquin Phoenix's versions of Johnny Cash songs more than the originals. Your computer screensaver is of three hedgehogs, but most people can only really see two.
You are confused and somewhat incensed by the Notorious B.I.G. song "What's Beef." Your 2005 Hyundai Accent has a vanity license plate that reads "Nce2MEATU." You have trust issues.
You spend a lot of time on the Kia website customizing Sorentos you'll never buy. You have seven different pairs of NIKEiDs, two of which aren't even in your size. The New York Times thinks you're fat.

Panda Express
Eddie Bauer. Assistant Sales Associate. 2005-2007. Hot Topic. Sales Associate. 2008-2010. Lids. Assistant Manager. 2011-2013. Sunglass Hut. Manager. 2015-present.

Sbarro
Same as Panda Express, but your palate favors the vibrant flavors of Napoli. Buon Appetito!

Jimmy John's
You just straight-up LOVE mayonnaise.

Checkers
You've got some stuff in your past, man. Some dark, dark stuff. You're also very good at chess.

Long John Silver's
You own an authentic 17th-century buccaneer costume and can't bear to watch those Johnny Depp Pirates of the Caribbean movies because "they never get it right."

Popeyes
You grew up in Franklinton, but tell everyone you're from Baton Rouge. Your job in data processing at Our Lady of the Lake Medical Center doesn't challenge you in ways you thought it would. You're not good at hunting, but you like the camaraderie.
A ginger fetish that is surpassed only by a fondness for cubist artwork. And Frostys. So many Frostys.

Chick-fil-A
You're weirdly susceptible to the misspelled missives of surprisingly literate cows you have never met. What other talking animals are lurking out there waiting to manipulate you? TELL ME, GOD. TELL ME NOW.

Church's Chicken
Atheist. Curveball!

White Castle
Secretly, you actually don't LOVE White Castle that much, but you figure cementing your superfandom now is paving the path to a really inexpensive wedding in the future.
Related