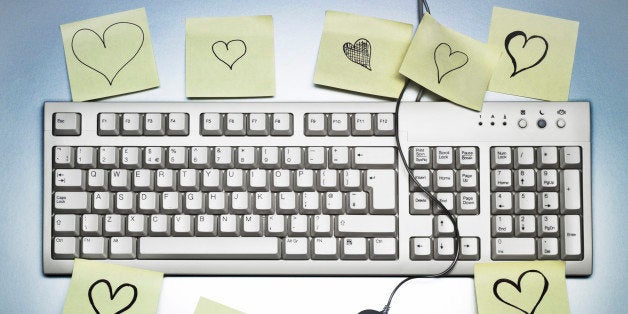 Those of us whose last experience as a single predated even Blackberry, Palm Pilots, and laptops might need a refresher course on the iOS of Dating 2015. Unless you've been squirreled away binge watching Sex in the City, you're invariably familiar with online dating, the PG-, R-, and maybe even X-rated variations of texting. You may even have chuckled when a divorced friend regaled you with tales of dates from hell.
Nevertheless, the first time you upload a profile photo and attempt to capture your persona and your partner laundry list in a couple of paragraphs is a game changer. You've entered some alternate universe where being asked your favorite sex position before you've even met for a cup of coffee is semi-standard practice. Many of the boy/girl conventions seem to have gone the way of typewriters and payphones. Buckle your seatbelts.
Match 101: Back in the days of dial-up and AOL, founder/former CEO Gary Kremen and team launched the first online dating site, which today has well over a million paid subscribers worldwide. Today, there's a niche dating site for just about every group you could imagine, including vegetarians, farmers, and numerous religious affiliations. The Match Group now owns free site OkCupid and How About We, where singles suggest a date and see who bites.
Dating sites reflect everything from lifestyles to relationship goals or in the case of Tinder and Grindr, tracking Mr. or Ms. Right Now via GPS. I've always thought of dating sites as an extension of your image. OkCupid is more of an Earnest Sewn/Prius/Mini site while eHarmony seems more sedan or maybe even minivan. Find the site that reflects your style and goals.
Image is Everything: Think of your online dating profile as a marketing hook. You've got maybe three seconds to catch someone's eye. Avoid group shots and selfies reflected in the mirror. Use a photo from the past six months and please, no pics of a beautiful sunset, your slobbering dog, or the Pyramids! Ditto your description. Be succinct but capture your personality. Everyone loves wine tasting, hikes, and long walks on the beach. Next...
Communication Breakdown: If the last time you dated, the only ways to contact someone you liked was by landline or U.S. postal service, times have changed! Text, email, Facebook message, voicemail, maybe even a video message. The downside to all this is you can tell via iMessage if your text was read. And there are so many ways to reach out 24/7. Sometimes at 1 a.m. after a few glasses of wine!
The bottom line is though technology may have provided additional tools, communication in any relationship is about being upfront about your needs and listening. When we don't "Facetime" in person, it's far too easy to lead someone on or to enter the Witness Protection Program, never to be heard from again. A friend recently shared that a guy friend had attempted to break things off with a woman he had dated briefly, using the "I need to focus on my son" excuse. The woman tried to convince him otherwise until my friend took the phone, texting on his behalf that he "hadn't been honest and just didn't feel the relationship could move forward." The woman appreciated his (or her!) candor.
Dating in the 21st century may mean we can Google prospective suitors and read through questionnaires on sites like OkCupid, setting the discovery process aside.
But in the end, it's still about a boy, a girl, and maybe, just maybe, a first kiss.