WASHINGTON -- The Texas-based hamburger chain Whataburger will prohibit customers from openly carrying firearms in its restaurants despite a new law in the state that permits licensed gun owners to do so in public.
The announcement, made by Whataburger CEO Preston Atkinson on July 2, effectively placed Whataburger, a cult favorite with some 780 stores in 10 states, at odds with its home state's effort to expand open carry provisions.
In June, Texas Gov. Greg Abbott (R) signed a bill allowing gun owners who previously qualified for concealed carry permits to carry their handguns openly in shoulder or hip holsters. The law, which passed with strong backing from groups like the National Rifle Association, will go into effect in January 2016.
Atkinson's announcement has drawn national attention in recent days. But rather than step into the heated debate over gun rights, Whataburger appears to be taking steps to distance itself from the controversy. The company is carefully avoiding the debate taking place on its social media sites, and declining to speak to reporters further about the issue, except to point them to previous statements.
As customers and fans of the burger chain debate the gun policy on Whataburger's Facebook page, the company's official posts are limited to subjects like root beer floats and National French Fry Day.
As Atkinson explained on the chain's website, the decision to maintain its longstanding ban on openly carried handguns at Whataburgers, despite the new law, was a business decision, not a political one.
"We have to think about how open carry impacts our 34,000+ employees and millions of customers," Atkinson wrote. "We've had many customers and employees tell us they're uncomfortable being around someone with a visible firearm who is not a member of law enforcement … [and] we have a responsibility to make sure everyone who walks into our restaurants feels comfortable. For that reason, we don't restrict licensed concealed carry but do ask customers not to open carry in our restaurants."
Among gun safety groups, the move by Whataburger is being hailed as a principled stand for public safety. "Parents should be able to take their children to family-oriented restaurants like Whataburger and not have to wonder whether the person openly carrying at the table next to us is a good guy with a gun or a bad guy with a gun," said Shannon Watts, founder of Moms Demand Action for Gun Sense, in a statement.
"Just like many members of Moms Demand Action, Whataburger's president and CEO is a gun owner who supports and promotes responsible gun ownership -- and he knows that support for the Second Amendment can go hand-in-hand with good business practices," she continued. Moms Demand Action is part of the broader gun control alliance Everytown for Gun Safety, created by former New York Mayor Michael Bloomberg.
Whataburger is not the first restaurant chain to bar openly carried firearms in states with open carry allowances. In 2014, gun rights activists in Dallas brought assault-style rifles into a Chipotle there as part of a demonstration, prompting the burrito chain to issue a statement asking that customers not openly carry guns in any of its restaurants.
In 2013, Starbucks responded to the prospect of armed groups demonstrating in its stores by issuing an open appeal to customers not to bring guns into its coffee shops.
This page contains materials from The Huffington Post and/or other third party writers. PricewaterhouseCoopers LLP ("PwC") has not selected or reviewed such third party content and it does not necessarily reflect the views of PwC. PwC does not endorse and is not affiliated with any such third party. The materials are provided for general information purposes only, should not be used as a substitute for consultation with professional advisors, and PwC shall have no liability or responsibility in connection therewith.
Before You Go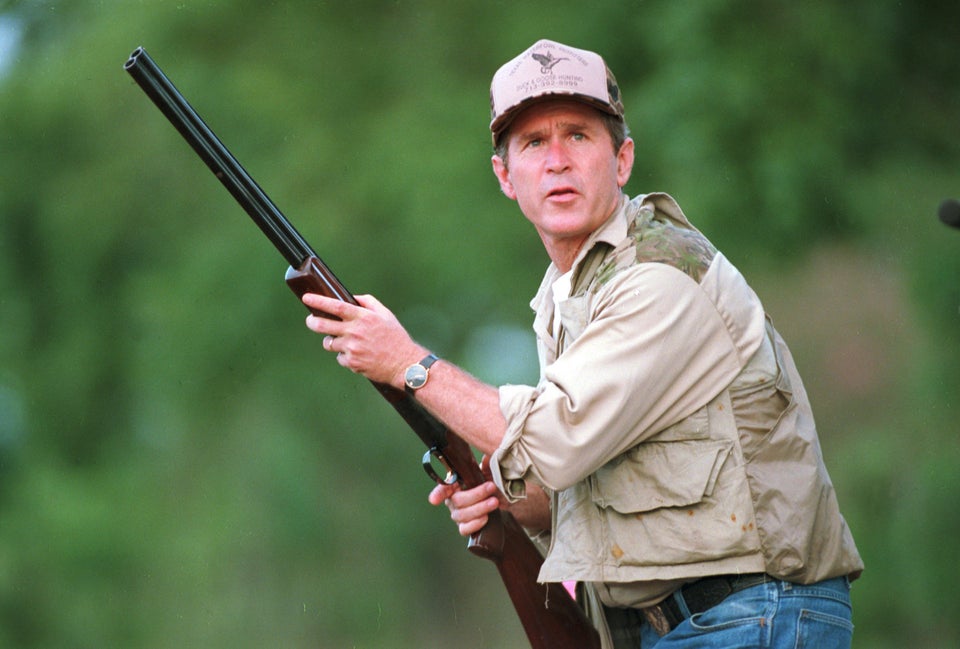 Politicians Holding Guns