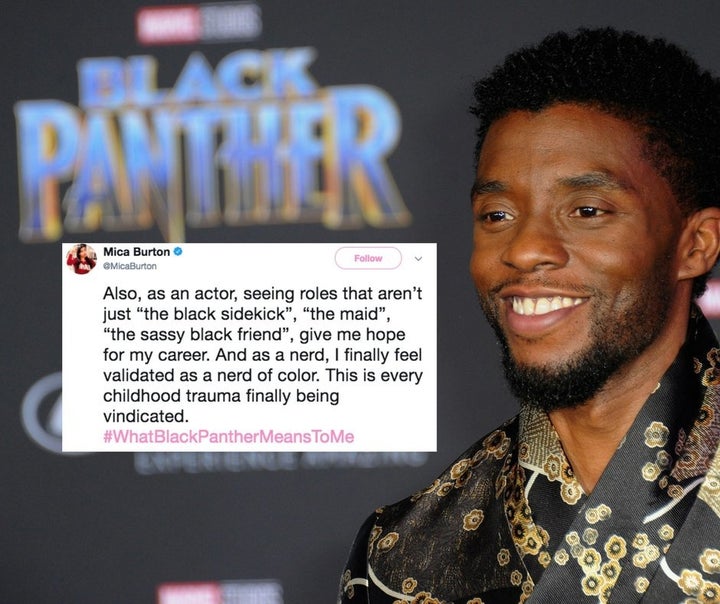 "Black Panther" is proving that the most formidable superpower in the Marvel Universe may be representation.
There's still more than a week left before director Ryan Coogler debuts the hero's first stand-alone film on Feb. 16, but fans couldn't wait to express the importance of seeing black excellence in film.
Kayla Marie Sutton, curator of the "Black Girl Nerds" podcast's social media accounts, started the hashtag #WhatBlackPantherMeansToMe on Twitter Tuesday morning. The Afro-Latina says she tweeted the hashtag after asking her son what the Wakandan prince meant to him.
"This was inspired by a question that I asked my son yesterday," Sutton told HuffPost in a direct message. "He has been reading the comics (like me) and as a young black male with autism I wanted to know what this movie meant to him. It got me thinking about the impact this movie is going to have on so many."
"This film is so unapologetically black and growing up on the outside of the nerd community as an 'other,' to have a film filled with people that look like me and my family is the most amazing gift," she added.
Sutton wasn't alone in her sentiment, as #WhatBlackPantherMeansToMe quickly began to trend on Twitter. People highlighted several reasons why they felt represented by the film, including the positive portrayal of an African nation and the important role of black scientists in Wakanda.
Like many Black Panther fans, Sutton has yet to see the film but already has plans to see an early screening and then attend a "sensory-friendly screening" with her son on opening weekend.
The social media influencer says she's been touched by people's responses to the hashtag and "can't wait to see the reactions post-opening weekend."
Take a look at some our favorite #WhatBlackPantherMeansToMe tweets, and try not to tear up.