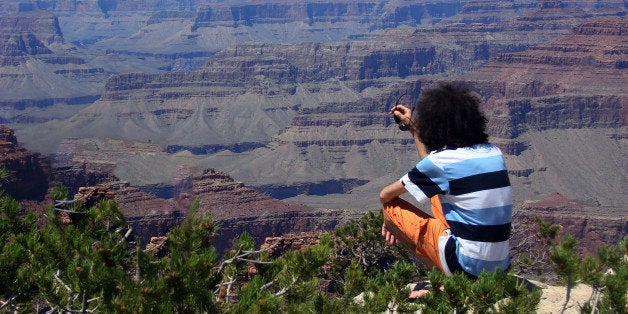 I'm on a road trip with my son, Adam. We're driving 1,265 miles over four days, from California, where he's lived his whole life, to New Mexico, where he'll live for the next four years while he attends college.
The road trip was my idea. I wanted to do something big, because the event is big. His whole life, we've never been apart for more than a week. Honestly, I don't even know how to process the fact that he'll be three states away from me, and for the next four years, I'll only see him on school breaks.
So, instead of processing it, I planned this road trip.
On Day 1, we head to Las Vegas, where we'll watch my friend play the sax in a real, old-fashioned Vegas show. Adam falls asleep within our first hour on the road, and I'm reminded of when he was a baby and out of desperation, I would put him in the car and drive around town because I was exhausted, and it was the only sure way to get him to sleep. I look at him now, his narrow body and long, thin limbs folded awkwardly into the passenger seat, and for just a second, I think I can see traces of that baby boy in his angular, scruffy, unshaved face.
The sudden lump in my throat drives my attention back to the changing scenery -- California giving way to Nevada, the past giving way to the future.
Many hours later, my friend's show is wonderful. Adam loves it, and when we walk the strip afterward, Vegas is as gaudy and dazzling as I promised.
On Day 2, we stop by Hoover Dam on our way to the Grand Canyon. I ask my son to straddle the Nevada-Arizona state line for a picture, and he does, his smile more sweetly tolerant than enthusiastic.
On Day 3, we walk along the rim trail, and it delights me when, every so often, Adam looks out at the vastness of the Grand Canyon and loses track of our conversation. We talk about college, and karma, and superheroes. We guess at the languages of the people walking all around us and try to list the seven natural wonders of the world, and all the while, just under the surface of our conversation, lies my awareness that these easy, meandering conversations I've grown accustomed to will happen less and less frequently now.
On Day 4, we drive the eight hours to Santa Fe, and I struggle with my emotions. I don't want this to be the last day, the last night we spend together. We arrive in time to get food to go from a closing restaurant. We bring the food to our hotel room, spread it out on a little round table. Adam's ravenous, but I can't eat. He smiles at me and says, "I think you might feel better if we consider all the things I'm not heading off to do. I'm not joining the military, for instance," he says, "or the circus. I'm not fleeing to Mexico to escape the long arm of the law, or selling my body on the streets, or rustling cows to fuel my meth habit."
I laugh, and then preemptively, I miss him even more.
The next day is a blur: orientation, welcome meetings for students and separate ones for parents, meeting Adam's new roommate and moving all their stuff into their dorm. I leave the campus late, emotionally exhausted. In the hotel room alone, I'm all cried out.
As planned, I drop off the rental car and fly back to California. In Vegas, my connecting flight is delayed twice, and I sit on the floor, back against the wall, laptop on my outstretched legs. A woman one gate over catches my attention. She's saying goodbye to her friend, hugging her tight. "Don't go!" she cries, only half kidding, and they both laugh, but as soon as her friend disappears down the boarding ramp, the woman breaks down, weeping loudly. Nearby, a mother rubs her sleeping daughter's back, and a woman rests her head on an older man's shoulder. I watch a fussy baby get bounced on his father's lap. The father coos and shushes, but nothing helps until a stranger leans in. She makes her eyes wide, smiles, and talks in a voice that makes the baby laugh... a sound that instantly undoes me.
Before I can stop them the tears come again, the rush of familiar, conflicting emotions. An airport memory of bouncing my own fussy baby on my lap is superseded by the more recent memory of saying goodbye to Adam, watching the sliding glass door of his dorm shut behind him, his wave cut short as he turns from me, distracted by a group of his new peers saying something that makes him laugh.
It happens in an instant, all these observations, the memories, the reassuring sense of connection I suddenly feel to everyone sitting here in Gate A1 of the Vegas airport. I'm grateful for this pause, this breath, this moment before our gate change is announced and with a collective groan, we all get up, gather our stuff, and move on, ready or not, to whatever happens next.
Related