It's a holiday. I'm sitting at our hotel looking at the beach, head down into my phone while Jeff and the kids are playing Hearts, our favorite family vacation card game. When I look up from the email I can't resist reading, even though my Out of Office message says I'm away, I hear laughter coming from inside the room. Daniel, my youngest, is quite the comedian, and it sounds like I missed a good one. Disappointed, and bummed out, I think to myself—the joke's on me, isn't it?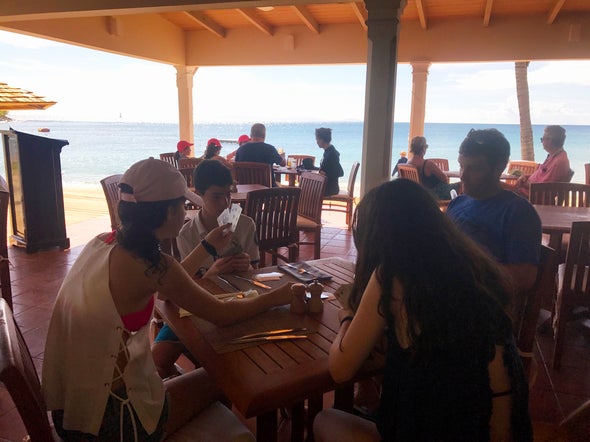 That was last year. This year, it's going to be different (I swear). The holidays are upon us. This year my three kids are attending three different schools in two different states with three different vacation schedules, so we only have a few days to vacate, let go of our busy lives, and reconnect as a family. I know that I have to be more intentional about how we spend our holidays.
This includes managing my OOF.
OOF. Aka, Out of Office. We have all seen the automated message pop up immediately upon sending an email, but let's face it, OOF has changed. Back in the day, when you were OOF, you were pretty much really OOF—you were at home, out to dinner, with a client, on vacation. We didn't have cell phones, so nobody tried contacting us unless it was an emergency. A real, sirens-blaring emergency. Not the kind where your colleague texts you during your kid's basketball game because he just has to know the location of the strategy meeting—in ten days.
And with more and more people working remotely (23% of employees in 2015, and that number is rising), what does OOF even mean? If your office is your local Starbucks, are you "out of office" when you go home?
As I often say, left to our own devices, we're not connecting, or in this case, disconnecting. So this holiday season, I am challenging myself (and you) to actually be OOF, really OOF—even if it's only for a few days.
Here are some tips on how to really be OOF:
Define What's OOF. For You.
Get your team, your boss, colleagues together and talk about OOF. What does Out of the Office mean for you? Clarify the different types of OOF: are you really OOF (not available at all), or mostly OOF (available only for an important client or project) or partly OOF, working on a project and your response time will be slower. Defining OOF helps teams communicate clearly and understand expectations. And, when done right, it leads to fewer interruptions (which, studies show, lead to a degradation of work quality and lower productivity).
A manager at Google recently shared how she addresses OOF with "absolute transparency." She tells her team that she's OOF (which to her means not on email) from 6-9 pm each evening, but if they need her they can call. Her team knows that she has three young children and that she doesn't want to be tethered to her email, but she is available if they need her.
The reality is, she doesn't get many phone calls. She also tells them that from 9–11 p.m. she is back on email, but that they don't need to respond. This is just the timing that works for her life. But that doesn't mean it has to work for theirs.
If you say you're OOF and then you check and respond to every email, you're undermining the whole point of the OOF. Your colleagues and clients will absolutely not believe you. And instead, they will continue to email you.
Use OOF to Clarify Expectations and Communicate Values
OOF messages let people know when they can expect a response, but they also help communicate information about company culture, personal work style, and values. Here are some of my recent favorites:
Thank you for your email. I am out of the office today on my daughter's apple-picking field trip. If you need immediate assistance please contact my assistant.
This OOF was sent by an EVP of Human Resources to tell people she was unavailable, but also to show employees that the company supports its employees connecting with their families. She received more positive feedback from this OOF than any other email she sent.
Hey! I'm out of the office celebrating my 15th wedding anniversary (I still really like her!) and a subsequent silent meditation retreat until Monday, July 31st and won't be checking email. If you need immediate assistance, please contact my assistant. Rob Herzog, CEO of ZogCulture and ZogSports
Fun and Continuous Improvement are two of the Core Values at Zog, so none of the employees were surprised to receive this humorous OOF when they emailed their CEO this past July.
Hello Friends. I am currently trying out this thing called #vacation and am either in the middle of the jungle or tanning on a caye in Belize! I'll have limited email access, so if you need anything urgent contact...Nawal Fakhoury, Linkedin Cheerleader, New Hire Soccer Mom, Resident Culture Champion
LinkedIn is all about transparency, so I was not surprised when I got this OOF from Nawal, who I met recently at the Life@Work Conference. And since one of LinkedIn's values is "Act like an Owner," their unlimited vacation policy puts the onus on the employee to also own their time off. Which Nawal is clearly doing.
If you want a simpler approach, just go with the Straight Up OOF
"I am Out Of The Office. I will not be able to reply to this email until [specific date]."
Whatever OOF you choose, stand by it. Or nobody will believe you. And then what's the point? Your out of office message will become just another email.
I hope you all have a great holiday season and try to get some real time OOF. As for me, I will be OOF from December 23rd to December 26th playing Hearts and laughing at my kids' jokes.
Because good things happen when people (dis)connect.
REAL LIFE. REAL NEWS. REAL VOICES.
Help us tell more of the stories that matter from voices that too often remain unheard.
This post was published on the now-closed HuffPost Contributor platform. Contributors control their own work and posted freely to our site. If you need to flag this entry as abusive,
send us an email
.