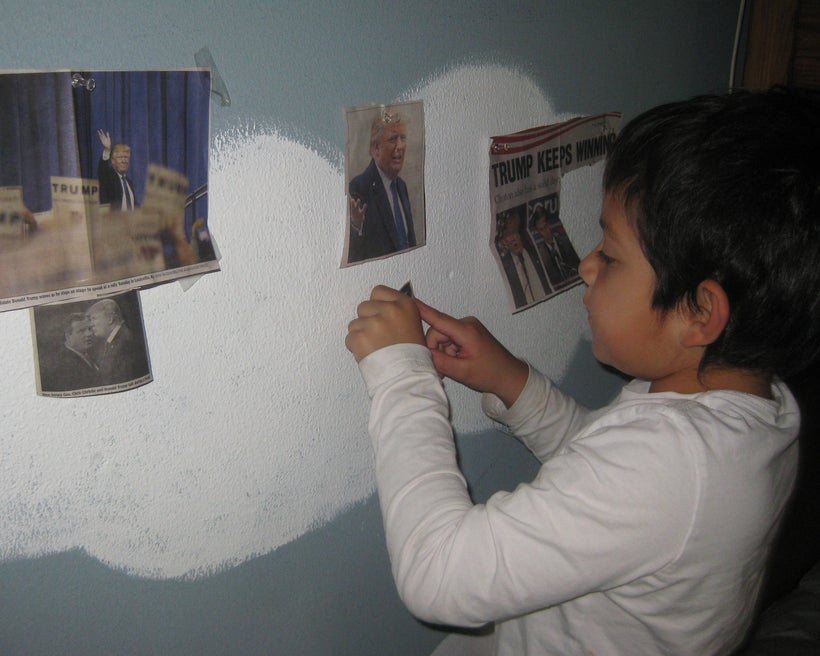 My son saw a picture of you in the newspaper and said, "Oh, he's very handsome." His eyes sparkled when he said it. Something about your face echoed something in his heart.
I have to tell you, most of the grown-ups growing up around him don't agree, but my son doesn't read the paper or watch television. He asked me if he could write you a letter and I said of course.
He likes how much money you make. He likes the tall tower of you. At dinner with his Nana and Papa, he wondered aloud what kind of food you eat. "Only the very best" he mused. We were eating hamburgers. "Donald Trump would eat a double hamburger!" my son said.
He wants a building with his name on it. Each time we drive downtown he peers out the window hoping to catch a glimpse of your name, glimmering. "How rich do you have to be to have your name on a building Mama?" He only has his name on his lunch box. The label on the rain pants tucked into his backpack. The extra clothes bag that hangs in his cubby at school. He wants it spelled out somewhere bigger. In shiny metal. Preferably gold.
I am not going to vote for you, but my son is. Or would, if he wasn't eight. I took him with me to vote in the primaries and let him punch the button for Bernie. He did so begrudgingly. And only because Bernie is a man. Can an eight-year-old be sexist? How old were you? I am quite hopeful he will grow out of it. But letting our children find their own way takes big faith. And a lot of modeling. Sipping tequila in a hot salt bath at the end of the day helps too.
He loves the fanciness of you. Your "exotic" hair. Your silk ties. My son loves ties. I bought him a royal blue one for Easter that he wore just last week for Grandparents Day. He dresses up for the occasions of life. He grins thinking about how wonderful it will be to wear a suit every day.
Do you ever wear sweatpants?
I heard you say something smart on the radio the other day. Don't do that again. Our image of you needs to be uncomplicated. Invoke us to rage. Provoke us to cursing. But do not make us stop and mutter, what did he just say? And really want to know.
In one of my favorite pieces of writing, the preface to Leaves of Grass, Walt Whitman directs us to "stand up for the stupid and the crazy." I am not sure if you are both, or neither. I am sure that I do not want to stand up for you. And yet, I have a son who has your picture hanging on his bedroom wall.
I am a pretty hippy dippy mama. I could just chalk it up to some past life thing you two had.
The truth is, I really don't know anything about you. I have not met you, talked with you, shared a meal with you, witnessed how you move in the world with your children. I love that my son sees something admirable in you. At eight years old, I want him to be able to see something admirable in everyone, regardless. I want him to know he can listen to his heart, even if the world is telling him not to.
Because his heart, Donald Trump, is gold.
And already bigger than any tower.
PART 2 (November 2016, August 2017)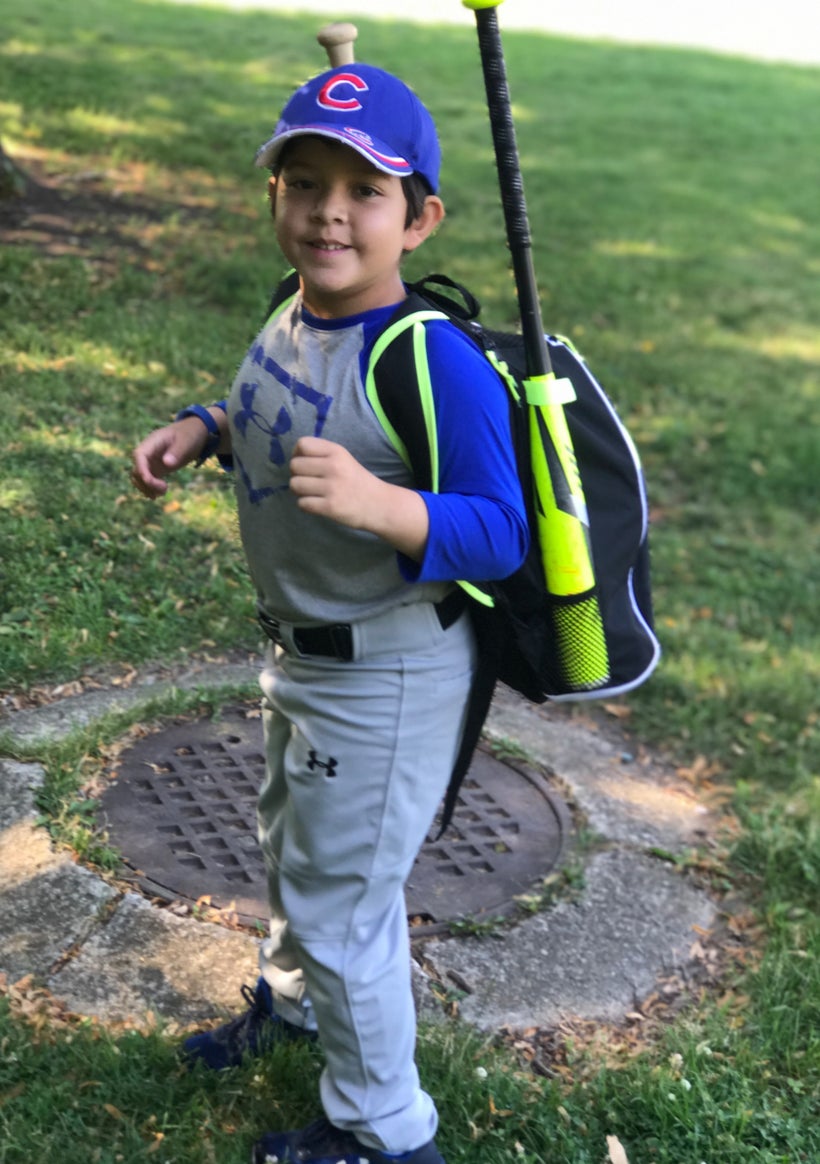 My Democrat parents' Republican friends called them the morning after the election to ask about Leo. "His man won!" they said. "Is he excited?"
Alas, you are no longer his man. He dropped you like a hot potato before the debates even happened. He could feel it in the air. Something was not lining up in his soon to be nine-year-old body/mind/spirit.
Here's how I knew: I took the pictures of you off the bedroom wall when I rearranged Leo's room and he never asked where they went. Never asked to put them back up. I was surprised but hopeful.
Here's how I knew: When people asked how his man Trump was doing, Leo looked down quietly and blushed.
He had to use three of his third grade spelling words in a sentence and he wrote this: "I would never want to shower in the Trump tower. It would be the worst thing ever." Shower, tower and worst were the words.
That was a long fast fall but I don't imagine it's any orangey skin off your nose.
I am having a hard time being as gracious as I was in my first letter to you so I am going to pause. And begin again.
It was a nine-month pause. Long enough for something new to be born. And that is what I want to write about. Not Korea. Not Russia. Not healthcare. Not immigration. Not….Oh there's so much not to write about with you.
Two words: Javier Baez. You've been replaced by a shortstop.
The other night Leo said, "Mama, I love you so much that even if my dad was Javier Baez, I would still want to live with you." Then he paused. "Well, maybe I would just live with him in the off season. And I'd live with you the rest of the time."
I didn't want to break his love bubble by telling him I am actually old enough to be Javi's mama too. That he and Javi as brothers is a much more realistic scenario than Javi and I as co-parents.
So I just hugged him and said I was really moved that he would still live with me except in the off-season.
I want to write about how love bursts open inside of us and what that can do to a person.
Because before I sat down and found this poem waiting in my computer this morning, I dropped my son off at baseball camp with a glove, a bat, a lunchbox and a grin that broke me open. He kicked up some infield dust, said hi to a couple of new friends, gave me a wave and walked onto the diamond like he was entering heaven on earth.
Who knows what joy lives in us until we are given a chance to step into it? A gentle nudge towards the possibility of our best self meeting everyone else's best self?
I only know that seeing his open heart meeting the day that way, made me sit in my car and cry. I cried the tears that any parent cries when they see their child growing into their skin in such a pure way. Tears of gratitude.
My spiritual practice says this is possible for anyone. So, yes, you too.
I give the how "it is possible for anyone" over to God because in my human hands, it will turn into judgment and sarcasm long before it turns into poetry.
I wish you could see my son play ball. It is a brand new love in his life. Months old. But I can tell by watching him dive to catch what would have been a base hit, that this has been alive in his body for a long time and he is just waking up to it. Or it is just waking him up to it. I am simply watching him honor the urge to step deeper in.
Before I close my letter, this is what I want to say: If you ever have an urge to step deeper in…to stillness. To respect. To kindness. To something in your life that breaks you open like when you were nine years old and about to do your most favorite thing smack dab in the middle of summer vacation on the most beautiful morning ever, honor it. Honor the urge, Donald Trump.
The joy that could ripple out just might save the world.
REAL LIFE. REAL NEWS. REAL VOICES.
Help us tell more of the stories that matter from voices that too often remain unheard.
This post was published on the now-closed HuffPost Contributor platform. Contributors control their own work and posted freely to our site. If you need to flag this entry as abusive,
send us an email
.