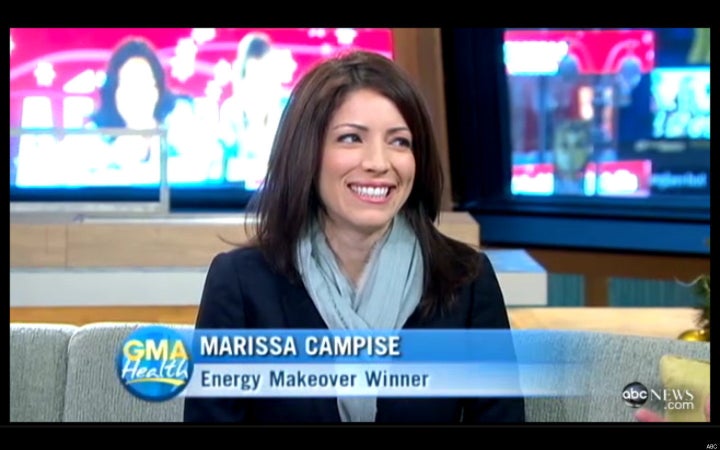 Wherever Marissa is today, friends, family and colleagues say, "You seem amazing!" And that glow comes from her hard work and the amazing advice of Huffington Post Living experts for 12 months. Let's look back on the past year and see how she got where she is today.
January: Sleep and Nutrition
To kick off the energy makeover, we looked at what were the biggest energy-deductors in Marissa's life. She was giving out a lot of energy -- to her son, friends and job -- but she wasn't recovering her energy. Instead, she was using Red Bulls, coffee and sugar as bandaids, and she was checking her Blackeberry and phone at night. Marissa needed to unplug and recharge, and this meant turning those off at night (even a few hours before bed). She also needed to get nutrient balance from her foods and ditch anything artificial. Bye, bye, energy crutches; hello, sleep! We gave her some food and supplement tools to support her so that she didn't have to go cold turkey.
Marissa went to see a doctor this month (as one should when beginning any new physical fitness and dietary program). While we awaited her results, Marissa headed to Strala Yoga to meet with Tara Stiles, author of "Slim, Calm, Sexy Yoga." Tara and I spoke and discussed the fact that Marissa needed to find something in her life that she could do to bring down her stress and encourage sustained sleep. Just a month after ditching Red Bull, Marissa already felt great, but she still was having trouble on the sleep and recovery fronts, so Tara showed her ways to burn up energy when needed and relax and reset her energy when that was needed more.
When beginning any program of change, as well as when suspecting any imbalances, it's critical to seek the advice of a healthcare practitioner. We introduced Marissa to Dr. Lipman, whose integrative medicine approach includes diagnostic testing, acupuncture and prescribing a holistic plan that looks at how foods, supplements and life choices affect energy. Marissa received her protocol and learned that she was more fatigued inside her body than outside: she needed to address a vitamin D deficiency and an adrenal problem. She could also benefit from relaxation, so we looked at magnesium, a key stress-reducer and relaxant.
We know that beauty isn't just skin deep, and the same holds for energy. But did you know that a lot of what we apply to our skin can affect our energy, good and bad? Marissa doesn't wear a lot of makeup, or really any at all, but she does use skin- and hair-care products regularly, and when celebrity eco-makeup artist Karim Orange took a look, she found that Marissa was using some products containing big no-nos (parabens, for example). Karim suggested a short makeup routine that she felt would be easy for Marissa to do to add some energy to her work and going-out looks. Some of Karim's suggestions were hits with Marissa, but ask Marissa if she's wearing lipstick today...
May: Reassessing Relationships
We've all had bad relationships, and we've all struggled to let them go -- really let them go -- to make space for the new ones we desire. This month, with her physical energy getting up to speed, Marissa took on her emotional energy -- blocks, supports, desires -- with expert relationship coach Heidi Banks. This month was about identifying the work to be done and beginning with small steps, but it ended with some of those steps turning into leaps, as Marissa had accepted a new job, which meant that she now had several new relationships to make as well as old ones to remember to nurture or to decide to move on from.
After reading about the China Diet the year prior, Marissa became interested in being a vegan, so when Dr. Lipman and I suggested that she cut back on dairy, she readily complied and started her adventure in veganism. The result: no allergies for the first year she could remember. "All the other parents were sniffling, it seemed -- it dawned on me that it was allergy season and I hadn't so much as coughed or sneezed once," Marissa said. But when I heard that Marissa's dining was all take-out and order-in, I had a conversation with her about being a "qualitarian" as opposed to a vegan. What's the difference? Whether you choose to be a vegan or an omnivore, for optimal health, you need to choose the best-quality foods at every eating occasion. While I didn't expect Marissa to take time away from the new job, her son or her social life to prepare fancy meals, I did want to make sure that she wasn't compromising on health and energy goals, so I introduced her to the Candle Café owners Joy and Bart and their amazing staff, who gave Marissa qualitarian cooking lessons (including ice cream so good that she swore it was dairy -- it wasn't).
July: The Energy Cycle of Life
Marissa gives a lot of energy to others -- her mom, her son, her brother, her job, her friends -- but what we discussed this month was the idea of "the Energy Cycle of Life," how in helping others we help ourselves become the people we want to be. As a single mom and a highly successful finance executive, Marissa has a unique insight into the world of entrepreneurs, especially those in NYC, and she felt that many of them would benefit from an energy makeover like the one she was receiving. Therefore, she began doing Yoga for Entrepreneurs as a karma project: good energy begets good energy.
Work, work, work, and still Marissa was making time for eating right, getting sleep, doing yoga, enjoying her family and going out. But when we discussed what seemed missing, she said that she had been a dancer as a kid, and that this used to provide her with physical and emotional energy. Today, she wanted to find a way to have fun working out like she had as a kid; she loved her yoga classes, but her work schedule had relegated yoga to home-practice status, so now she missed seeing other yogis while working up a sweat. Marissa met Pooja Patel from Mindful21 to help enforce some fun "me time" for herself -- and she did: boxing, music-inspired classes, and stretches left Marissa newly energized.
September: A New Relationship
Marissa met a boy and, by practicing with Heidi letting go and getting rid of relationships that weren't working in favor of investing energy in those with potential, she "forgot" other boys who had recently been occupying mind-space. Marissa also spoke with Heidi on how to navigate her fears regarding her new long-distance romance, and on how to best communicate those fears with her newfound boyfriend.
October: Home Energy Tips
We spend so much time in our homes, especially in our bathrooms and bedrooms, yet we often don't consider their impact on our energy. This month's Smart Living or Home Energy Makeover tips, courtesy of expert Scott Gwodsz, were designed to help improve Marissa's energy by making her home -- and thus her life -- more efficient and healthy. Cleaning products were replaced, vampire energy was reduced with a home energy hub, organic foods were introduced into the kitchen, a customized water solution was installed to replace bottle delivery, the old vacuum was replaced with a heap-filter vacuum and new bicycles were purchased. These efforts upgraded Marissa's apartment while creating energy savings for Marissa and the environment. Despite getting a ticket recently for biking on the sidewalk, Marissa and her son love biking around NYC. They also enjoy organic snacks and produce (Nature's Path and Earthbound Farm) that they can "assemble" for easy-eating occasions.
November: Holiday Energy Tips
During November, Marissa learned one of the biggest lessons of her energy makeover: how to make time for herself and speak up if there's too much on her plate. Marissa spent this month managing the balance of home and work life when both needed more time, but she didn't compromise on her own needs. She didn't want a Red Bull, but she found herself remembering fondly -- a bit too fondly -- how the old energy fixes and energy deductors (e.g., the Blackberry and phone left on beside the bed, etc.) fit into her life. She made it through relying on the basic nutrition and health principles of the energy makeover.
During December, we put it all together. Energy is not something that we achieve and then get to move on from. Her makeover may be done, but the work continues for a lifetime. I am most proud of Marissa for making this "total energy makeover" her own. What we see today is Marissa's own total energy. She didn't stay a vegan, but I believe she is a qualitarian. She doesn't wear lipstick, but she is aware of what to avoid in skincare products. She takes vitamin D and other supplements to help supplement her healthy diet. She makes time for yoga but also for "fun" activities, including some she does with the men in her life. Life continues to present all sorts of temptations to drain her energy, but Marissa has found an energy stride, a pace and a tool box to help stay her course. (Last week she met with Heidi, made sure her home was toxin-free and dined with me at Candle 79.) And I trust that she will be very successful in this venture, too.