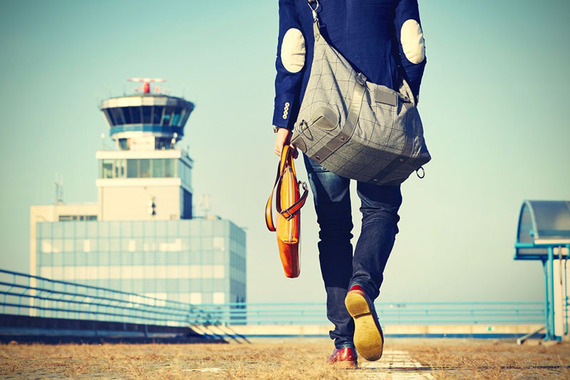 "Hidden city tickets" have been in the news a lot the last few months, and are a great example of the bewildering state of today's airfare market. Airlines are often willing to sell a much cheaper ticket with one or more stops on a route where they don't have a direct flight option, in order to compete with a direct flight offered by another airline. The "hidden city ticket" occurs when ticket from A to B to C is cheaper than a trip from A to B (see the image below).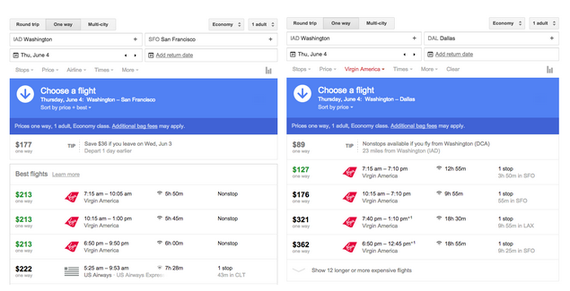 This image shows that Virgin America is offering a non-stop one-way from Washington D.C. to San Francisco on June 4 for $213 but is willing to sell a ticket from D.C. to Dallas that connects on exactly the same flight through SFO for $127. That is, they're willing to fly you more than 1,200 miles further for $86 less! In this case you can get to San Francisco for $127 instead of $213 if you dare to buy a hidden ticket.
However, just because the tickets exist, doesn't mean that you are allowed to purchase and use them! When you buy a ticket, you implicitly agree to the airline's "conditions of carriage" which include all sorts of restrictions on what you can do with the ticket. You might think you're just buying a seat on a plane, but actually you're buying a complex product that gives you certain limited rights to use that seat. These rules include the right to invalidate your ticket if the airline "determines that the ticket has been purchased or used in a manner designed to circumvent applicable fare rules." For example, about 6,500 words into American Airlines' 8,500-word conditions of carriage you find that they "specifically prohibit..." practices such as "back to back ticketing," "throwaway [roundtrip] ticketing,""hidden city/point beyond ticketing," along with several others.
If the conditions of carriage don't scare you off, buyer beware: The airline will cancel your remaining itinerary as soon as you miss a connection. Checked baggage normally won't be delivered at your intermediate stop. If your flight gets cancelled you could be rescheduled on a flight that doesn't stop at your desired intermediate airport. Airlines might also restrict your future travel or frequent flyer status if you use this strategy.
At Hopper, we wanted to know how common "hidden city ticket" deals actually are. Based on four weeks of airfare search data for flights shopped at least two weeks in advance, we compared prices of non-stop domestic flights to the cheapest one-stop flights from the same origin connecting through the destination en route to a hidden city.
Overall we looked at over 4,500 domestic routes where nonstop flights are available. We found hidden city deals for 948 of those routes (about 21 percent), representing about 26 percent of search demand. When there was a deal to be had, the hidden city option averaged 21 percent cheaper than a normal direct flight, a discount of $33 off the one-way price. The 10 best discounts we found are shown below: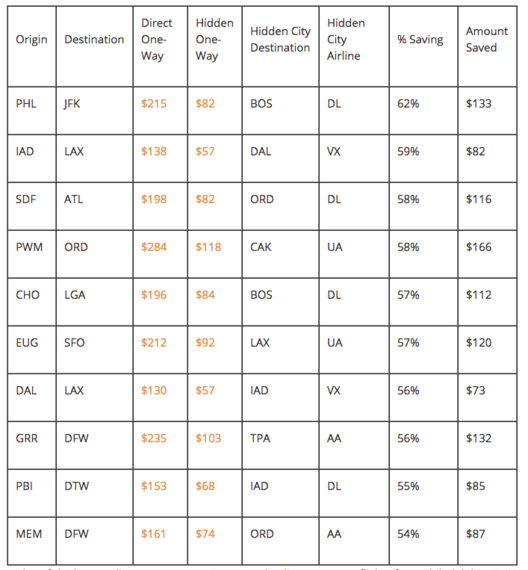 In short, hidden-city ticketing is both extremely common... and fraught with risk. You can see significant savings (we found flights with up to $200 discounts after all), but you could also chance having your flight cancelled altogether.
Liked this article? Check out some more from the team at Hopper:
This research report originally appeared on Hopper.com, courtesy of data scientist Patrick Surry.
Popular in the Community